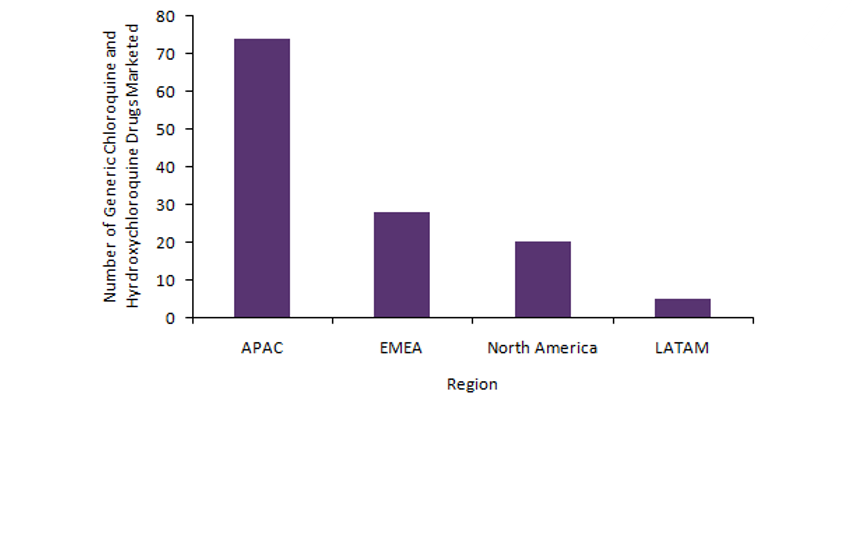 With remdesivir only approved for Covid-19 in Japan, and only approved within the US for compassionate use, many countries are looking to off-label drugs such as chloroquine and its derivative hydroxychloroquine to help mitigate the deadly virus that is ravaging the globe. Currently, 27 generic drugs of chloroquine and hydroxychloroquine are allowed for off-label usage by the regulatory authorities in certain geographies such as the US, EU, and New Zealand, according to GlobalData's Pharma Intelligence Center Drugs Database. This has led the pharmaceutical company and manufacturer of the drug chloroquine, Bayer, to donate millions of tablets of chloroquine to national health authorities around the world between 14-24 April in anticipation of their possible usage.
Chloroquine and its derivative hydroxychloroquine have been thrust into the limelight recently as a possible Covid-19 drug, with President Donald Trump stating it was a "game-changer," and even insisting on its use for the treatment of Covid-19. On 19 May, President Trump went further, stating that he has been using hydroxychloroquine to prevent Covid-19. This is despite the current opinion by medical professionals such as Dr Anthony Fauci, director of the National Institute of Allergy and Infectious Diseases, who has downplayed its efficacy and usage against Covid-19, releasing guidelines for treating Covid-19 on 21 April that highlighted the lack of information surrounding the drugs and the possibility of toxicities. This was followed up on 24 April by the FDA, which issued a drug safety communication to warn against the use of hydroxychloroquine or chloroquine outside of clinical trial or hospital settings, as there were reports of "serious heart rhythm problems" due to usage of hydroxychloroquine or chloroquine.
Yet considering the increasing death toll of Covid-19 globally, health and regulatory authorities around the globe are scrutinising the benefits of chloroquine and hydroxychloroquine against Covid-19, with 245 global clinical trials (Phase 0 to Phase IV); of these, 47 are Phase IV clinical trials. On 22 April, Bayer announced a partnership with Canada's Population Health Research Institute (PHRI), launching a major clinical research program, aimed at identifying potential treatments against Covid-19, to evaluate the safety and efficacy of different combination therapies including Bayer's chloroquine, azithromycin, and interferon beta-1b. Despite more information being required to review chloroquine and hydroxychloroquine use, the US and EU are currently offering chloroquine and hydroxychloroquine on a compassionate basis against Covid-19, but only for severe cases and under medical supervision.
Currently, there are 115 approved generic chloroquine and hydroxychloroquine drugs across all regions of the globe, with every region having five or more approved drugs available, as shown in Figure 1. The APAC region has the greatest number of approved drugs of chloroquine and hydroxychloroquine, his is largely due to the presence of India, which is the largest supplier of generic drugs globally. The EMEA region has the second largest number with 28 chloroquine and hydroxychloroquine generics approved; if they are proven effective this will be particularly helpful for Covid-19 cases within the EMEA.
As such, if chloroquine is found to have significant efficacy against the coronavirus, with so many generics already readily available across multiple regions, this would prove to be in favour of the current economic climate. However, as the studies continue, there appears to be mounting evidence that chloroquine and hydroxychloroquine currently have little to no effect on the coronavirus, which may indicate that there is no effective shortcut to finding a treatment for this pandemic.
You can view more information on the Covid-19 therapeutic landscape on GlobalData's Pharma Intelligence Center Drug Database and the Coronavirus Disease 2019 (Covid-19) dashboard where the most up-to-date and latest information on drugs, trials, and news on Covid-19 can be found.