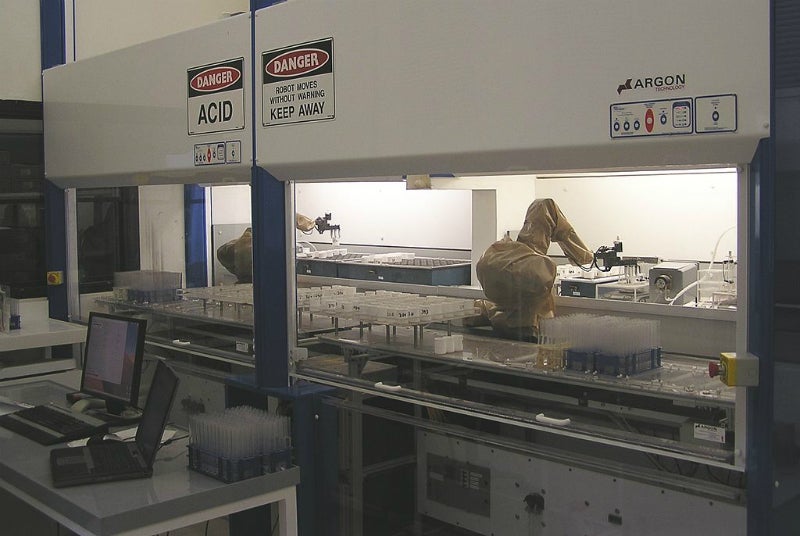 "In 2015, 80% of monoclonal antibodies came from 10 blockbuster molecules. By 2020, that number will be 35–40," Andrew Bulpin, head of Process Solutions at MilliporeSigma (Burlington, MA, US), told the American Association of Pharmaceutical Scientists (AAPS) meeting in Washington DC on 5 November 2018.
This change will necessitate innovation in bioprocessing, especially around continuous flow production of monoclonal antibodies, advances in robotics, and skills development in the workforce, agreed experts at the AAPS media roundtable, "What's Next in Next Gen Processing?"
Continuous flow technologies
Also speaking at the roundtable, Rickey Lu, director, Manufacturing Technology and Innovation, AstraZeneca (Cambridge, UK), said adoption of continuous flow processes would produce monoclonal antibodies at a "fraction of the cost" while shrinking the footprint of production. Lu, who also represents the BioPhorum Operations Group (BPOG)—an industry trade group that represents leading biopharmaceutical manufacturers and single-use end-users—said BPOG is attempting to set industry standards for greater adoption of continuous flow production. As a "long-time lean practitioner," Lu said he was personally excited about continuous flow production "to get away from batch" manufacturing.
The Alliance for Regenerative Medicine (ARM) is also involved in setting standards for cell therapy production early in the development of these technologies, said Lu. He called for other industry groups to do regulatory advocacy in this area because of the prohibitive regulatory demands of post-approval changes, which prevent the adoption of new technologies with the ability to improve efficiency. For example, rapid sterility will be required for cell therapies, as traditional sterility testing methods would take too long and render the product unusable.
Continuous flow technologies in the future will benefit from in-line sensing, agreed roundtable experts Merrilee Whitney, head of BioContinuum Platform at MilliporeSigma, and Michael Phillips, director of Next-Generation Processing R&D at MilliporeSigma and a participant in a Horizon 2020 project involving a consortium of companies including Merck, headed by Lek Pharmaceuticals (Ljubljana, Slovenia; owned by Novartis [Basel, Switzerland]).
The goal of the project is the implementation of a fully integrated manufacturing platform for biosimilar monoclonal antibodies (mAbs) based on continuous chromatography, in combination with single-use disposable technology for all unit operations of downstream processing on pilot/small production scale, together with incorporation of advanced analytical tools.
Phillips said culture is one of the biggest roadblocks to implementation of continuous flow technologies, referring to both the industry-wide pharma culture and cultures that exist within each company that prevent partnership. Horizon 2020 is the name for the 8th Framework Programmes for Research and Technological Development from the EU.
Bioprocessing future needs: robotics and skills
Developing the bioprocessing workforce will also be vital for a successful future industry, said roundtable participant Kelvin Lee, director of the Manufacturing USA National Institute for Innovation in Manufacturing Biopharmaceuticals (NIIMBL). Robotics and automation will have a greater role in the base levels of this work, he said. At higher levels, staff will still be needed, but the industry must find a way to develop business and professional skills in the potential workforce, he said.
NIIMBL is supported by the National Institute of Standards and Technology (NIST), a non-regulatory US government agency dedicated to innovation and industrial competitiveness. The organization is involved with research projects surrounding analytics flow development, NMR to quantify protein aggregates, development of sensors and process control for glycosylation quality, and new analytics for monitoring trace metal in media. It has partnerships with 79 organisations including Celgene (NJ, US), Genentech (CA, US), Merck (NJ, US), MilliporeSigma/EMD Serono (MA, US), MedImmune (MD, US), and Alcami (NJ, US).