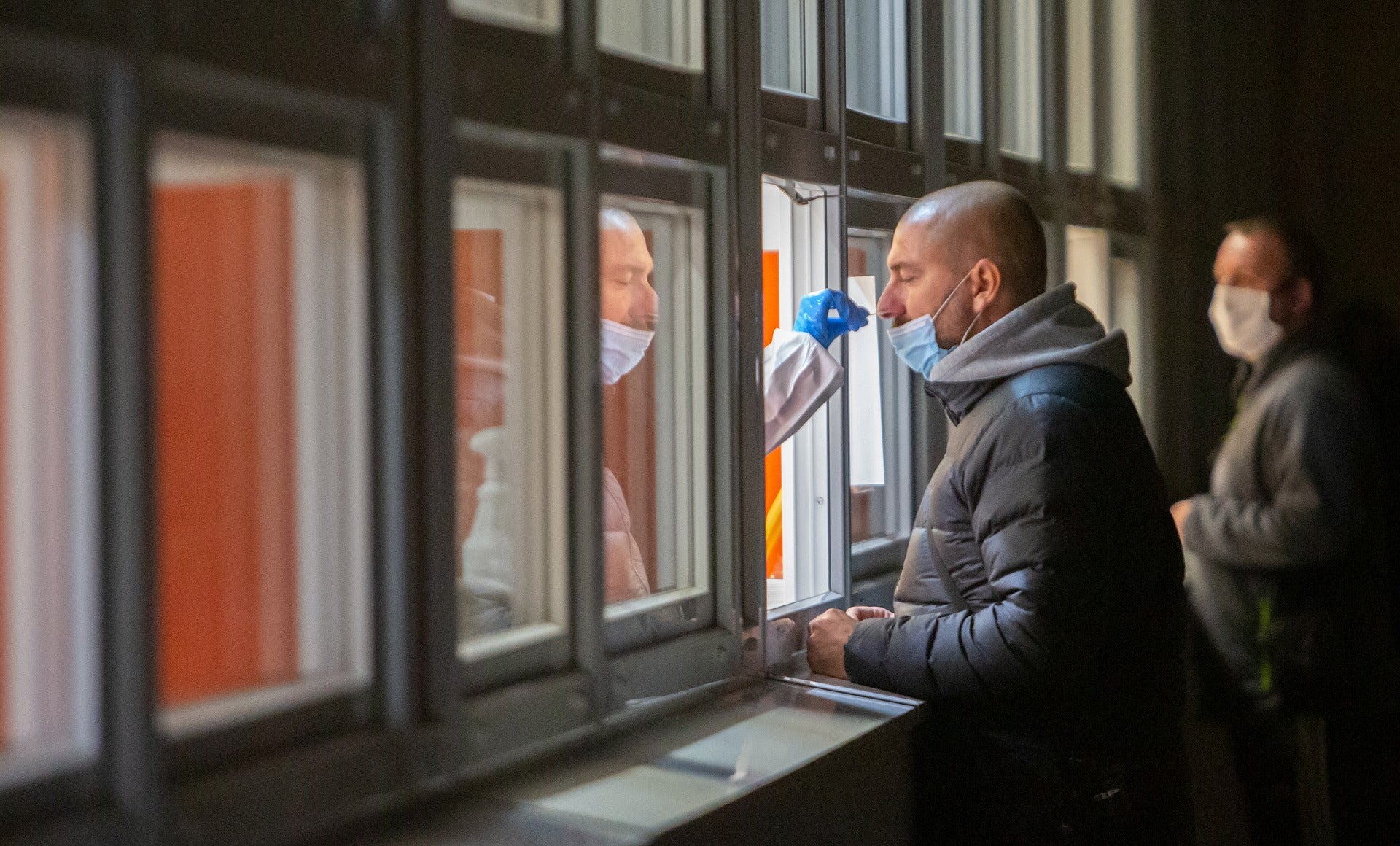 Slovakia, like many countries across the world, has fought to contain the spread of Covid-19. Though Slovakia reports fewer total confirmed cases of Covid-19 than many countries in Europe, the country began to see cases soar from October.
In an effort to curb the spread of infection with minimum impact to the economy, the country carried out a nationwide testing programme over two days, from 31 October–1 November, where 3.6 million people received a rapid antigen test for Covid-19. All those receiving a positive test result were placed in mandatory quarantine for ten days and areas with the highest infection rates received a second round of testing to identify hot spots.
Following the mass testing programme, infection rates around the country dropped, suggesting a possible solution to curb the spread of infection to other countries in Europe. However, a recent rise in cases in the past two weeks indicates that the national testing programme in Slovakia may have only been a temporary solution.
GlobalData epidemiologists have shown the daily confirmed cases of Covid-19 in Slovakia from 14 August–5 December (Figure 1, below). Slovakia reported its first Covid-19 case on 6 March, and unlike many other countries across Europe, it did not see a large initial spike in new cases and deaths in April. Cases in Slovakia began to climb from the start of October and reached a high of approximately 3,400 new daily cases on 30 October.
Figure 1: Daily Confirmed Cases of Covid-19 in Slovakia, All Ages, Men and Women, 14 August – 5 December (N).
Credit: GlobalData.
Following the introduction of the national testing programme, where two-thirds of the population was tested, Slovakia was applauded for its efforts, as the number of new daily cases dropped substantially. The recent weeks have seen a slight rise in new cases, and though this increase is minimal, if cases continue to climb, Slovakia may need to take additional action.
The national screening programme required huge amounts of resources to be performed so rapidly, with 40,000 people needed to help implement the programme, which included 15,000 healthcare workers and 8,000 military personnel. With such logistical support required for this programme to be carried out efficiently, it is unlikely that Slovakia will carry out a programme to this scale again. Therefore, if cases continue to rise in the country, further national lockdown restrictions may need to be implemented, which is what the country was initially trying to avoid.
In South Korea, mass testing has been a prominent feature in its approach to tackling Covid-19. South Korea dramatically curbed the spread of initial infection by mass testing and was the first country to highlight its importance. Nevertheless, South Korea has experienced two additional waves of the virus, which should indicate to Slovakia that it must not become complacent in its response to Covid-19.
Some 1% of the population who carried out a Covid-19 antigen test in Slovakia tested positive for the virus, with the two-day programme identifying 15 times more cases than Slovakia's daily average of new cases. Still, the rapid antigen tests used in this programme faced criticism. Although these tests produce results in half an hour, they are thought to be less accurate than polymerase chain reaction (PCR) tests, with 3 in 10 positive cases not picked up. The World Health Organization has advised that rapid antigen tests should only be used alongside gold-standard PCR tests. That said, PCR tests are more costly and take much longer to process results, so are unworkable for screening an entire population in a short amount of time.
Overall, the introduction of nationwide testing in Slovakia has proven effective at initially curbing the spread of infection. However, with new daily cases beginning to rise again in the country, it seems likely that nationwide testing is only a temporary solution unless this strategy is carried out numerous times.
Due to the vast resources needed to carry out nationwide testing, it seems unlikely that Slovakia and most other countries across Europe will repeat this effort. This is particularly true for countries with much larger populations. Consequently, it seems a combination of mass testing and tight lockdown restrictions is the most feasible solution for combatting the virus.