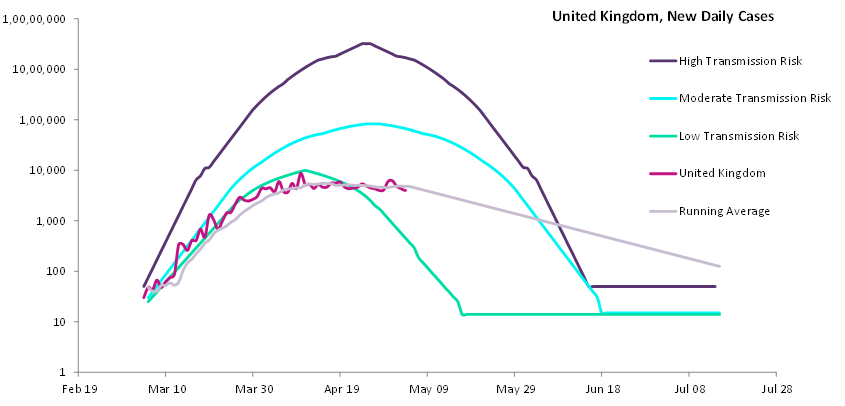 The UK has been heavily affected by Covid-19, the disease caused by the novel coronavirus. GlobalData has updated its Three-Scenario Risk of Transmission Forecast Model using the most recent historical Covid-19 data from the Johns Hopkins Covid-19 Database and the World Health Organization's (WHO's) Covid-19 situation reports. This model analyses the forecast timeline for the next two months and includes peak and recovery estimates. Based on historical data for new cases of Covid-19, the UK appears to have been experiencing an extended plateau for the past few weeks. GlobalData does not believe the UK will see significant decreases in new cases soon, representing inadequate control of this pandemic. GlobalData estimates that it will take at least one additional month of continued strict social distancing efforts before new cases will decrease to near zero.
GlobalData estimates that the UK reached the peak of its transmission curve in the second week of April, as shown in Figure 1. The average daily new cases in the past week have been around 500 cases lower than the April peak week, which reported the highest number of average daily cases to date for the UK at 5,400 daily cases. During the peak of new confirmed cases in the second week of April, the UK conducted an average of 20,000 tests per day, which increased to 100,000 tests per day in the first week of May. Despite increased testing, the number of new confirmed cases has not increased in recent days. The UK has remained stagnant in its recovery and is taking a long time for the curve to decrease than the low-transmission model predicts. As such, it is likely that the recovery phase will last longer and the UK will not be able to return to normal until the second week of July, with potentially more than 230,000 total confirmed cases.
The peak and recovery phase scenario is based on the assumption that strict social-distancing measures will continue to be government policy. As the number of new confirmed cases continues to decline in European countries including Germany, Spain, and Italy, these countries are starting to lift their strict social distancing measures. There is a growing pressure on the UK government to lift its social distancing policy soon. The timing of when to lift the lockdown has to be right, otherwise, the UK could very easily see the second wave of exponentially increasing Covid-19 cases. Singapore controlled its Covid-19 outbreak very quickly but has since seen localised outbreaks of new cases, mostly in migrant communities. Germany reported a small increase in new cases when it started to loosen social distancing measures. Based on this, the UK should continue with the current policy for at least one more month to quickly reach near-zero new cases. Even when the country loosens social distancing measures, it must remain vigilant and be prepared to shut down gatherings in response to surges. However, other considerations such as economic impact will also play a role in determining when the country can open up again.
The peak and recovery phase scenario has some limitations, including (but are not limited to) accuracy of testing, testing availability, testing speed, speed of reporting, and accuracy of reporting. GlobalData will continue to monitor developments and will improve the model when more data are available.
Free Whitepaper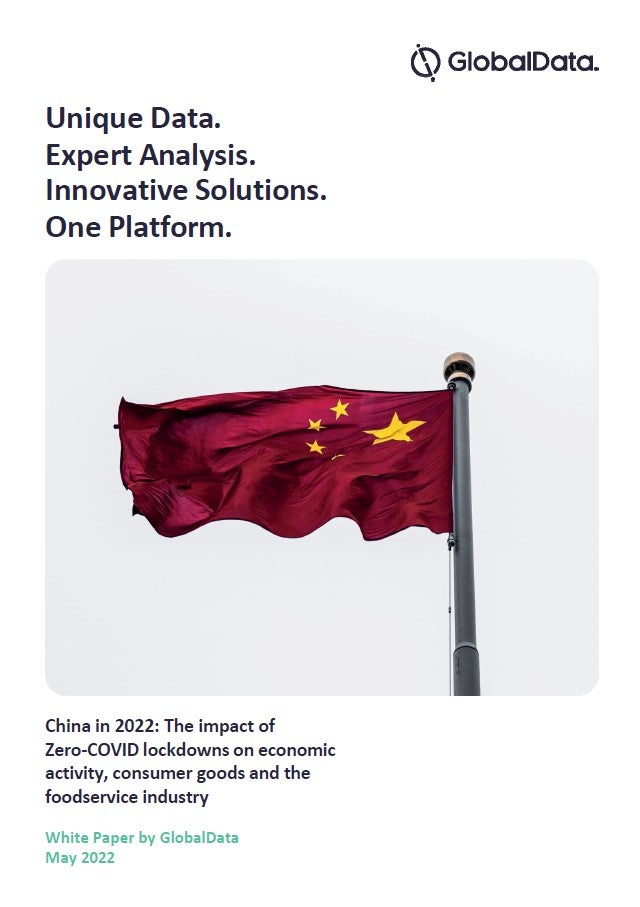 What is the impact of China's Zero-COVID lockdowns on economic activity, consumer goods and the foodservice industry?
While wanting to protect the country from being overwhelmed by Omicron, China's adherence to a Zero-COVID policy is resulting in a significant economic downturn. COVID outbreaks in Shanghai, Beijing and many other Chinese cities will impact 2022's economic growth as consumers and businesses experience rolling lockdowns, leading to a slowdown in domestic and international supply chains. China's Zero-COVID policy is having a demonstrable impact on consumer-facing industries. Access GlobalData's new whitepaper, 
China in 2022: the impact of China's Zero-COVID lockdowns on economic activity, consumer goods and the foodservice industry
, to examine the current situation in Shanghai and other cities in China, to better understand the worst-affected industry sectors, foodservice in particular, and to explore potential growth opportunities as China recovers. The white paper covers:
Which multinational companies have been affected?
What is the effect of lockdowns on foodservice?
What is the effect of lockdowns on Chinese ports?
Spotlight on Shanghai: what is the situation there?
How have Chinese consumers reacted?
How might the Chinese government react?
What are the potential growth opportunities?
by GlobalData