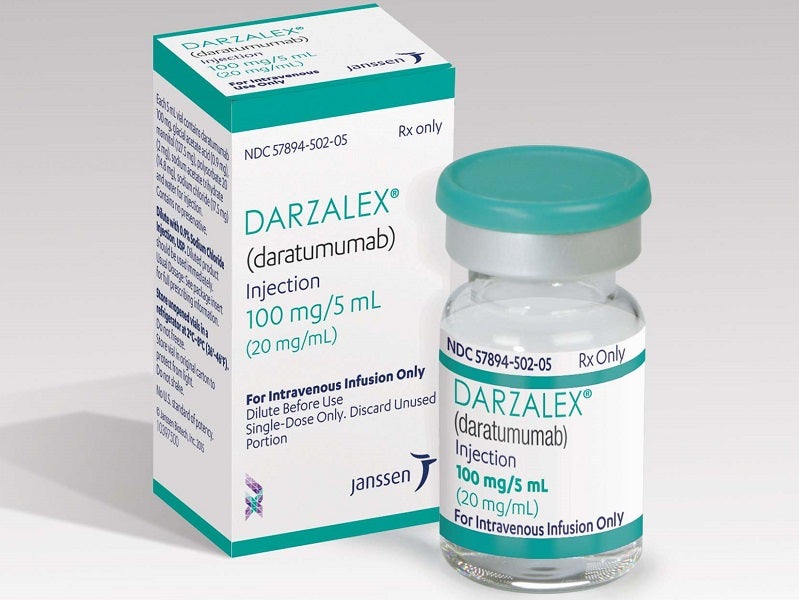 Johnson & Johnson's Phase III data of Darzalex (daratumumab) in front-line multiple myeloma (MM) could have an immediate impact on clinical practice in the US, experts said at the recently concluded American Association of Hematology (ASH) annual meeting. Front-line therapy is that which is accepted as the best treatment. The trial, which tested Darzalex in combination with Celgene's Revlimid (lenalidomide) and dexamethasone (D-Rd) showed clear superiority to Rd, they noted, anticipating that D-Rd will quickly replace Rd as the accepted therapy, or standard-of-care (SOC), in first-line MM patients who are ineligible for transplant. Multiple myeloma is a cancer that forms in a type of white blood cell.
Additionally, with Darzalex already approved as a first-line MM therapy but as part of a different combination, D-Rd has the potential to be prescribed off-label ahead of an expected FDA approval, experts said.
Off-label prescribing is done for conditions other than what is on a drug's approved label. The approved Darzalex combination with Takeda Pharmaceutical's (TYO:4502) Velcade (bortezomib), melphalan and prednisone (VMP) has not been commonly used in the US, despite its May first-line approval, noted Phase III MAIA investigator Dr Saad Usmani, director, clinical research in hematologic malignancies, Levine Cancer Institute/Atrium Health, Charlotte, North Carolina.
As such, there was a lot of anticipation over the MAIA trial to see if adding Darzalex would improve Rd, Usmani said. Johnson & Johnson's stock rose 2% after its data presentation on 4 December at ASH, and the company's market cap is now $384.7bn.
Darzalex results from 737-patient MAIA study
Results from the 737-patient MAIA study (NCT02252172), which was presented in a late-breaking abstract session (LBA-2; ASH 2018), demonstrated that D-Rd triggered a 44% reduction in the risk of progression or death at a median follow-up of 28 months (Hazard Ratio 0.55, 95% Confidence Interval [CI], 0.43 to 0.72; p < 0.0001). The median progression-free survival (PFS)—MAIA's primary endpoint—for the Rd arm was 31.9 months and was not reached for the D-Rd arm. Rd is the most commonly used SOC for first-line MM patients who are ineligible for transplant. PFS is the length of time during and after the treatment of a disease, such as cancer, that a patient lives with the disease but it does not get worse.
The results indicate that the addition of Darzalex to the current SOC Rd can significantly extend time to disease progression, said Aaron Gerds, assistant professor of hematology and medical oncology, Cleveland Clinic Taussig Cancer Institute, Cleveland, Ohio. The PFS rate data—71% at 30 months versus 56%— was extremely positive, added MAIA investigator Dr Thierry Facon, professor of hematology, Lille University Hospital, Lille, France.
The National Comprehensive Cancer Network will likely quickly define D-Rd as a SOC in the front-line setting for patients ineligible for transplant, which will then have an immediate impact on clinical practice in the US, Falcon said.
There is a lot of excitement with Darzalex making into the first-line setting in the US market, where Rd is the most commonly used therapy for MM patients who are ineligible for transplant, said Usmani. Although Darzalex in combination with VMP is already approved in the first line, the VMP regimen is not commonly used in the US; it is more popular in Europe.
Darzalex is already well-established in relapsed/refractory MM and is now expanding its application in the first line-setting, noted Dr Angelo Maiolino, coordinator, Brazilian Society of Hematology's MM committee, Rio de Janeiro. He cited two other Darzalex studies that had partial results presented at ASH and generated positive expectations for the drug in the first line-setting.
Preliminary data from 16 patients in the Phase II Griffin study (NCT02874742), which tested Darzalex in combination with Velcade/Revlimid/dexamethasone in newly diagnosed patients eligible for transplant, showed that 63% achieved a complete response. In the Phase II Lyra trial (NCT02951819) evaluating Darzalex plus cyclophosphamide/Velcade/dexamethasone, the objective response rate among 84 newly diagnosed patients was 81% at the end of induction.
Griffin and Lyra data are considered encouraging and point to an overall expansion of Darzalex in MM, added Usmani and Facon. In 2017, Darzalex earned $1.2bn worldwide, and global overall sales are expected to reach $6.8bn by 2024, according to an analyst report. The CD38-targeting monoclonal antibody gained its first FDA approval in 2015 and is now approved in various combinations for relapsed/refractory MM as well as its most recent first-line approval.
In countries outside the US, the adoption of D-Rd in the first-line setting will probably take longer, as it will need to go through regulatory approval and reimbursement discussions, Facon noted.
by Mariana Lenharo in New York
Mariana Lenharo is a reporter for Pharmaceutical Technology parent company GlobalData's investigative journalism team. A version of this article originally appeared on the Insights module of GlobalData's Pharmaceutical Intelligence Center. To access more articles like this, visit GlobalData.