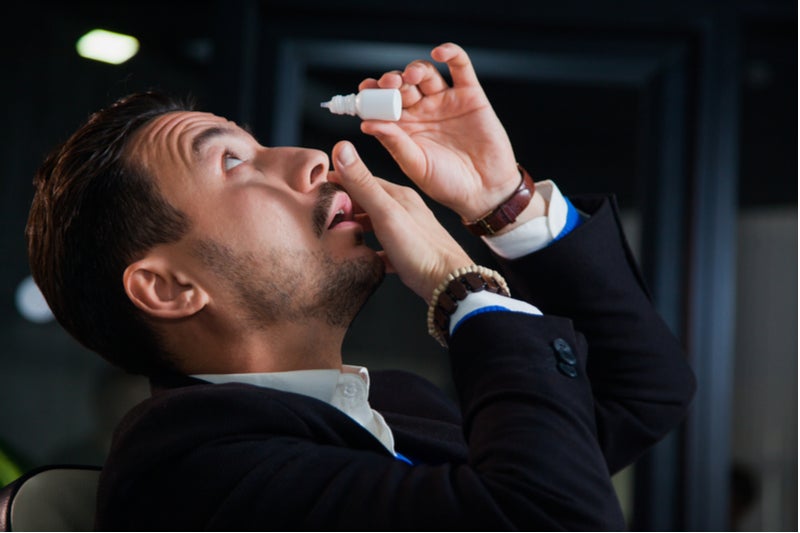 The Dry Eye Syndrome (DES) market has many unmet needs, both environmental and clinical. There are very few pharmacotherapies available for DES patients, and many patients only use over-the-counter (OTC) artificial tears to manage the symptoms of their ocular disease. There remains a huge clinical unmet need for additional pharmacotherapies, particularly for a curative drug that can address the underlying cause of DES.
In all global markets, the management of DES is dominated by the widespread use of artificial tears. While these cheap OTC products offer some symptomatic relief for patients, they do not address the underlying disease pathology. Currently, competition is limited within the global DES markets, as only six DES pharmacotherapies have been launched within the last decade: Allergan's Restasis (cyclosporine 0.05%), Takeda's Xiidra (lifitegrast 5%), Sun Pharma's Cequa (cyclosporine 0.09%), Santen Pharmaceuticals' Ikervis (ciclosporin 1 mg/mL) and Diquas (diquafosol tetrasodium 3%), and Otsuka's Mucosta (rebamipide 100mg).
Restasis was the first-to-market prescription product available for the treatment of DES in the US when it launched in 2003. No other DES drug has enjoyed the same success, and Restasis has retained its leadership in the US prescription market for DES since it launched. However, its position was challenged by the launch of Xiidra in August 2016, which boosted competition in the US market.
Xiidra is a first-in-class therapy that treats both the signs and symptoms of DES. Like Restasis, Xiidra targets inflammation, but it acts on a distinct inflammatory pathway, displaying a quicker onset of action and different side effects. Xiidra was originally launched by Shire, but the company has since been acquired by Takeda. Subsequently, Takeda divested Xiidra to Novartis earlier this month in an effort to cut its debts following the Takeda-Shire mega-merger. This deal will extend Novartis' ophthalmology portfolio, showing its commitment to being an ophthalmology player after the spin-off of its eye disease unit, Alcon, earlier this year.
Xiidra's future market share could face a few challenges, as generic versions of its main rival, Allergan's Restasis, are available due to its loss of patent protection in May 2019. However, because Restasis only targets the signs of the disease and not the symptoms, this gives Xiidra a competitive advantage.
Xiidra is approved by the US Food and Drug Administration and it is currently in pre-registration in Europe. GlobalData forecasts Xiidra to generate global sales of $1.2 billion by 2025, making it the highest-selling branded drug in the DES market. However, Xiidra is expected to lose market exclusivity in the US in 2025 and face generic erosion.
One of the main barriers for Novartis is that its main ophthalmology brand, Lucentis (ranibizumab injection), is going to lose sales soon due to loss of patent protection. This is a serious situation for Novartis, as Lucentis has been generating a lot of sales and is its only blockbuster in Novartis' ophthalmology portfolio. Therefore, the company moved forward with the strategy to acquire another potential blockbuster drug, Xiidra. However, Xiidra's future is uncertain because it will be exposed to generic competition, both from Restatis generics and later from Xiidra generics.
In addition to further competition from novel drugs entering the DES market in the near future, there are currently 13 drugs in Phase III for DES, making the market very competitive. Acquiring a drug that is already on the market through this deal will provide Novartis with an immediate injection of revenues, offering the company a short-term solution. Over the long term, Novartis has some promising pipeline drugs for ophthalmology that could potentially create future revenues if approved and launched in the market.
Related reports
GlobalData (2018) PharmaPoint: Dry Eye Syndrome – Global Drug Forecast and Market Analysis to 2026, June 2018, GDHC168PIDR