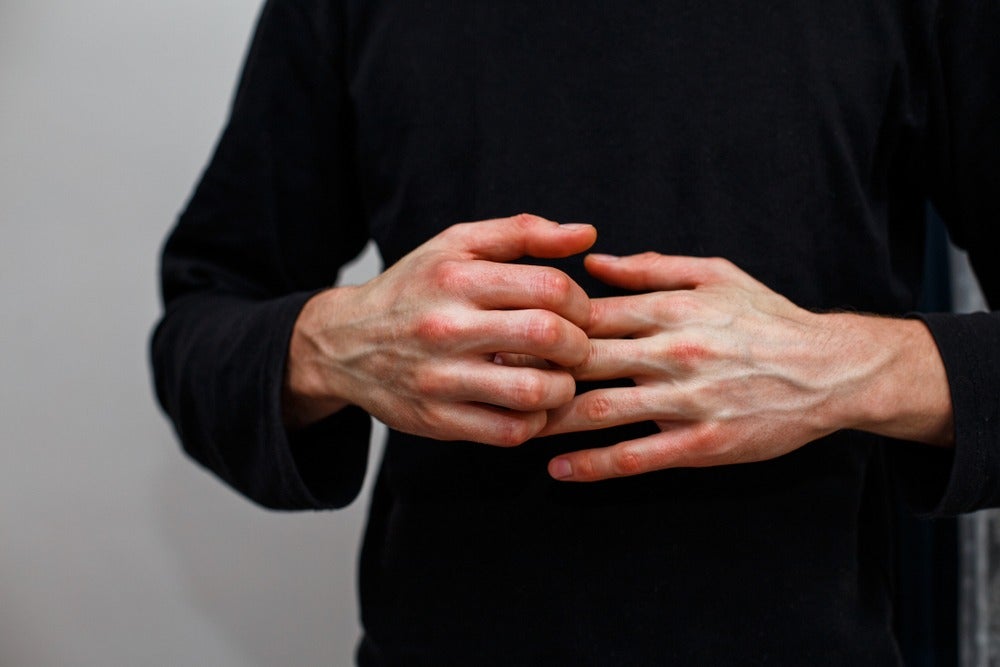 Regeneron Pharmaceuticals' Dupixent (dupilumab) is likely to maintain its foothold in moderate-to-severe atopic dermatitis (AD) in the foreseeable future considering the therapies currently under investigation seem to fall short in delivering any clinically relevant added efficacy/safety benefit.
In contrast, analysts forecast billion-dollar peak sales estimates for treatments like AnaptysBio's Phase IIb etokimab, based on the possibility of the therapy having at least similar efficacy to Dupixent.
Dupixent atopic dermatitis
AD, also known as eczema, is a chronic condition that makes skin red and itchy. It tends to periodically flare.
However, any investigational treatment should at least supersede Dupixent by 15–20% points in the Eczema Area and Severity Index (EASI) or Investigator's Global Assessment (IGA) primary endpoint scoring systems to be considered worthy of a switch, experts said.
The EASI is a validated scoring system that grades AD's physical signs. An IGA is meant to provide a clinically meaningful snapshot of disease severity easily understandable to physicians and patients.
If a new treatment is found to be non-inferior, it should at least have an improved dosing schedule or administration method, they said, noting this is not the case with either etokimab or Dermira's Phase IIb lebrikizumab.
On paper, the fact etokimab targets interleukin (IL)-33, versus Dupixent's IL-4 and IL-13 targets, could yield superior efficacy, but the clinical data has yet to support this theory, some experts said. It is unclear if there is any worthy efficacy benefit in singling out lebrikizumab's IL-13 mechanism of action, others noted.
Meanwhile, Janus kinase (JAK) inhibitors have drawn interest in AD due to their efficacy data and topical or oral administration, some noted. However, this treatment class' long-term side effect profile is subpar compared with Dupixent, as JAK inhibitors could induce infections or even cancer, they said. JAK inhibitors closest to launch in AD include AbbVie's Phase III upadacitinib and Incyte's Phase III Olumiant (baricitinib). Olumiant was FDA approved for rheumatoid arthritis in June 2018.
AnaptysBio did not respond to an interview request, and Regeneron and Dermira declined to comment.
Dupixent competitors have lacked data
The clearest way to beat Dupixent's market hold is to deliver superior treatment rates, said Dr Jon Hanifin a dermatologist with the Portland Veterans Affairs Medical Center in Oregon, US.
Specifically, at least 15–20% point superiority over Dupixent in the EASI or IGA scores would be needed for clinical relevance, according to Dr Hanifin, Dr Brian Kim, assistant professor of dermatology at Washington University School of Medicine in St Louis and Dr George Han, chairman of the Department of Dermatology at Mount Sinai Beth Israel in New York.
In two Phase III Dupixent trials, the primary endpoint was the proportion of patients with clear or almost clear IGA score and reduction of two points or more at week 16. Results were comparable in both trials. In the first trial, 85 patients (38%) who received Dupixent fortnightly and 83 patients (37%) who received Dupixent weekly achieved the primary endpoint, compared with 23 patients (10%) who received placebo (Simpson E, et.al N Engl J Med 2016; 375:2335–2348).
Dupixent was approved by the US Food and Drug Administration (FDA) in March 2017. There is still room for improvement, as there is a minority of patients who do not respond and a number of patients who only had a partial response to Dupixent, Dr Kim said. To supplant Dupixent, the new drug needs to deliver more complete responses, he added.
However, based on available data of treatments in the pipeline, no therapies seem to be able to reach the 15–20% point improvement bar, Dr Hanifin noted. It is unclear whether more complete responses over that already seen with Dupixent is achievable due to patient heterogeneity, Dr Kim said.
Etokimab's Phase IIa data is encouraging for possible Phase IIb success, Dr Hanifin and a US dermatologist said.
All 12 patients achieved at least an EASI-50 on or before day 57 after intravenous administration. A quick response was seen by day 15 in nine patients who achieved EASI-50, according to a February 2018 media release.
However, as the Phase IIa administered etokimab intravenously and the Phase IIb used subcutaneous injection, efficacy readthrough between the trials may not be accurate, the dermatologist and Dr Hanifin noted. However, Dr Han said this administration switch has been seen before in AD trials and thus is not surprising.
Topline data from the 300-patient, randomised, placebo-controlled Phase IIb (NCT03533751), with an EASI primary endpoint, is expected in the second half of 2019, according to an analyst report.
That said, the Phase IIa 12-patient data is too small to predict whether etokimab will eventually show superiority to Dupixent in the ongoing Phase IIb and future trials, Dr Han and Dr Kim said.
The Phase IIa's lack of a placebo arm has drawn further reservations regarding the data's overall clinical value, as the placebo effect is a significant element in AD, Dr Kim said. Disease severity can be influenced by many factors, including the weather, he said.
With regards to lebrikizumab, this news service reported in October 2018 that it is likely to have a similar result to Dupixent in the Phase IIb trial's (NCT03443024) EASI primary endpoint. Topline results from the 280-patient, randomised, placebo-controlled trial are expected in the first half of 2019. However, if any new drug merely delivers equivalent results to Dupixent, it will only be a second option at best, Dr Kim noted.
With non-inferiority results, an improved dosing schedule could be a way to demonstrate superiority, Dr Han and Dr Kim said. For example, if the new drug is dosed every three months, that would be a compelling change over Dupixent's typical fortnightly intravenous administration, Dr Han said. The dermatologist added an oral administration could be a worthy administration edge as patients unaccustomed to subcutaneous injection could be initially sceptical of Dupixent.
Subcutaneously injected lebrikizumab is under investigation for once every two or four weeks, while etokimab's dosing injection frequency is not listed on the US National Library of Medicine's website ClinicalTrials.gov.
Mechanism edge still belongs to Dupixent
Dupixent's mechanistic advantage is that it targets IL-4 and impacts IL-13, and an effect on both can improve itch and inflammation, Dr Hanifin said. Both IL-4 and IL-13 share the same receptor, he explained.
The rationale behind etokimab targeting IL-33 is that it is linked with keratinocytes (epidermal cells which produce keratin), and AD damage is a result of keratinocyte damage, Dr Hanifin explained. However, another cytokine target often linked with IL-33, TSLP, does not seem to be valuable in AD, thus drawing reservations to IL-33's value, he said. Then again, IL-33 may be a more valuable AD target than TSLP, he added. While it is theoretically possible that targeting IL-33 could work better than targeting IL-4 because IL-33 is located upstream of IL-4, this still needs to be confirmed in clinical trials, Dr Kim said.
On paper, lebrikizumab's specific target of IL-13 only could be ideal, as pursuing IL-4 could negatively affect other unknown pathways, Dr Hanifin said. However, it is unclear if there is a value to singling out IL-13, he added. There is more overall data supporting IL-4 than IL-13 in AD, Dr Han noted. The only known advantage of only targeting IL-13 is that it could prevent eye irritation in a small number of patients, Dr Kim said.
JAK inhibitor long-term side effects worrisome
Further entrenching Dupixent's territory in AD is its manageable side-effect profile, Drs Hanifin, Kim and Han said. Dr Hanifin shared an anecdote of a patient who had Dupixent-related eye inflammation but went back to using the treatment due to its efficacy. Other common side effects include injection site reactions, swollen eyelids and oral herpes.
Dupixent also has no clear long-term side effects, Drs Hanifin, Kim and Han added. The only possible long-term safety concern with Dupixent's IL-4 target is that IL-4 levels drop in patients with human immunodeficiency viruses (HIV), but it is unclear how related this is to the HIV disease process or to AD, Dr Han said.
This safety assurance is in contrast to JAK inhibitors, which could potentially reduce immune response and allow infections to manifest or even allow cancer to develop, Dr Hanifin and Dr Kim said. The interest in JAK inhibitors in AD is due to their ability to reach high levels in the EASI score, Hanifin said, with the dermatologist noting their topical or oral administration is an advantage.
At week 32 in the Phase IIb oral upadacitinib trial, the mean percent improvement in the EASI score in the treatment arm was 48% in the 7.5mg dose, 44% in the 15mg dose, and 69% in the 30mg dose, compared to 34% with placebo, according to a September 2018 AbbVie media release.
However, JAK inhibitors have a narrow therapeutic window, Dr Han said. If the dose is too low, there could be no clinical effect, and if it is too high, severe side effects could then manifest, he said.
by Reynald Castaneda in London
Reynald Castaneda is a Senior Reporter for Pharmaceutical Technology parent company GlobalData's investigative journalism team. A version of this article originally appeared on the Insights module of GlobalData's Pharmaceutical Intelligence Center. To access more articles like this, visit GlobalData.