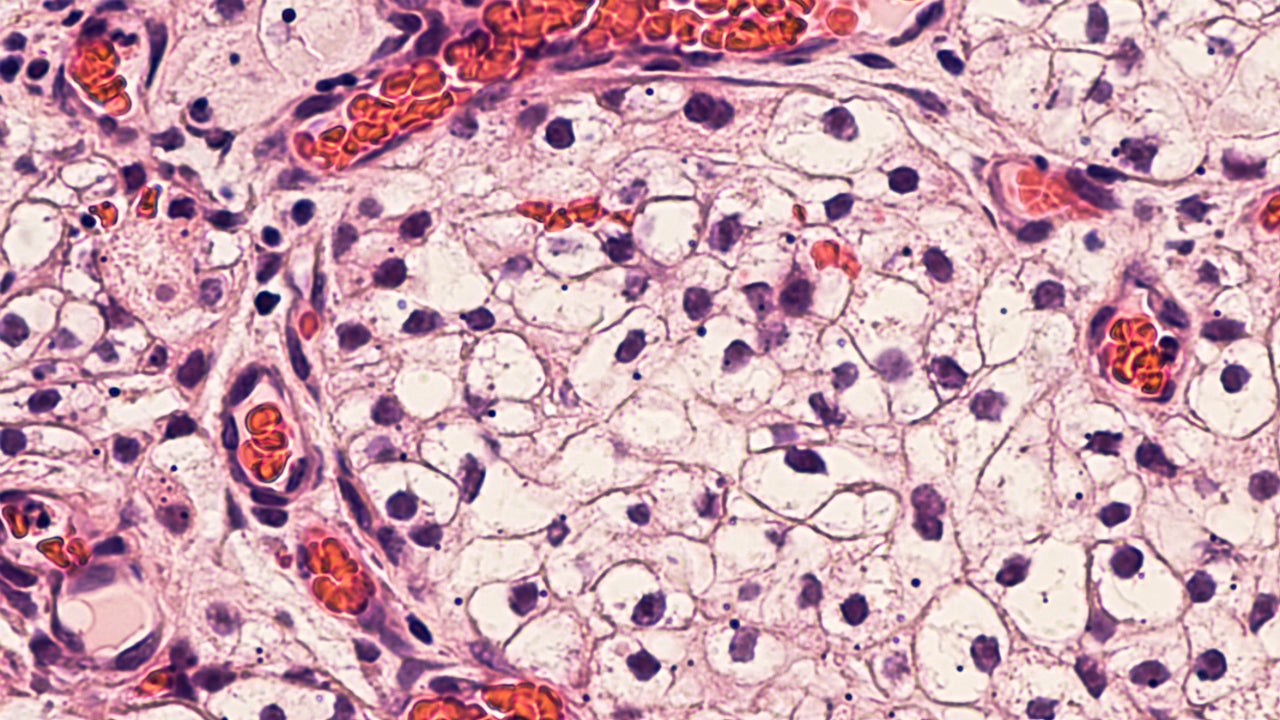 The treatment of metastatic renal cell carcinoma (RCC) has been greatly improved by the introduction of immune checkpoint inhibitors (ICIs), which are competing for market share with the established tyrosine kinase inhibitors (TKIs). At the virtual European Society for Medical Oncology (ESMO) 2020 annual conference on 19-21 September, data from two different trials of ICIs in combination with a TKI was presented, paving the way for their use in the highly competitive first-line (1L) setting.
TKIs have claimed a high share of the 1L setting with Food and Drug Administration (FDA)-approved options that include Pfizer's Sutent (sunitinib), Novartis' Votrient (pazopanib) and Exelixis' Cabometyx (cabozantinib). Pfizer's Inlyta (axitinib) is only authorised for use as a single agent in the second-line (2L) setting but can be used in the 1L in combination with Merck's/Pfizer's Bavencio (avelumab) or Merck's Keytruda (pembrolizumab). Another ICI-only option in the 1L is the combination of Bristol Myers Squibb's Opdivo (nivolumab) + Yervoy (ipilimumab).
While Keytruda + Inlyta has achieved the first-to-market status in the ICI + TKI drug class, competitors are now in advanced-stage trials. Results from the Phase III CheckMate 9ER study showed that the combination of Opdivo + Cabometyx increased the median progression-free survival (PFS) to 16.6 months versus 8.3 months for Sutent only (hazard ratio [HR] = 0.51). The median overall survival (OS) was not reached in either arm (HR = 0.6). Also, at ESMO 2020, the COSMIC-021 study, evaluating the efficacy of Roche's Tecentriq (atezolizumab) + Cabometyx, showed encouraging data with a median PFS of 19.5 months (n = 34 patients). While this will have to be confirmed in a Phase III study, Tecentriq has the potential to take a share of the 1L ICI + TKI market.
While Bavencio + Inlyta is FDA-approved, the data was not mature enough at the time of approval to show an OS benefit, essentially leaving the combination of Keytruda + Inlyta as the number one ICI + TKI choice that Opdivo + Cabometyx will aim to overtake. Key opinion leaders, presenting at ESMO 2020, suggest that Opdivo + Cabometyx will be a valid option for the 1L treatment of RCC. However, in the absence of OS readouts and a direct comparison with Keytruda + Inlyta, the choice will come down to patient and physician preference. GlobalData estimates that the current share for TKIs as single agents in the 1L setting ranges from 59%–65%, depending on the risk profile. This is poised to decrease to 18%–34% by 2028, while ICI + TKI combinations are increasing their market share. Opdivo has had great commercial success in RCC with high market shares in the 2L/3L setting pushing sales to over $600m as of 2020, according to a GlobalData forecast. Its introduction into the 1L may be the key for it to achieve blockbuster status in RCC.