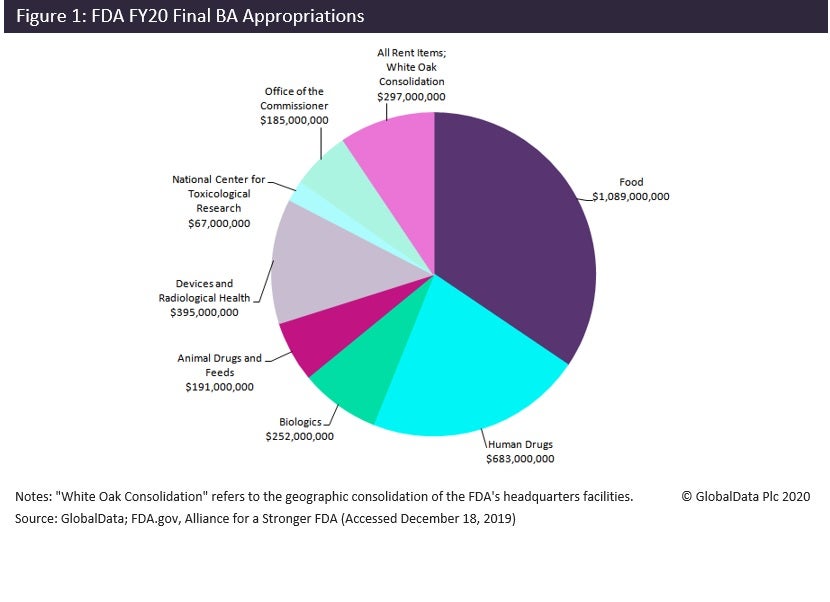 The FDA will receive an extra $91m from budget authority appropriations in 2020 compared to last year – a 3% hike from 2019 – following the last-minute passing of the FY 2020 budget appropriations bill in December 2019. This includes an extra $20m for human drugs and an extra $12m for biologics, bringing budget authority funding totals to $683m and $252m, respectively, for these segments in 2020 (Figure 1).
Total budget authority funding for the FDA in 2020 will be $3.16B, which will be combined with user fees from the Generic Drug User Fee Act (GDUFA) and Prescription Drug User Fee Act (PDUFA) to form the FDA's total annual budget.
The FY 2020 budget authority appropriations include funding earmarked for specific areas. These funding pots will be augmented with user fees.
Compounding
The budget authority appropriations that were approved in December include $9m specifically for compounding. Funds will be spent on developing regulations for outsourcing facilities. This will include further work on the list of APIs that compounding facilities may produce. The 503B 'bulks list' is the subject of a long-running battle between compounders and bio/pharma companies. In March 2019, the FDA began making critical changes to this list and banned the compounding of nicardipine hydrochloride and vasopressin (B/POR, March 2019). The agency also plans to create a Compounding Quality Center of Excellence (B/POR, March 2019).
Injectables are the most commonly offered service at US compounding facilities, a GlobalData analysis shows (B/POR, August 2019). Information on compounding services can be searched in the GlobalData Contract Service Providers Database on the Pharma Intelligence Center.
Opioids
The appropriations include $8m to address the opioid crisis, including investments to intercept international mail packages.
Generic Drugs
The budget authority appropriations also set aside $1.9m for generic drugs. The FDA plans to modernise the way in which it reviews generic drugs, making the approval process faster and more consistent. This includes the automation of reviews of the drug quality section of the application.
Rare Disease
Appropriations have earmarked $5m for rare oncology therapies. The FDA will develop clinical trial networks to create a better understanding of the natural history and clinical outcomes of rare diseases.