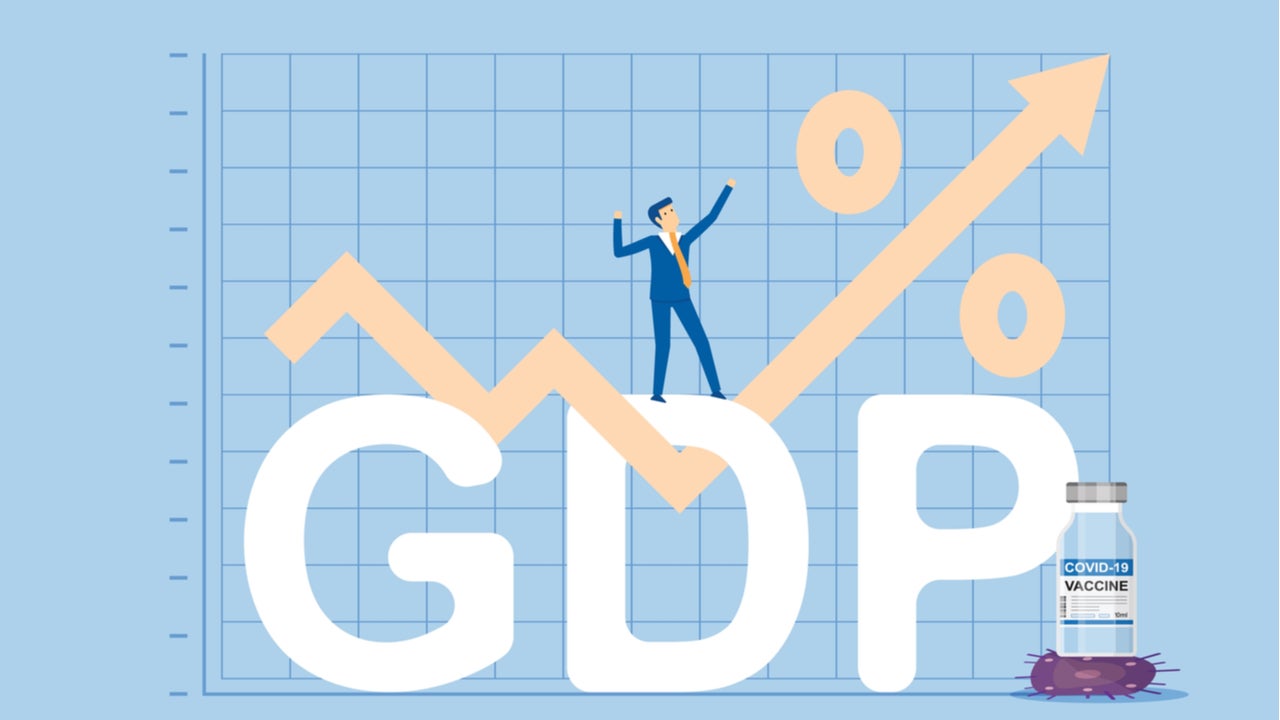 Economists believe that international efforts are needed to ensure the global recovery remains on track by supporting low-income countries in combating the coronavirus pandemic.
Christophe Barraud
Christophe Barraud, chief economist at financial services firm Market Securities, shared the latest economic outlook from the Organisation for Economic Co-operation and Development (OECD). Stimulus packages and financial support from governments and central banks have helped the global economy recover from the impact of the Covid-19 pandemic, the OECD noted.
The OECD estimates global growth to reach 5.7% this year and 4.5% in 2022, but recovery remains uneven due to different challenges faced by countries. The different vaccination rates across various countries is further contributing to the uneven recovery. Several countries are dealing with new virus outbreaks creating supply chain constraints and bottlenecks. The OECD report noted that international efforts are required to provide resources to low-income countries to ensure the global economic recovery remains on track.
The outlook for inflation provided by OECD also varies globally with a sharp increase projected for the US and some emerging market economies. Headline consumer price inflation in the UK is projected to increase to 2.3% in 2021 and 3.1% in 2022, while it is projected to reach 3.6% in the US in 2021, declining marginally in 2022 to 3.1%.
🇺🇸 🇪🇺 🇬🇧 *OECD HIKES 2021, 2022 INFLATION OUTLOOK IN U.S., EUROZONE, U.K.
*Link: https://t.co/96eV1dD4dM pic.twitter.com/DlEXGy5bBa

— Christophe Barraud🛢 (@C_Barraud) September 21, 2021
Ludovic Subran
Ludovic Subran, chief economist at financial services provider Allianz, shared a podcast where he expressed his views on whether the Delta variant of the coronavirus will impact the global economic recovery. Subran noted that the Delta variant will only have a mild impact and lead to a 0.2 to 0.5 percentage points decline in the global GDP. The impact of Delta much lesser than initially projected with global economic growth expected to remain strong at 5.5% in 2021 and 4.5% in 2022, he added.
Subran stated that the world could witness newer variants creating an endemic kind of situation where people will have to learn to live with the virus. Vaccination rates and policy changes will play a key role in economic growth although output is expected to remain below potential levels until the end of 2022. Output loss will be most in emerging markets where recovery remains uneven due to low vaccination levels and lack of additional policy support, according to Subran.
Could the #delta variant derail the global economic recovery? In the latest episode of the #Tomorrow podcast, Chief Economist @Ludovic_Subran dives into the updated outlook for 2021-2022 and the risks ahead. Listen here. 🎧👉https://t.co/WsHIlfgoAj

— Ludovic Subran (@Ludovic_Subran) September 21, 2021
Yannis Koutsomitis
Yannis Koutsomitis, managing editor at Kappa News, shared an article on the recovery of Greece's economy from the coronavirus pandemic. The country's economy is expected to reach pre-pandemic levels this year with growth rate projected between 3.6% and 5.9%, which is the strongest growth over the last two decades.
Greece was strongly impacted by the pandemic with the country's economic output declining by 8.2% in 2020. However, strong consumer spending and investment in the second quarter of 2021 boosted GDP growth by 16.2% compared to the same period in 2020. The strong growth in tourism in the third quarter is expected to further boost the country's GDP, the article noted.
Bank of Greece Governor Yannis Stournaras stated that Greece is on its way to sustain growth rates of 3.5% over the next ten years supported by €40bn ($47bn) from European structural funds and €32bn ($37.5bn) from the European Union Recovery Fund. Stournaras, however, believes the ongoing structural reforms such as market liberalisation, privatisation and green transformation are the main factors that will contribute to the country's economic growth.
ECB's Stournaras: #Greece's roaring rebound paves way for continued #ECB support — Greek central bank chief acknowledges upside risks to inflation outlook, but says there's 'some way to go' before price increases raise concerns.https://t.co/tDvNyNpsbW /via @POLITICOEurope

— Yannis Koutsomitis (@YanniKouts) September 21, 2021
David Ndii
David Ndii, an economist and author, shared an article on Kenya's Members of Parliament agreeing to the conditions set by the International Monetary Fund (IMF) to provide access to a Sh262bn loan facility ($2.4bn). Some of the conditions set by the IMF include elimination of tax breaks and exemptions and restructuring of highly indebted state-owned enterprises (SoEs).
The SoEs that are unable to meet their operational costs will be privatised by the end of the 2021-22 financial year. The funds provided by IMF are expected to help Kenya in recovering from the pandemic, which significantly impacted by the country's economy. It will also help the country in fighting corruption, while strengthening its monetary policy framework.
MPs agree to IMF conditions with new budget directives https://t.co/mehodYvOxb #

— David Ndii (@DavidNdii) September 21, 2021