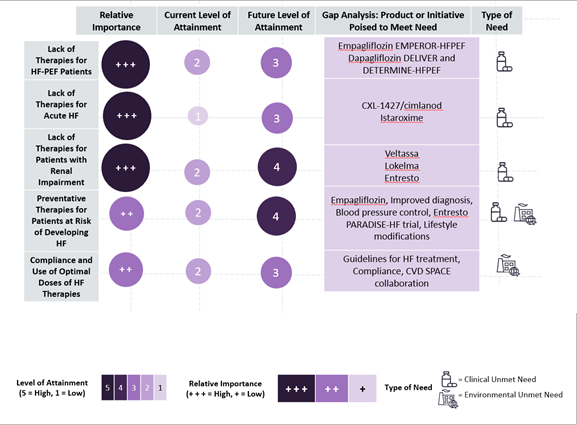 GlobalData expects that the heart failure market will see large growth over 2018–2028, with a Compound Annual Growth Rate (CAGR) of 19.5%.
This is due to a large pipeline of 10 possible treatment options for prescribers to choose from in both chronic heart failure (HF) and acute HF. Between 2018 and 2028, the launch of AstraZeneca 's Farxiga (dapagliflozin) and Boehringer Ingelheim's Jardiance (empagliflozin) for heart failure with reduced ejection fraction (HF-REF) is expected to bring strong growth to the HF market. By 2028, Farxiga is forecast to reach peak sales of $9B and Jardiance is forecast to reach peak sales $4.6B after their US launches in 2020 and 2021, respectively.
With their anticipated success in HF-REF, the sodium-glucose linked transporters (SGLTs) such as Farxiga are also likely to garner a large market share from the anticipated label expansion into HF-PEF, a patient population with huge unmet need and no specific standard of care. There have been numerous trial failures in HF-PEF in recent years, with Farxiga, Jardiance, and Merck and Bayer 's vericiguat as the only drugs currently demonstrating trial success in this patient subset.
There will be two new treatments for acute HF during the forecast period, specifically Bristol Myers Squibb's CXL-1427 and Windtree's istaroxime, both of which are intravenous add-on therapies. These new treatment options aim to reduce the risk of adverse outcomes after patients are discharged, such as readmission or increased mortality.
Alongside these drug launches, a new therapeutic strategy is being explored. Post-acute therapies are being developed with the aim of reducing the readmission rates and improving patient outcomes in the vulnerable post-acute period. This newly proposed therapy area has three pipeline agents: Lexicon's Zynquista (sotagliflozin), Servier's omecamtiv mecarbil, and vericiguat. All of these pipeline agents will compete against each other for market share as add-on therapies to the standard of care. Zynquista, another SGLT inhibitor, is also currently in Phase III trials for worsening chronic HF.