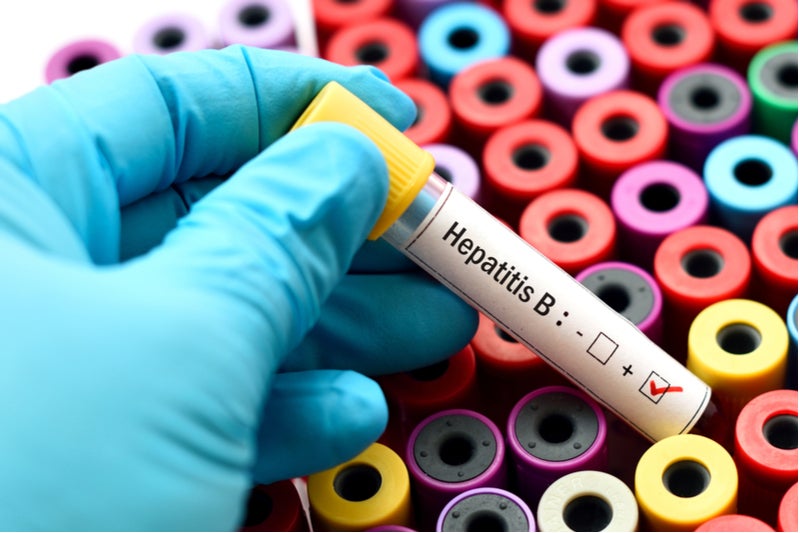 Early Phase II data from Assembly Biosciences' HBV ABI-H0731 and Spring Bank Pharmaceuticals' inarigivir for the treatment of chronic hepatitis B virus (HBV) infections have raised expert scepticism as to whether a functional HBV cure can be expected soon.
Finding a functional cure for hepatitis B
Despite the availability of prophylactic vaccines, hepatitis B remains a global public health threat, with an estimate of more than 250 million people worldwide living with chronic HBV infections, many of them in Sub-Saharan Africa and East and South-East Asia, and elevated risks of developing liver cirrhosis and hepatocellular carcinoma (HCC). Now that several highly efficacious cures exist for hepatitis C infections, the field is turning towards finding a functional cure for hepatitis B, as measured by the reduction of hepatitis B surface antigen (HBsAg).
Although ABI-H0731 is able to reduce viral DNA by targeting the viral core protein, experts debate whether ABI-H0731 plus nucleos(t)ide inhibitors (NUCs) show improved HBsAg suppression as compared to current treatment options with NUCs only, such as Gilead's Vemlidy (tenofovir alafenamide, TAF) and Bristol-Myers Squibb's Baraclude (entecavir).
These treatment options are suppressive and generally considered effective, but not ideal since they have to be used indefinitely. There are furthermore concerns about the toxicity of leftover HBV capsids in liver cells after ABI-H0731 treatment. Full results for Assembly's Phase II study are expected in Q4 2019. ABI-H0731 received fast-track designation from the US Food and Drug Administration and is projected to launch in Q4 2023 in the US.
Another HBV treatment regimen that draws mixed expert opinions is the combination of Spring Bank Pharmaceuticals' inarigivir soproxil plus Gilead's Vemlidy. Inarigivir was designed to target cellular proteins specifically in HBV-infected cells and inhibit viral replication and to boost intracellular signalling pathways enhancing antiviral defences. Specifically, the order and dosing of the two drugs is being debated and which combination might show the best efficacy, as available results have gaps in efficacy data.
In addition to ABI-H0731 and inarigivir, according to GlobalData's recent report on the Hepatitis B Competitive Landscape, Gilead's GS-9688, a toll-like receptor 8 (TLR-8) agonist, and Johnson & Johnson's JNJ-6379, which targets the HBV capsid, are expected to launch in the US market in 2024 and 2025, respectively. Furthermore, clinical trials in China — a country with a high prevalence of chronic HBV infections with more than nine million diagnosed cases and low vaccination rates — include Jiangsu Hansoh Pharmaceutical's HS-10234, which targets the HBV DNA polymerase, in Phase III, as well as HEC Pharm's GLS-4 and Ionis' IONIS-HBVLRx in Phase II. Ionis' drug will be the first-in-class antisense oligonucleotide for the treatment of HBV, while GLS-4 targets the HBV capsid.
In total there are 263 ongoing clinical trials for HBV treatment, with China leading in studies being conducted. Hopes rest on RNAi-based therapies, such as Arrowhead Pharmaceuticals' and Johnson & Johnson's JNJ-3989, which is in Phase I/II and shows promising data in HBsAg reduction. Full Phase II results of both ABI-H0731 and inarigivir plus TAF will demonstrate which of these approaches, if any, will bring the HBV field closer to a functional cure.
Related reports
GlobalData (2019). Hepatitis B: Competitive Landscape to 2027, May 2019, GDHC026CL
GlobalData (2019). Expert Insight: If Successful, Louisiana's Hepatitis C Drug Procurement Model Could Provide Unprecedented Access to Treatment, March 2019, GDHC2313EI
GlobalData (2018). Hepatocellular Carcinoma: Competitive Landscape to 2026, November 2018, GDHC013CL