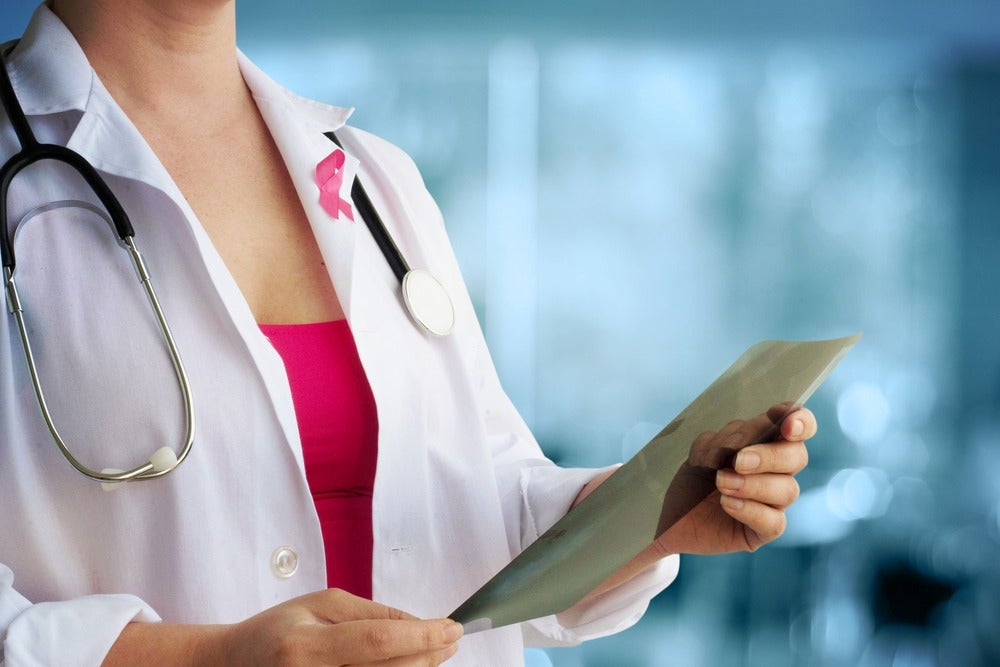 The Her2+ metastatic breast cancer (mBC) space is expected to remain fairly crowded, with no clear leader among therapies from Seattle Genetics, Puma Biotechnology and Daiichi Sankyo, according to breast cancer oncologists. Nonetheless, they noted, activity against brain metastases and tolerability may provide some candidates with an edge.
Her2+ metastatic breast cancer treatment
Roche's Kadcyla (ado-trastuzumab emtansine) has been a mainstay in Her2+ mBC, but recent results are moving it into the adjuvant setting. This has left the field more open to tyrosine kinase inhibitors (TKIs) — tucatinib from Seattle Genetics and Nerlynx (neratinib) from Puma — Daiichi's antibody-drug conjugate (ADC) DS-8201 and MacroGenics' monoclonal antibody (mAb) margetuximab.
Furthermore, Immunomedics' ADC IMMU-132 (sacituzumab govitecan), while not intended for Her2+ patients, is vying for a role in metastatic breast cancer. While Nerlynx already has approval and is ahead of tucatinib in mBC development, experts said it may lose out to tucatinib due to the latter's better tolerability profile and higher potential to treat brain metastasis. Margetuximab's tolerability profile if maintained from early data would give it an edge over TKIs like Nerlynx, this news service reported in November 2017. DS-8201 could also play a role due to ADCs' perceived better tolerability, but experts reserved safety judgement pending data, though did highlight its efficacy results and potential in Her2-low expressers.
On 3 April, this news service reported that the pivotal 600-patient tucatinib HER2CLIMB Phase II trial (NCT02614794) completed accrual, and the company said in February it expects topline data later this year. Puma reported mixed mBC results from the NALA Phase III trial (NCT01808573), driving its stock down 5% on 17 December. Full data is expected at the upcoming American Society of Clinical Oncology (ASCO) meeting.
MacroGenics announced it will submit its Biologics License Application (BLA) to the US Food and Drug Administration (FCA) in the second-half of 2019. Finally, for DS-8201, analysts expect a full-year 2020 BLA filing and have hinted at the possibility of an earlier filing in 2019.
Analysts predict $1.5 billion for DS-8201 across Her2+ solid tumours in the full-year 2022 and $350 million peak sales for tucatinib. They estimate $129 million in worldwide Nerlynx sales and $279 million peak sales for margetuximab specifically in third-line mBC.
Seattle Genetics, Puma, Daiichi Sankyo and Immunomedics did not respond to a request for comment, while MacroGenics did not respond by press time.
Post-Kadcyla space competitive
There will likely be a host of options in the metastatic setting after Roche's Herceptin (trastuzumab)/Perjeta (pertuzumab), said a sacituzumab investigator. He said that there is no "rhyme or reason" to which drug will be chosen first. Patients will likely get all three types of drugs — mAbs, ADCs and TKIs — since Her2 patients are now living for a long time.
mAbs are made by identical immune cells that are all clones of a unique parent cell. Unlike chemotherapy, ADCs are intended to target and kill only the cancer cells and spare healthy cells. A TKI inhibits tyrosine kinases, which are enzymes responsible for the activation of many proteins by signal transduction cascades.
With Phase III Katherine (NCT01772472) results Kadcyla is moving from the adjuvant to the metastatic setting, said a HER2CLIMB investigator.
Oncologists have started using Kadcyla off-label in eligible patients, said a Nerlynx investigator. Roche's sBLA is under FDA's Real-Time Oncology Review, a pilot programme that aims to explore a more efficient drug review process.
There is no trial data on Kadcyla use in the metastatic setting for patients who received it as adjuvant therapy, said Dr Jennifer Diamond, associate professor at the University of Colorado Anschutz Medical Campus, Denver, US.
However, two other experts said they expected Kadcyla to continue to be used in some patients previously treated with Kadcyla. If recurrence occurs 2–3 years after neoadjuvant therapy, Kadcyla use is possible, said Dr Xiaofu Zhu, medical oncologist at the Cross Cancer Institute, Edmonton, Alberta, US. If a relapse is within a year, then a novel approach would be needed, said the Nerlynx investigator. Even though Kadcyla may be on its way to an FDA approval, its adjuvant-use reimbursement in Canadian provinces is undecided, said Zhu.
The order in which various mBC options should be used is unclear because of a lack of data, noted the sacituzumab and Nerlynx investigators. However, experts highlighted certain factors that may influence the choice.
TKIs like Nerlynx and tucatinib may prevent brain metastases progression, while ADCs have not yet shown this potential, said the sacituzumab investigator. Phase Ib data on tucatinib's impact on brain metastasis has been promising because of its ability to cross the blood-brain barrier, said the HER2CLIMB investigator. Nerlynx has shown some evidence of efficacy in brain metastasis, but the earliness of the data makes it unclear whether Nerlynx will prove its efficacy for this patient population in NALA versus Novartis' TKI Tykerb (lapatinib) — the comparator — let alone whether tucatinib is better than Nerlynx, said the Nerlynx investigator. The HER2CLIMB investigator noted that the tucatinib trial accruing patients with brain metastases will provide a good idea on tucatinib's efficacy, which he said he is cautiously optimistic about.
The Phase Ib tucatinib trial reported a 42% overall response rate (ORR) among 12 patients with brain metastases. In Phase II Nerlynx trial (NCT01494662), composite central nervous system (CNS) ORR was 49% and 33% in two cohorts totalling 49 patients.
Tolerability factor and ADC potential
Tucatinib may also win against Nerlynx in terms of tolerability, said Diamond and the Nerlynx investigator. It has less high-grade diarrhoea compared to Nerlynx, they agreed. Nerlynx's initial approval as an extended adjuvant was based on the Phase III ExteNET trial (NCT00878709), in which Grade 3 diarrhoea was observed in 40% of Nerlynx-treated patients.
When it comes to ADCs, it is too early to say if they are safer than TKIs, even though Kadcyla has been associated with a better tolerability profile than TKIs like Tykerb, said the Nerlynx investigator. In the 241-patient Phase I DS-8201 study (NCT02564900) in Her2-expressing cancers, 10 deaths occurred, of which four were due to pneumonitis and one linked to interstitial lung disease.
The significance of these deaths in the absence of updated data is unclear, noted Diamond and the Nerlynx investigator. That said, interstitial pneumonitis is an uncommon toxicity with Kadcyla and may be a class effect, added Diamond.
DS-8201 is a promising therapy based on Phase I data showing activity in patients who progressed on Kadcyla, said Diamond. An ORR of 54.5% was observed among the 99 Her2+ mBC patients in the aforementioned Phase I, as per a 1 June 2018 announcement. DS-8201 is also interesting because of preliminary activity in Her2-low expressing breast cancer, which has not been observed with other Her2-targeted therapies, Diamond added. Among 43 Her2-low expressing tucatinib-treated patients, an ORR of 44.2% was observed.
Moving forward for DS-8201, said the sacituzumab investigator, the Phase III study (NCT03529110) comparing it to Kadcyla is less important than the Phase III trial (NCT03523585) where patients have progressed on Kadcyla. Both trials have February 2022 completion dates.
Another contender is margetuximab, which demonstrated positive results compared to Roche's Herceptin (trastuzumab)/chemotherapy, as per a 6 February announcement that drove the company's stock up by 190%. Patients in the margetuximab arm experienced a 24% risk reduction in progression-free survival (HR=0.76, p=0.033). However, the sacituzumab investigator reined in any expectation of margetuximab being the drug of choice, as the absolute number of months of PFS improvement still needs to be understood. PFS is the length of time during and after the treatment of a disease, such as cancer, that a patient lives with it but does not deteriorate.
Outside of Her2+ mBC, the HER2CLIMB investigator pointed to the likely approval of sacituzumab in triple-negative breast cancer (TNBC). Immunomedics stock opened approximately 34% lower on 7 January compared to the previous day, when it announced the receipt of an FDA Complete Response Letter related to manufacturing issues. But the sacituzumab and HER2CLIMB investigators said the data was significant enough to warrant accelerated approval.
by Manasi Vaidya in New York
Manasi Vaidya is a Senior Reporter for Pharmaceutical Technology parent company GlobalData's investigative journalism team. A version of this article originally appeared on the Insights module of GlobalData's Pharmaceutical Intelligence Center. To access more articles like this, visit GlobalData.