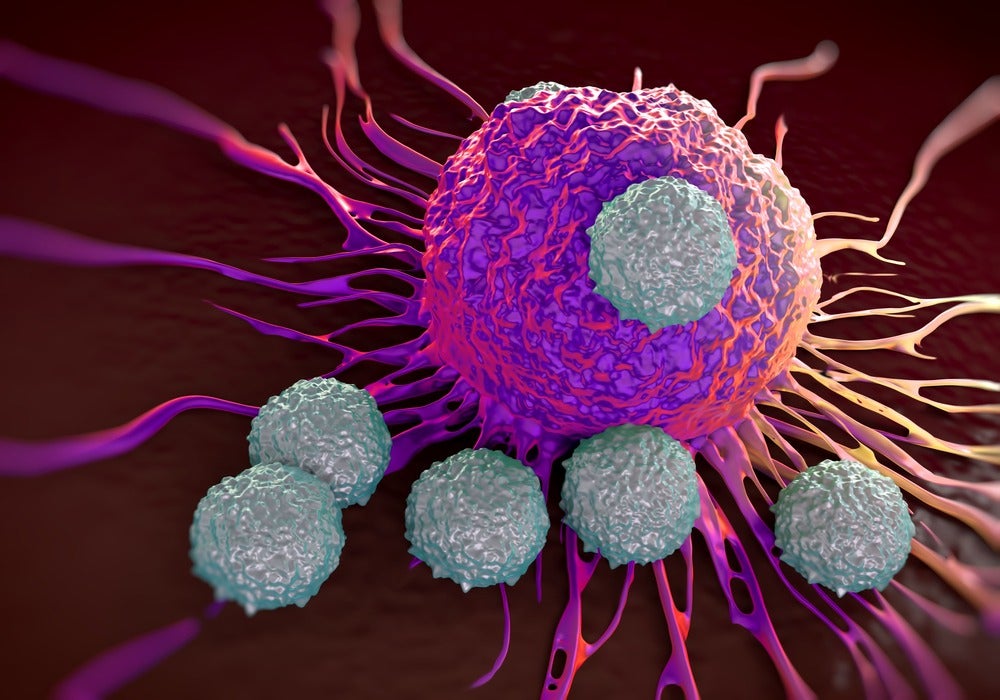 Immuno-oncology, that branch of medicine that looks to stimulate the body's natural defences to fight cancer, enjoyed a solid run of new approvals in the US and EU, along with some of the largest deals in the global pharmaceutical industry, last year.
Immuno-oncology research
In an increasingly competitive landscape, immuno-oncology (IO) developers are taking multiple approaches to differentiate their products. Although one method of differentiation has been for developers to target niche indications, early 2018 demonstrated that the biggest IO players are also interested in larger indications.
Lung cancer showdown
The annual general meeting of the American Association for Cancer Research (AACR) in April 2018 saw a first-line lung cancer showdown between the three most established programmed cell death protein 1 (PD-1)/programmed death-ligand 1 (PD-L1) inhibitors: Merck & Co.'s Keytruda (pembrolizumab), Bristol-Myers Squibb 's (BMS') Opdivo (nivolumab), and Roche's Tecentriq (atezolizumab).
Merck's Keynote-189 data was considered to be "practice-changing" when Keytruda and chemotherapy halved the risk of death versus chemotherapy alone, showing unprecedented efficacy for first-line non-small cell lung cancer (NSCLC).
The combination was approved by the US Food and Drug Authority (FDA) in August and the European Union's European Medicines Agency (EMA) in September for patients with untreated NSCLC regardless of PD-L1 expression.
Roche's combination is second, with an FDA approval for Tecentriq and Avastin (bevacizumab) plus chemotherapy in early December 2018. In 2019, competition for this highly-prized indication may heat up further, with AstraZeneca releasing positive data for its own chemotherapy-free combination of Imfinzi (durvalumab) and tremelimumab in untreated NSCLC patients with a high tumour mutational burden.
Quest for differentiation
As more and more immunotherapies become approved, the quest for differentiation continues. As such, 2018 saw the approval of IO drugs in entirely new indications.
Lung and cervical cancer
BMS' Opdivo was approved by the FDA for small cell lung cancer in August, ahead of any PD-1/PD-L1 inhibitors. In October, Sanofi and Regeneron 's Libtayo (cemiplimab) was the first PD-1/PD-L1 inhibitor to be FDA approved for cutaneous squamous cell carcinoma, the second most common skin cancer, giving it a first-to-market advantage. Additionally, Merck & Co.'s Keytruda was the first PD-1/PD-L1 inhibitor to be approved by the FDA for cervical cancer in June, adding to the blockbuster's plethora of indications.
Lymphoma
Chimeric antigen receptor T cell (CAR-T) therapies such as Gilead's Yescarta (axicabtagene ciloleucel) and Novartis' Kymriah (tisagenlecleucel) also had an interesting 2018. Both therapies saw their first EU approvals, while Kymriah gained a second approval in the US in May, bringing it into direct competition with Yescarta in third-line diffuse large B-cell lymphoma (DLBCL).
Although the EMA's approval of the CAR-T therapies represents a promising step towards integrating these into a large market, concerns remain surrounding the cost-effectiveness of these therapies in Europe, which may hinder their uptake.
Non-Hodgkin lymphoma
Juno Therapeutics ' (a Celgene Company) JCAR017 may be third to market, with data in aggressive non-Hodgkin lymphoma released at the annual American Society of Clinical Oncology (ASCO) meeting demonstrating durable responses as well as promising efficacy and safety. Company messaging aims to position JCAR017 as best in class in the increasingly crowded field of third-line DLBCL, however only mature data will confirm this.
As highlighted in GlobalData's Challenges in IO: Future Use, Trial Design, and Combination Strategies report, IO agents are increasingly being trialled in combinations to improve upon the efficacy of monotherapy regimens, particularly in difficult-to-treat cancers.
Ovarian and breast cancer
Roche presented impressive data for Tecentriq plus chemotherapy in first-line triple-negative breast cancer at the European Society for Medical Oncology (ESMO) annual meeting in October, while Tesaro presented data for Keytruda plus Tesaro's Zejula (niraparib) in ovarian and triple-negative breast cancer at the ASCO 2018 meeting, demonstrating high efficacy in platinum-resistant patients who currently have limited treatment options.
Melanoma
A notable low in terms of clinical data for IO regimens was the failure of Phase III ECHO-301 study of Incyte 's indoleamine 2,3-dioxygenase (IDO) inhibitor epacadostat in combination with Keytruda in melanoma in April 2018. The failure of this combination to meet its primary endpoints had multiple repercussions on IDO inhibitor developers, with NewLink Genetics, BMS, and AstraZeneca either delaying or scrapping their IDO combination programmes.
Mergers, deals and acquisitions
A number of mergers, deals and acquisitions were announced by IO developers in 2018.
In January, Celgene announced that it was acquiring Juno Therapeutics for $9 billion, highlighting its increasing focus on IO therapies. In February, BMS signed a $3.6 billion deal with Nektar therapeutics for the development of anti-CD122 antibody NKTR-214, which is in development for many solid tumours, including NSCLC, melanoma, bladder cancer, and breast cancer.
Other notable deals such as Merck's acquisition of Viralytics , an Australian oncolytic virus developer, highlight the increasing investment of big pharma into IO. From this viewpoint, 2019 appears to be no different than 2018, with BMS announcing its intention to acquire Celgene within the first week of January.
The IO space became more established as a pillar of cancer care in 2018, with approvals and positive data in new, difficult-to-treat indications. To maximize their share of this lucrative market, companies are increasingly investing in partnerships to develop novel candidates or optimise the use of marketed products by trialling combination strategies. A trend GlobalData expects to continue for the remainder of 2019.