Packaging is creating bottlenecks in producing injectable drugs, as the industry lacks the capacity to make and fill enough vials in the face of high volumes of Covid-19 vaccine production. But other packaging types are growing in popularity: injectable drug approvals are trending towards self-administration via auto-injector syringes. At the same time, ampoule-packaging facilities are common worldwide but account for a very small percentage of US Food and Drug Administration (FDA) and European Medicines Agency (EMA) innovative approvals as they have largely been replaced in North America and Western Europe, but are still highly used in emerging markets because of their low cost.
Vials were by far the most used packaging type for injectable non-generic FDA and EMA approvals during the last decade, as shown in Figure 1, taken from the upcoming GlobalData publication Contract Injectable Packaging Trends in the Bio/Pharma Industry. In second and third place are prefilled syringes (PFS) and prefilled devices, which accounted for a much lower proportion of approvals. Some pharma companies market customised prefilled syringes as a marketing differentiator.
Throughout the Covid-19 pandemic, there have been widespread vial shortages due to large-scale vaccine production and an inability of packagers to sufficiently scale up production. Even before the pandemic, there was already significant demand for vials for non-Covid-19 drugs, as shown by their prevalence in the last decade's worth of approvals.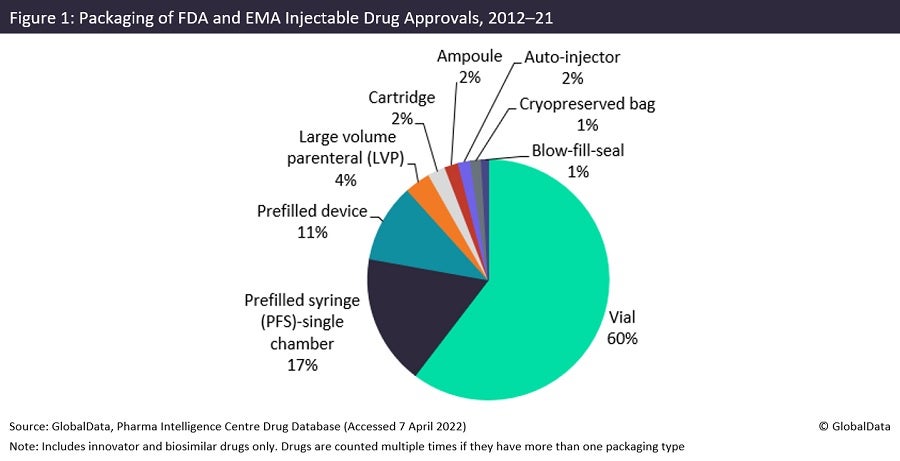 Global injectable packaging type demand varies by geography
Almost 80% of contract injectable packaging facilities worldwide offer vial packaging (Figure 2), which is to be expected given how commonly injectable drugs use this packaging. Despite this, vial packaging capacity has been lacking since 2020 because Covid-19 vaccines use this packaging type. Vial manufacturing has been slow to scale up to meet unprecedented demand. Future vaccine demand is unpredictable as it is dependent on the new variants that emerge and whether these will require booster production. Contract packagers could be cautious increasing production if demand does not continue to remain high in the long term, as many countries are at an advanced stage with their vaccine programmes and there is evidence that demand for Covid-19 vaccines has fallen amid waning appetite for booster shots, according to a recent Financial Times article.
Ampoules account for the second largest number of injectable packaging facilities, and pre-filled syringes the third largest number of facilities, with 30–40% of sites each, despite prefilled syringes accounting for the second largest number of injectable product approvals during 2012–21. Ampoules are a low-cost injectable dose form consisting of a short glass tube with sealed ends. They are inferior to vials and other injectable containers because they present a greater risk of microbial contamination, as well as the risk of glass particles falling into the drug solution when the ampoule is broken open. They have largely been replaced in North America and Western Europe, hence why they are not commonly used as shown in Figure 1, which assesses innovative approvals in the US and Europe, but are still the predominant packaging configuration in emerging markets because of their low cost.
The coronavirus pandemic has strained healthcare systems; hospital-administered injectables can be associated with a long waiting time for the patient and are an additional task for typically overstretched clinicians. Self-administered injections can be more convenient and encourage higher levels of patient compliance, thereby improving treatment outcomes. Subcutaneous injections are more readily self-administered compared to intravenous and other types of injectables. The number of marketed auto-injector products is low currently but about half of those were approved since 2017, indicating the packaging type is growing in popularity. Subcutaneous injectables in the pipeline are far more common than in marketed products. Increasing evidence has shown that patients tend to opt for autoinjectors over prefilled syringes or conventional syringes in terms of easiness of use, preference and satisfaction.