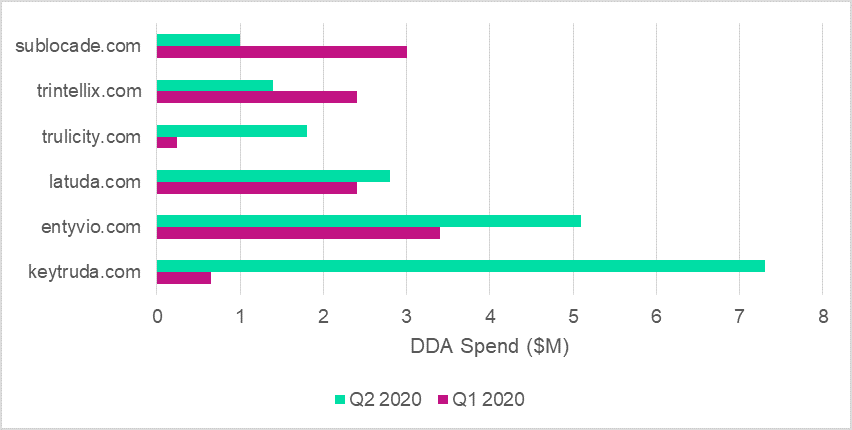 Six pharmaceutical brands spent over $1M on digital display advertising (DDA) in Q2 2020: Takeda's Entyvio (vedolizumab) and Trintellix (vortioxetine hydrobromide), Eli Lilly's Trulicity (dulaglutide), Indivior's Sublocade (buprenorphine), Merck's Keytruda (pembrolizumab), and Sunovion Pharmaceuticals' Latuda (lurasidone hydrochloride) (source: Adbeat).
Among the highest DDA spenders, Keytruda and Trulicity experienced the most significant increase in DDA spend, investing in this type of ad about 10 times more in Q2 vs Q1 ($7.3M vs $653K and $1.8M vs $241K, respectively). The investment has paid off for Keytruda, with Keytruda.com experiencing an increase in traffic from 172,000 visits in January to 435,000 in June, while the traffic to Trulicity.com increased only slightly from 492,000 visits in January to 549,000 in June.
Regarding television advertising, neither Keytruda nor Trulicity are among the top 10 spending pharmaceutical brands and rely more on DDA and print advertisements. Merck stopped mainstream TV spending in mid-2019, including Keytruda commercials, while Trulicity had a total estimated spend of $11.5M in June, but insignificant spend in the previous months of the year [source: ispot.tv].
According to GlobalData's previous analysis, for all the branded assets where companies invested heavily in TV ads in April, no significant impact on web traffic was seen. However, two of the top TV ad spenders, Gilead's HIV drug Descovy and AbbVie's rheumatoid arthritis drug Rinvoq, had their monthly spend on TV ads decreased from March to April and experienced significant drops in traffic to the Descovy.com and Rinvoq.com sites. GlobalData speculated that TV ads had some mitigating effect on the traffic that may have otherwise been lost due to the high levels of distraction during the Covid-19 pandemic.
Similarly, the 10-fold increase in DDA spending for Keytruda and Trulicity may have just mitigated the Covid-19 pandemic effect on website traffic, leading to only approximately 2.5-fold and 1.1-fold increases in monthly visits, respectively, from January to June 2020.
Figure 1 shows the top DDA spenders in Q2 2020 and their respective spends in Q1.