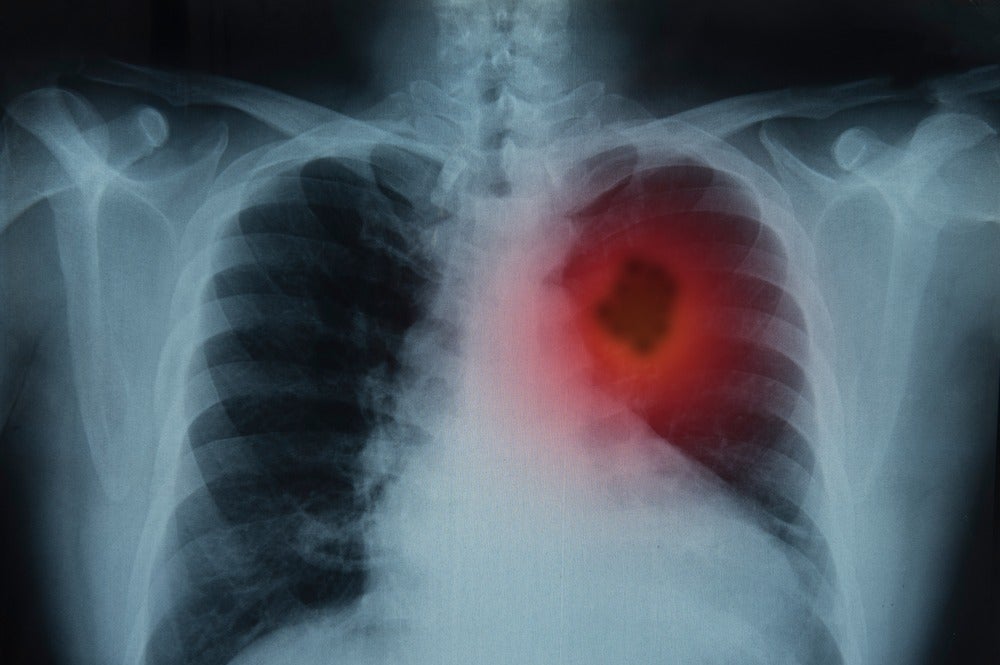 Turning Point Therapeutics' (NASDAQ:TPTX) repotrectinib for ROS1+ non-small cell lung cancer (NSCLC) patients may be relegated to later treatment lines in a crowded space despite encouraging Phase I/II data in treatment-naive and pretreated patients, said experts on the sidelines of the recently concluded American Society of Clinical Oncology (ASCO) meeting.
Lung cancer treatment
Investors were disappointed with the data, as evidenced by the company stock dropping by 20.1% on 31 May — the day of data presentation — but with it rising by 9% on 3 June, analysts were encouraged.
Prior to the ASCO data presentation, one analyst viewed the drug's first-line (1L) activity as best-in-class efficacy in ROS1+ advanced lung cancer based on a World Cancer Lung Conference (WCLC) 2018 update. Another analyst found the ASCO data consistent with prior disclosures and improved responses in tumour kinase inhibitor (TKI)-experienced patients.
Pfizer's (NYSE:PFE) Xalkori (crizotinib) is the standard of care (SOC), as the only Food and Drug Administration-approved 1L therapy for ROS1+ patients, and experts agreed repotrectinib efficacy data was on par, but any advantages over Xalkori are unclear. Furthermore, while later-line therapy will be likely, experts highlighted similar data with Pfizer's Lorbrena (lorlatinib) and Roche's (SIX:ROG) entrectinib that are also vying for the same space.
Analysts expect interim pivotal data in 2H20 with a possible New Drug Application (NDA) filing in 2021 and peak repotrectinib sales of $690 million in the US. The company's current market capitalisation is $1.1 billion, and it had a $166.5 million initial public offering (IPO) in April 2019.
The 450-patient, open-label Phase I/II TRIDENT trial (NCT03093116) is enrolling patients with ROS1+ NSCLC into four cohorts based on prior treatment and two cohorts with NTRK+ solid tumours. Turning Point plans to initiate the Phase II registrational portion of the trial in 2H, according to a 31 May press release.
Pfizer has not commented on its regulatory plans for ROS1+ patients, but a spokeswoman said on 21 September 2018 the company will continue to assess available data in that subset and determine if a regulatory path is appropriate.
Efficacy in 1L encouraging but Xalkori use established
Experts said the repotrectinib response rate was positive and encouraging for both treatment-naïve and TKI-pretreated ROS1+ patients. Among 11 ROS1 NSCLC TKI-naïve patients, overall response rate (ORR) with repotrectinib was 82%, as per the aforementioned May press release. The median duration of response (DOR) was not reached and ranged from 5.6–17.7+ months. In a previous 10-patient update at WCLC 2018, ORR in TKI-naïve patients was 80%, according to a 24 September press release.
But the ALK and ROS1 field is saturated, said a lung cancer oncologist. There are likely more drugs for ROS1+ patients than the patient population, said Dr Lydumila Bazhenova, professor of clinical medicine at the University of California, San Diego. ROS1+ rearrangements are estimated to be found in 1–2% of NSCLC patients.
Repotrectinib's efficacy seems on par with Xalkori, but it is not clear if it is better than the latter, the lung cancer oncologist said. Xalkori was approved to treat ROS1+ NSCLC tumours based on a single-arm Phase I (NCT00585195) trial, in March 2016. Among 50 patients with ROS1-rearranged NSCLC, the objective response rate was 72% (Shaw et al; N Engl J Med 2014; 371:1963-1971). Even Lorbrena has a good response rate in treatment-naïve 1L patients, said Dr Ross Camidge, director of the Thoracic Oncology Clinical Program at the University of Colorado, Denver, adding that 1L treatment for ROS1+ NSCLC is not an unmet need.
Lorbrena got an accelerated approval on 2 November 2018 for ALK+ metastatic NSCLC patients who have progressed on Xalkori and at least one other ALK inhibitor or whose disease has progressed on Roche's Alecensa (alectinib) and Novartis' (SIX:NOVN) Zykadia (ceritinib). Even though it is not FDA-approved for ROS1+ NSCLC patients, the 2019 National Comprehensive Cancer Network (NCCN) guidelines recommend Lorbrena use after progression on Xalkori or Zykadia for ROS1+ NSCLC patients.
ROS1+ patients have excellent options already with Xalkori and even Roche's entrectinib upon expected approval said the lung cancer oncologist. An approval decision for entrectinib's use in ROS1+ NSCLC is expected by 18 August, according to a 19 February Roche press release. Still, as patients will develop resistance and need therapies post-Xalkori, a new generation of agents with promising safety as seen with repotrectinib could fill that space, added the lung cancer oncologist. Grade 3 treatment-related adverse events (AEs) reported with repotrectinib include anemia (n=3), dizziness (n=2), and dyspnea, hypophosphatemia, hypoxia, pleural effusion and weight increase in one patient each, according to a 31 May press release.
Nonetheless, while the field does not know what the efficacy benchmark is for ROS1+ relapsed patients in the second-line (2L) and why they fail ROS1+ therapies is not well elucidated, the repotrectinib data in TKI-pretreated patients is significant, said Dr Keith Kerr, consultant pathologist at Aberdeen Royal Infirmary, Scotland. Among 22 TKI-pretreated repotrectinib patients an ORR of 32% was recorded, according to a May press release.
The obvious path would be to use repotrectinib post-Xalkori since nothing is approved there, and then potentially conduct a head-to-head trial with Xalkori, Camidge said. But direct comparison studies are unlikely, said Bazhenova, and repotrectinib may be saved for 2L, unless the 1L data looks dramatically different. And historical comparisons to prior data may be difficult to draw since it is not clear how much of the disease in patients from those trials was driven by brain metastases, said Camidge. ROS1 mutations may also be too rare to design and accrue such a study, Camidge added. Nonetheless, even Xalkori does not have Phase III overall survival (OS) data in ROS1+ patients yet, said Kerr, on the potential for future drugs to distinguish themselves in the crowded space.
2L may also be likely as the TKI-treated patient results are similar to Lorbrena, and Lorbrena use is already supported by NCCN guidelines, said a second lung cancer oncologist. In a Phase I/II study (NCT01970865), among 47 ROS1-positive patients regardless of prior treatment, Lorbrena's ORR was 36%, according to a 16 October 2017 press release.
Turning Point did not respond to a request for comment.
by Manasi Vaidya in New York
Manasi Vaidya is a Senior Reporter for Pharmaceutical Technology parent company GlobalData's investigative journalism team. A version of this article originally appeared on the Insights module of GlobalData's Pharmaceutical Intelligence Center. To access more articles like this, visit GlobalData.