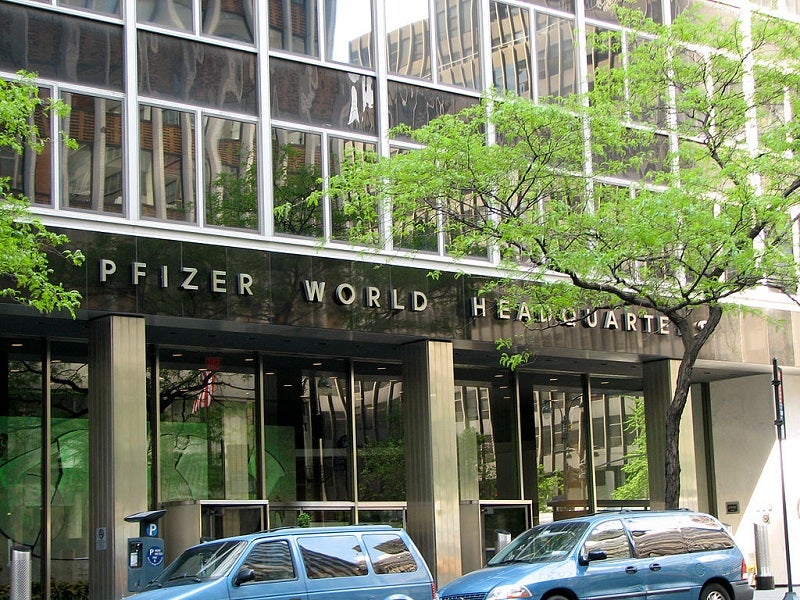 To date in 2018, the FDA has approved a total of 15 drugs for the treatment of various oncology indications. Standing out among the manufacturers is Pfizer, which filed for marketing approval for four of the 15 newly branded oncology drugs. This is an impressive feat, considering all the four approvals were granted in the last three months.
In the face of the upcoming US patent expiration and loss of market exclusivity of its blockbuster brand Lyrica in June 2019, Pfizer is gearing up to commercialise its four new brands as quickly as they were approved, in order to build up new revenue that will offset the impending revenue loss as the generic versions start to eat away the market share of Lyrica next year.
Pfizer's new brands are the epidermal growth factor receptor (EGFR) tyrosine kinase inhibitor (TKI) Vizimpro (dacomitinib), poly (ADP-ribose) polymerase inhibitor (PARPi) Talzenna (talazoparib), anaplastic lymphoma kinase inhibitor (ALKi) Lorbrena (lorlatinib), and Hedgehog pathway inhibitor Daurismo (glasdegib), which are approved for the treatment of newly diagnosed EGFR-mutated non-small cell lung cancer (NSCLC), germline BRCA-mutated HER2-negative locally advanced or metastatic breast cancer, relapsed/refractory ALK-mutated NSCLC, and newly diagnosed elderly acute myeloid leukemia (AML), respectively.
The brands that could save Pfizer's profits after Lyrica
All four approvals are granted in indications with a high level of competition, which will impact the adoption of the new brands in their respective indications. GlobalData anticipates that the second-generation EGFR TKI Vizimpro will suffer most significantly from competition as there are numerous EFGR inhibitors currently marketed for EGFR-mutated NSCLC. While Vizimpro could steal a portion of the shares of the first-generation EGFR TKIs Iressa or Tarceva, it is unlikely to do so from the second-generation Gilotrif and its presence in this space will be further constrained by the recent label expansion of the third-generation Tagrisso to the front-line setting.
On the other hand, the ALKi Lorbrena is expected to fare better despite the crowded market space in ALK-mutated NSCLC. Unlike the competitor ALKi Alunbrig, which is indicated in patients who progress on Xalkori, Lorbrena is indicated upon disease progression on prior treatment with Xalkori and at least one other ALKi, resulting in a smaller target patient pool for Lorbrena. However, Lorbrena could also be used in patients who progress on initial treatment with Zykadia or Alecensa, two other ALK TKIs that are commonly used in the front-line setting, which will help to increase its patient pool.
While the initial surge of PARP inhibitors targeted ovarian cancer, Pfizer strategically positioned Talzenna initially in breast cancer, which made the therapy second-to-market in its class behind Lynparza in this space. Having outpaced the other two PARP inhibitors Rubraca and Zejula in the race to market entry, Talzenna is expected to result in considerable revenue in breast cancer.
Approval of Daurismo came days after the approval of Venclexta in AML. Although both agents are approved for the same patient population, barriers to market entry are minimal due to the lack of effective treatment options currently marketed for newly diagnosed elderly AML patients. In addition, their differing mechanisms of action will prevent immediate competition between the two brands, facilitating adoption of both in the clinic. Daurismo is first in its class of the so-called Hedgehog inhibitors, which impede the survival of cancer stem cells. Although too early to tell, the unique mechanism of action could help to differentiate Daurismo from other agents in this space as more patients are treated.
Despite fierce market competition, Pfizer is playing safe and strong with four new brands aiming to supplant revenues of Lyrica, which brought in a hefty sum of $3.4B in the first nine months in 2018. While the four new brands may not all become quick blockbusters, the sum of their sales could restore company revenues upon Lyrica's patent expiry.