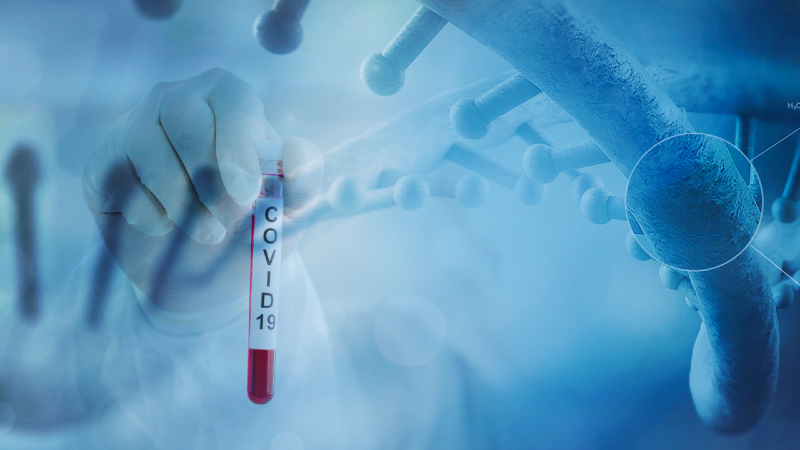 by Manasi Vaidya in New York.
Although Eli Lilly's, Regeneron Pharmaceuticals' and Sorrento Therapeutics' monoclonal antibody (mAb) combinations present an attractive prospect to treat Covid-19, a mAb monotherapy may also be effective by itself.
If a mAb targets a less likely to mutate epitope on the SARS-CoV-2 virus, it would not require additional mAbs, which could inadvertently affect efficacy. Monotherapy clinical data with mAbs, ideally from the early stages of Covid-19 disease, is needed to form a final conclusion on the need for and utility of mAb combinations.
Experts envisioned mAbs to fit as early as possible into the treatment paradigm for hospitalised patients, possibly before anti-inflammatories or anticoagulants, and definitely before the need for mechanical ventilation. While preclinical data indicating neutralising potency is helpful, clinical extrapolation was not straightforward given the relative newness of SARS-CoV-2 models.
Regeneron is studying its antibody combination in hospitalised Covid-19 patients, nonhospitalised symptomatic Covid-19 patients and two cohorts of uninfected subjects. Eli Lilly is developing a development program with a mAb monotherapy and antibody combinations, one of which will be a combination of LY3819253 and JS016 with Shanghai Junshi Biosciences. Both target different epitopes on the viral spike protein and JS016 is in a Phase I study (NCT04441918).
Others mAbs include Sorrento's STI-1499 Phase I study (NCT04454398) in severe hospitalised Covid-19 patients, which is yet to start recruiting. Vir Biotechnology has partnered with GlaxoSmithKline and Amgen has partnered with Adaptive Biotechnologies to codevelop mAbs to prevent Covid-19, but those candidates are yet to enter clinical trials. AstraZeneca and AbbVie have collaborated with research institutes at Vanderbilt University and Utrecht University to develop mAbs to treat and prevent COVID-19. Schlieren, Switzerland-based Memo Therapeutics is also developing mAbs with proof-of-concept data expected in 4Q20, as per a 4 June press release.
A Regeneron spokesperson referred to company press releases and published research but did not comment on this story. An Adaptive Biotechnology spokesperson said it is still in the discovery phase with nothing new to share. AstraZeneca and AbbVie did not respond to a request for comment, while GSK did not respond before press time.
MAb combinations: Two not necessarily better than one
Multiple mAbs may not be better than one, said Dr Michael Dougan, assistant professor, Medicine, Harvard Medical School, Massachusetts, adding it all depends on the region on the virus where the mAb binds. Also, mAbs will be competing for space to bind to the virus and multiple mAbs could overlap and interfere with each other's activity, said Dr Andra Blomkalns, chair, Department of Emergency Medicine, Stanford University, California. Even in the case of Ebola, a single mAb was the ideal treatment, said Florian Krammer, PhD, professor, Microbiology, Icahn School of Medicine at Mount Sinai, New York.
If a region on the virus easily mutates then even two mAbs will not be effective, but if a single mAb binds to a non-mutating region then it would be effective by itself, said Dougan. Each antibody would still need to be studied separately in Phase I studies to understand their individual efficacy before studying their combination potential, said Krammer. While combinations are supposed to reduce the chance of viral escape compared to monotherapy, clinical data is still needed to know if viral escape is taking place in humans with single mAbs, said Dr Myron Cohen, associate vice chancellor for Global Health, University of North Carolina, Chapel Hill. REGN10933 + REGN10987 bind non-competitively to the receptor-binding domain (RBD) of the virus's spike protein, which diminishes the ability of mutant viruses to escape treatment based on preclinical research, as per an 11 June Regeneron release.
However, there is no consensus on how to detect viral escape showing resistance to a single antibody, since it can be forced in preclinical models, said Cohen.
Eli Lilly intends to test both single mAb therapies and combinations as potential therapeutics for Covid-19, said a company spokesperson.
Also, there is a potential for side effects with antibody combinations given a large amount of protein administered to patients, said Cohen. To avoid this challenge, such combinations are given one at a time in investigational human immunodeficiency virus (HIV) trials while evaluating protein load and potential side effects, he added.
It will also likely be cheaper to use a single antibody than a combination of more than one mAbs, said Cohen. Antibody doses used to treat an infectious disease are high, making the cost of their manufacturing and treatment high, said Krammer, giving the example of MedImmune's mAb Synagis (palivizumab), which is used to treat respiratory syncytial virus (RSV) infections. Synagis costs $4,500‒7,600 and is given as a course of five monthly injections during RSV seasons (Teale et al. [2009] BMJ, 11 June 2009, p. 338).
Memo is evaluating a mAb monotherapy, but depending on ongoing evaluations of circulating variants of SARS-CoV-2, a combination could also be explored, said CSO Christoph Esslinger. Sorrento is screening multiple mAbs and plans to identify a second one from its platform, but is also confident STI-1499 can be effective against all possible SARS-CoV-2 mutations, said Sorrento CEO Henry Ji.
Earliest intervention needed
Compared to the pre- or postexposure prophylactic setting, the use of mAbs as a treatment is more complicated, said Cohen. Therapeutic mAbs are likely to be useful only if used early in cases where patients are asymptomatic or mildly symptomatic, but since Covid-19 does not develop into a serious condition in all patients, it is difficult to identify those who may not need the mAbs, he added.
A 1,860-patient Phase I / II / III (NCT04426695) trial is evaluating REGN10933 + REGN10987 in three cohorts of hospitalised patients who are on low-flow oxygen, on high oxygen but no mechanical ventilation, and on mechanical ventilation. mAbs are unlikely to be helpful in severe infections where patients' oxygen levels are low or they are on invasive mechanical ventilation, said Krammer. They will most likely be effective early in the disease course when viral loads are low, said Dougan. The Regeneron trial advanced to the Phase II / III portion after an independent monitoring committee gave a positive review on the safety results in 30 patients in the Phase I portion, as per a 6 July press release.
A 40-patient Phase I (NCT04411628) study is testing Eli Lilly's LY3819253 in hospitalised patients and evaluating its adverse events; it excludes those patients who require or are anticipated to require mechanical ventilation. Even among all hospitalised patients, the intervention timing may be too late, as mAbs may perform best when given once an infection is recognised or suspected, said Cohen, noting Roche's(SIX:ROG) antiviral Tamiflu (oseltamivir phosphate) for the treatment of influenza. Tamiflu is indicated for the treatment of influenza in patients who are symptomatic for no more than two days.
Phase I studies by both Sorrento and Shanghai Junshi (NCT04441918) is evaluating mAb safety. While Sorrento's Phase I study will enrol severe hospitalised Covid-19 patients and record the need for mechanical ventilation as a secondary endpoint, JS-016 is being evaluated in healthy subjects. Once safety is established in the severe Covid-19 population, Sorrento will also evaluate the mAb in less severely ill hospitalised patients and healthcare workers, said Mark Brunswick, Sorrento's senior VP, Regulatory Affairs.
Neutralising potency encouraging, but insufficient
All Covid-19 mAbs target the SARS-CoV-2 spike protein, which binds to the host cell surface receptor ACE2, said Krammer. Neutralising antibodies can be derived from convalescent plasma taken from infected individuals, or by identifying targets using libraries of viral genes or isolating them using mouse models, said Krammer. Sorrento is screening antibodies from its proprietary library, while Regeneron's mAbs are fully-human antibodies produced by the company's proprietary VelocImmune mice. Memo's mAbs are from clinically selected convalescent Covid-19 patients with good viral clearance and indicate an absence of antibody-mediated side effects, a low picomolar binder of SARS-CoV-2 receptor binding domain and in vitro virus-neutralisation, said Esslinger.
Sorrento announced STI-1499 preclinical data demonstrating 100% inhibition of SARS-CoV-2 virus infection in vitro, as per a 15 May press release. The challenge with interpreting preclinical assays with mAbs is even if they show neutralising activity, every lab does not perform identically using different types of viruses, said Cohen. Also, the SARS-CoV-2 model is developed by expressing human receptors in a mouse, so the system may not predict how the disease manifests in humans, said Dougan, adding it still needs to be validated. Additionally, the field does not know what makes certain individuals sicker than others, so it is suspect to rely on data from mouse or cell culture models, he added.
Cell culture data is encouraging, especially if it is in mammalian systems, but there is no guarantee it will work in humans, said Blomkalns. Even human cells provide an artificial environment where all variables are controlled, unlike human patients, she added.
mAbs for infectious diseases have not been evaluated at this scale before, and the ability to successfully manufacture them in large quantities still remains to be seen, said Dougan. Synthetically manufactured mAbs may have an advantage for being produced in large quantities compared to recombinant mAbs, which may need to be produced in mouse or rabbit models, said Blomkalns.
Manasi Vaidya is a Senior Reporter for Clinical Trials Arena parent company GlobalData's investigative journalism team. A version of this article originally appeared on the Insights module of GlobalData's Pharmaceutical Intelligence Center. To access more articles like this, visit GlobalData.