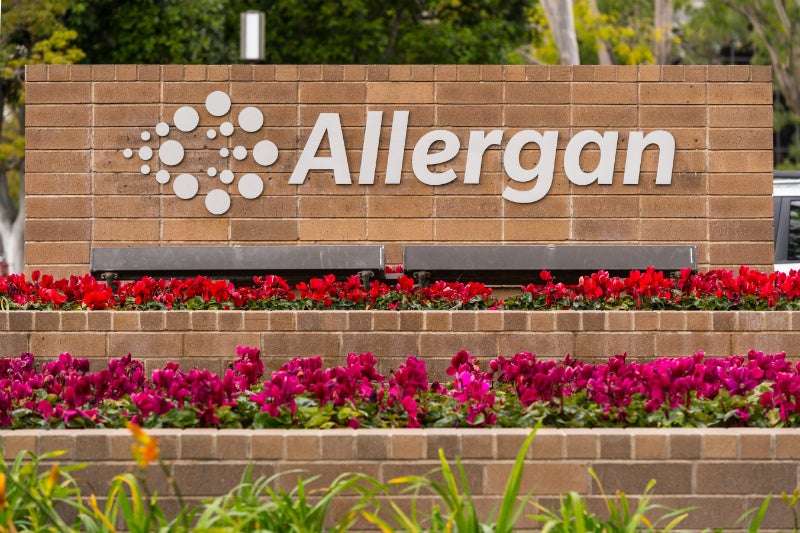 Allergan's Botox (onabotulinumtoxin A) Phase III trial in major depressive disorder (MDD) is slated to initiate in the second half of 2019 (2H19), said a company spokesperson.
As per a first-quarter 2017 company financial earnings call, this trial was scheduled to start in 2018; however, subsequent company updates have removed mentions of the Phase III study.
The spokesperson said Allergan has been analysing the data and is in the process of Phase III planning. The company anticipates enrolling patients in the 2H19 following additional meetings with regulatory authorities, including the FDA, for an agreement on protocol design. A source close to the company noted Allergan is currently reaching out to investigators to participate in the trial.
Analysts have commented that Allergan's depth of experience with Botox and other depression drugs provides a legitimate opportunity for this programme, though mixed Phase II results preclude high hopes. According to an April 2017 press release, Allergan's research chief David Nicholson said Botox's Phase II results were promising and it would proceed into Phase III testing.
There are no sales projections for Botox in depression, but analysts expect the MDD market to grow to $5.8bn by 2025. Botox's 2017 global sales were $3.2bn, and Allergan's market cap is $52.2bn.
Trial design caveats: blinding and administration variability
One of the biggest roadblocks for Botox is that blinding patients and investigators to treatment is difficult, said Dr George Papakostas, associate professor of psychiatry, Harvard Medical School, Boston, Massachusetts. As the treatment is being injected into glabellar frown lines, patients who have received Botox can clearly see its effects on their face as frown lines are disappearing, and because they want their depression to improve, they could be more likely to report improvements in their depression, said Dr Richard Shelton, professor of psychiatry, University of Alabama at Birmingham, along with Papakostas and a psychologist who researches Botox in MDD. Likewise, those who don't see any facial changes may think the drug is either not working or they've received the placebo and will be less likely to report improvement, Papakostas, Shelton and the psychologist said.
This issue confounds this trial on top of high placebo response rates seen in MDD trials, said Shelton. While the Phase II results showed positive trends, albeit not statistically significant, the blinding challenge coupled with the placebo-response issue could lead many physicians to downplay result significance, Shelton and Papakostas said. The spokesperson said Allergan plans to incorporate remote raters to help ensure blinding is preserved.
While the Phase II trial was not statistically significant, Shelton and Papakostas agreed that this was not an issue as the magnitude of Montgomery-Asberg Depression Rating Scale (MADRS) improvement was highly clinically meaningful. Shelton added that the responses might even be a bit higher than current antidepressants. The MADRS scale is often used in depression clinical trials to assess drug efficacy.
The Phase II results showed that the 30-unit dose achieved a 3.7-point improvement in the MADRS versus placebo at week six—its primary endpoint—(p=0.053), according to the April 2017 press release. Both Shelton and Papakostas said this signal warranted further study in a larger Phase III.
The 50-unit dose did not achieve superior efficacy over placebo. The 30-unit dose achieved significant 4.2-point MADRS superiority over placebo at three weeks (p=0.005) and nine weeks (p=0.049), topline results showed. When asked about the results, the Allergan spokesperson said it is not known exactly why the 30-unit dose separated from placebo while the 50-unit dose did not. There may be several contributing factors such as having two placebo groups and separate per-site randomisation to either 30-unit versus matching placebo or 50-unit vs matching placebo groups in the Phase II study design, the spokesperson said.
Shelton said the 258-patient Phase II was too small to show significant results in such a high-placebo responder trial anyway, and a larger enrolment would solve that problem. However, questions remain around how big enrollment would need to be, to overcome the blinding problem as well as the inherent high placebo rate, Shelton and Papakostas said.
Papakostas said he could not envision an adequate solution to the visible effects of Botox or lack thereof in placebo, as any artificial attempts to relax facial muscles in the placebo group could be seen as eliciting a placebo response too.
Drug delivery and resistance to major depressive disorder treatment
Should Allergan proceed without attempting to solve the blinding problem, the obtained Phase III results would certainly be viewed with great skepticism by doctors and the FDA alike, Papakostas and Shelton said.
Also, as Phase II results have not been published beyond the press release, there are questions surrounding the variability of drug delivery, said Shelton. As psychiatrists do not typically administer Botox and need to be trained, their unfamiliarity with the procedure could introduce variability in site injections, further placing trial data into question, he said. Papakostas said training psychiatrists wouldn't be too difficult, but would take time. Having to include dermatologists already familiar with Botox into the treatment paradigm would be an unnecessary complication, spelling more time and cost burdens on the trial, noted Shelton.
The spokesperson said the drug will be administered by psychiatrists or other qualified investigators at the investigative sites after an extensive training programme, and Allergan has significant experience training physicians on how to inject the drug.
It is unlikely that Botox could supplant selective serotonin reuptake inhibitors (SSRIs) or many of the other common antidepressants used in first, second or even third-line options, Shelton said. However, from anecdotal experience, approximately 5% or more of patients are resistant to multiple antidepressant treatments—still a sizeable population given MDD prevalence in the US is about 16 million—spelling a great unmet need for a different pathway, Shelton said. Allergan foresees that Botox would be used in patients who have failed some prior oral antidepressant therapies, the spokesperson said.
The spokesperson added that the Phase II study excluded patients who had more than one treatment failure, while the final design of the Phase III program is under discussion. Running a Phase III trial that excludes patients who have failed multiple lines of antidepressant treatments would produce unpersuasive results for uptake in that best-suited niche, said Shelton.
By Shuan Sim in New York and Arafa Salam, PhD, in London. 
Shuan Sim and Arafa Salam, PhD, are reporters for Pharmaceutical Technology parent company GlobalData's investigative journalism team. A version of this article originally appeared on the Insights module of GlobalData's Pharmaceutical Intelligence Center. To access more articles like this, visit GlobalData.