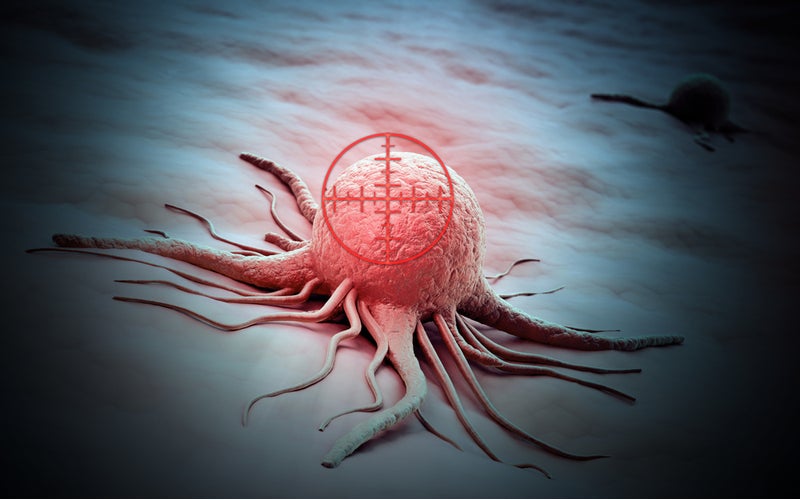 Immune checkpoint inhibitors (ICIs), drugs that block the molecular pathways commonly used by cancer cells to evade the immune system, have been transforming long-standing practices in cancer therapy. 
However, the distinct composition of tumour microenvironments, dictated in part by the tumour type, ultimately influences the responsiveness of ICIs. Although ICIs are excellent treatment options, only a fraction of cancer patients can benefit from these agents because of ineligibility or a lack of response to treatment. 
At the Society for Immunotherapy of Cancer (SITC) 2019 conference in Maryland, US, in early November, antibodies with multiple targets received attention as some of the most promising immunotherapy candidates. 
Some of the notable candidates with this strategy included Pieris Pharmaceuticals' PRS-343, AkesoBio's AK104, and Alpine Immune Science's ALPN-202. 
According to the early-stage data presented at the conference, these three agents showed the potential as multi-target immunotherapies to deepen the effects of checkpoint inhibition and to enrich the landscape of cancer therapy. 
Pieris Pharmaceuticals
During a session looking at Late-Breaking Abstracts, Pieris Pharmaceuticals, a clinical-stage biotechnology company, presented their Phase I dose-escalation study for PRS-343, a 4-1BB/HER-2 bispecific antibody, for treating HER-2+ advanced cancers. According to data collected from a small sample size of 18 heavily pretreated patients with HER-2+ solid tumours (including breast, gastric and bladder cancer), PRS-343 induced considerable anti-tumour activity. PRS-343 triggers 4-IBB signalling, a co-stimulatory pathway that increases the migration of cancer reactive lymphocytes into the tumour, leading to an elevated anti-cancer response. More importantly, the toxicities related to stimulating the 4-IBB pathway are confined to the tumour microenvironment by HER-2 dependent activity. Pieris aims to avoid causing high liver toxicity, which was commonly observed in previous attempts to develop anti-4-IBB drugs. 
AkesoBio
A Chinese biopharmaceutical company, AkeseBio, also presented their bispecific immunotherapy at SITC 2019. The Phase I study of AkeseBio's PD-1/CTLA-4 bispecific antibody, AK104, featured 25 patients with a range of solid tumours. AK104 provided a 24% overall response rate and a 44% durable complete response rate and caused fewer treatment-related toxicities compared to the combination therapy of Opdivo + Yervoy, an approved regimen with the same mechanisms of action (MOAs). AK104 was also positioned as having a higher binding affinity and more robust cytokine production compared with Opdivo + Yervoy, therefore presenting a more tolerable alternative as a bispecific therapy for advanced cancers. 
Alpine Immune Science
Lastly, the poster session displayed information on Alpine Immune Sciences' preclinical molecule, ALPN-202, a unique antibody with three MOAs. While most multi-target antibodies (bi- or tri-specific antibodies) represent molecules engineered to have different domains, ALPN-202's unique binding domain is capable of blocking PD-1 and CTLA-4 signals while providing CD28 co-stimulatory signals. This agent has shown comparable anti-tumour activity to single-agent anti-PD-1 and anti-CTLA-4 antibodies in the presented preclinical studies. CD28 is an important modulator of an immune response, hence the company aims to show that co-stimulation of CD28 will enhance the anti-cancer activity of checkpoint inhibition through immune-activating signals. 
These agents in early-stage development have unique advantages for cancer immunotherapy by incorporating multiple MOAs into a single therapeutic agent. Either as standalone therapies or in combination, multi-target immunotherapies can help to reduce systemic toxicities and related adverse effects by confining the activity to a tumour microenvironment, further solidifying the use of immunotherapy as a new standard of care for cancer.  
 Related Reports
Globaldata (2019). Ovarian Cancer – Opportunity Analysis and Forecast to 2028, GDHC099POA
GlobalData (2018). Immuno-oncology Development Trends and Opportunities, November 2018, GDHCHT015
Early-stage pipeline shows a diversity of targets in cancer immune targeting