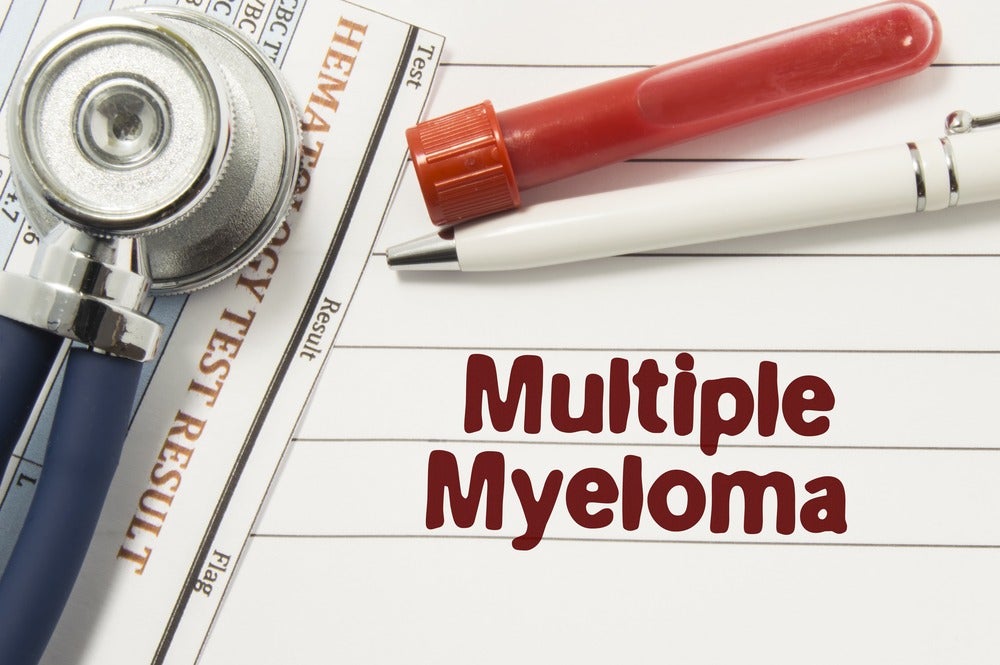 What is MM
Multiple myeloma (MM) is a type of bone marrow cancer of the white blood cell — more specifically, of the plasma cell. Normal plasma cells help fight infections by making antibodies that recognise and attack germs, but MM causes cancer cells to accumulate in the bone marrow where they crowd out healthy blood cells, impairing their ability to fight infections. Rather than producing helpful antibodies, the cancer cells produce abnormal proteins called monoclonal (M) proteins, which can impair kidney functions. MM affects several other areas of the body such as the spine, skull, pelvis, and ribs. The signs and symptoms can vary between people, and there may be no signs or symptoms present in early disease (Mayo Clinic, 2015).
Multiple myeloma 2027
The incidence of MM varies across the eight major markets (8MM: the US, France, Germany, Italy, Spain, the UK, Japan and urban China) and a higher proportion of diagnosed incident cases in all markets except urban China were diagnosed at stage II, according to the revised-international staging system (R-ISS).
GlobalData anticipates that the diagnosed incident cases of MM will increase from approximately 81,000 cases in 2017 to 103,000 cases in 2027 in the 8MM at an annual growth rate (AGR) of 2.7%.
A greater proportion of these cases in the US, France, Germany, Italy, Spain, the UK and Japan are diagnosed at stage II (Figure 1). In urban China, however, just under 50% of cases are diagnosed at stage III. For cancer with a low survival rate, such as MM, earlier diagnosis is crucial to determine which treatment options are available to patients. The stage reached at diagnosis also influences the quality of life of the patients, as a later-stage diagnosis indicates cancer has spread to a distant part of the body. As MM typically occurs in older people (40 years +), the burden of MM is expected to increase due to the growing global ageing population. Additionally, the management of MM is complicated due to the pre-existing comorbidities in the elderly combined with the complications associated with MM, such as frequent infections, bone problems, reduced kidney function and anaemia, all of which impact the quality of life of the affected individuals.
Urban China MM growth at 6%
Urban China stands out because it is expected to experience the largest growth, from approximately 16,000 cases in 2017 to 25,000 cases in 2027, at an AGR of 6%. Increased awareness of MM and the associated symptoms are important to help diagnose the disease earlier not only in the 8MM, but also in urban China, where a higher proportion of cases present with stage III MM and incident cases are expected to quickly increase.
Further details about this trend analysis and a further discussion of MM epidemiology can be found in GlobalData's Multiple Myeloma: Epidemiology Forecast to 2027 report. Details on the epidemiology for MM in the 16MM (16MM: 8MM, Australia, Brazil, Canada, India, Mexico, Russia, South Africa, and South Korea) can be found in GlobalData's Epidemiology and Market Size Database.
The chart below provides an overview of the proportion of diagnosed prevalent cases of MM by R-ISS staging in the 8MM.
Overview of diagnosed incident cases of MM by R-ISS staging, both sexes, ages (greater than or equal to) 40 Years, N, 2017

Source: GlobalData
Note: 8MM = the US, France, Germany, Italy, Spain, the UK, Japan and urban China
Further report
GlobalData (2016). Non-Hodgkin's Lymphoma: Epidemiology Forecast to 2024, January 2016, GDHCER113-16