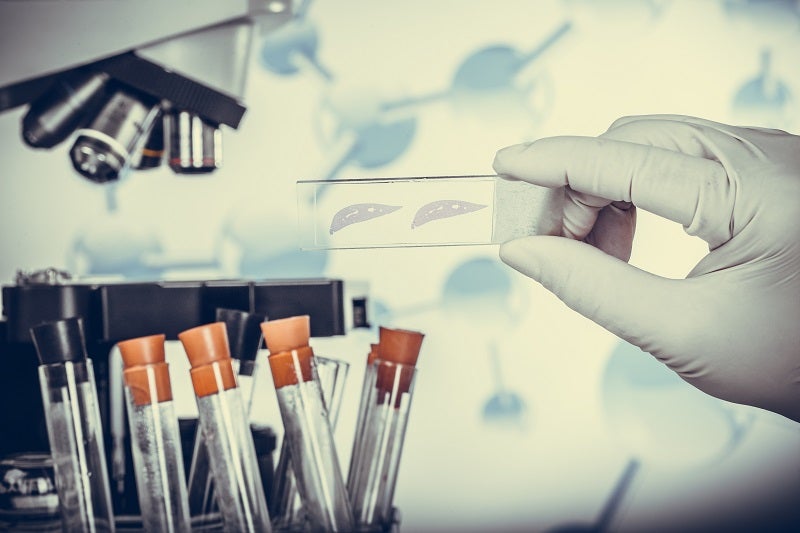 Intercept Pharmaceuticals should brace for payers requiring liver biopsies before clinicians are able to access Ocaliva (obeticholic acid) for nonalcoholic steatohepatitis (NASH) after its expected FDA approval, most experts agreed. This is due to the lack of other reliable diagnostic tests and the potential need to demarcate between NASH patients based on fibrosis stage, they added. NASH is the accumulation of liver fat in people who drink little or no alcohol.
Since the approval would likely be confined to NASH patients with F1–F3 stage fibrosis and Ocaliva has an added toxicity risk in the F4 group, biopsies will be needed to distinguish F3 and F4 patients, experts said. The need for biopsies would also be a way to limit access if Intercept keeps Ocaliva's price at $70,000 a year as in primary biliary cholangitis (PBC) for which it is approved, they noted. Although biopsies would be an additional burden on the health system, payers would embrace the cost, as it would still dwarf the cost of Ocaliva, some noted. PBC is a progressive liver disease caused by a buildup of bile within the liver that results in damage to the small bile ducts that drain bile from the liver.
Intercept announced on 25 November the FDA accepted its NDA for Ocaliva in NASH with a PDUFA date of 26 March 2020. This is based on the Phase III REGENERATE trial (NCT02548351), which recruited F1–F3 NASH patients. Forecasts for Ocaliva range from $2bn to 2.7bn in NASH, based on three analyst reports, with one report noting there is a low likelihood of payers requiring a biopsy. A fourth report said any questions about efficacy and safety are exaggerated. Ocaliva was approved for PBC in May 2016, delivering $178m in sales last year. Intercept's market cap is $3.8bn.
Experts this news service interviewed said Ocaliva has a reasonable shot at becoming the first FDA-approved therapy in NASH based on the REGENERATE fibrosis reduction data. However, its side-effect profile, if not an approval blind spot, would likely be an uptake obstacle, they added.
Intercept's 900-patient Phase III REVERSE trial in F4 NASH patients (NCT03439254) was expected to close enrolment last month, this news service reported on 11 November. Intercept did not respond to a comment request.
Biopsy likely to be required to confirm diagnosis
Payers are likely to require a biopsy to allow access to Ocaliva as it is the gold standard in diagnosing NASH patients, said a REVERSE investigator. A therapy's efficacy in NASH is judged by biopsy-driven parameters, added a second REVERSE investigator. Ocaliva's REGENERATE trial also required a biopsy before enrolment, so payers would likely want to be in line with the trial design, noted Jeremy Schafer, director, access experience, Precision for Value, Saint Paul, Minnesota.
Further supporting use of biopsies as a required diagnostic measure is that the distinction between F3 and F4 patients can be challenging, and inappropriate use can lead to issues in F4 patients, said the first investigator and a gastroenterologist. Payers would also require strict adherence if the FDA approval is only for F1–F3 patients, added a third REVERSE investigator. There are five fibrosis stages, from F0 (no fibrosis) to F4 (cirrhosis or advanced scarring).
F4 patients may not be well enough to tolerate Ocaliva's side effects like severe pruritus, the first investigator and the gastroenterologist added. There are also no efficacy data supporting Ocaliva use in F4 patients with REVERSE ongoing, said the third and a fourth REVERSE investigator.
But a fifth REVERSE investigator questioned whether it is clinically significant to distinguish F3 and F4 patients since both are at high risk of disease progression.
Decompensated patients with severe liver issues, a subgroup of F4 patients, would be less ideal for Ocaliva than compensated patients who have no evidence of liver failure, the third and fifth investigator said. Clinicians are well-trained in identifying decompensated patients who are not ideal for Ocaliva, the fifth investigator added. Ocaliva's dosing guide states hepatic decompensation and failure, in some cases fatal, have been reported in PBC patients with decompensated liver when dosed with Ocaliva more frequently than recommended.
There are ongoing studies that aim to replace biopsies with noninvasive imaging techniques or biomarkers, said several experts. Biopsy results correlate with those from the noninvasive, ultrasound-based FibroScan, the fifth investigator added. But, this correlation for F3 and F4 patients is not very good, and biopsy is the more accurate of the two, the gastroenterologist noted. Also, there are no other FDA-approved NASH diagnostic tests, added a NASH pharmacology researcher.
Biopsies to deter use due to Ocaliva price
Furthermore, if Ocaliva is priced for NASH as it is for PBC, the biopsy requirement by payers is even more likely, as it would serve as a deterrent, most experts said. Since there are significantly more NASH patients versus the rare PBC, payers would be inclined to choke access in NASH, added the first investigator and Marcus Healey, director, global health economics and outcomes research, BioPoint, Wakefield, Massachusetts. Some 10% of US adults have NASH, while there are about four PBC patients per 10,000 US adults. Indication-based pricing—where Ocaliva may be priced lower in NASH versus PBC—is possible but tricky to pull off, this news service reported in November 2018. Biopsies would add a resource burden to the healthcare system, which could be a reason to not impose such a requirement, said the fourth investigator.
Biopsies are not often used outside of clinical trials, and are reserved for patients suspected to be at the border of the aforementioned F3–F4 stages, the gastroenterologist added.
But Schafer said payers would be willing to absorb the biopsy cost as it would still dwarf Ocaliva's price. Liver biopsies cost USD 996–3,246, public information shows. Requiring biopsies to confirm the diagnosis before treatment is not unusual, as previously seen with hepatitis C therapies, the first investigator added.
Ocaliva would be likely placed in the speciality tier by payers, Schafer said, adding rebates would be expected to alleviate this tier position. Intercept has a patient support program in PBC, which is likely to extend in NASH, the third investigator added.
Prior authorisation, which is likely to be required, could ask for details about the patient's attempts at lifestyle changes, Healey and the fifth investigator said. But F1–F3 patients are likely to have already attempted and failed through such changes, the fourth investigator said.
Approval supported by efficacy data but toxicity an approval/uptake spoiler
Nevertheless, Ocaliva is likely to be the first NASH therapy to be FDA-approved, the pharmacology researcher said. Ocaliva delivered convincing fibrosis reduction data in F1–F3 patients, and that is an important part of treatment in such advanced patients, said the third investigator and a sixth REVERSE investigator.
Topline data released in February only detailed results from F2 and F3 patients, while the most recent update of 1,218 patients at last month's The Liver Meeting included data from 24% F1 and 76% F2 and F3 patients (abstract no 34). In the 25mg Ocaliva cohort, 21% of 404 patients experienced fibrosis improvement plus no worsening of NASH (p<0.0001), with 14.9% having NASH resolution without worsening of fibrosis (p<0.001). This is compared with 10.6% and 7.9%, respectively, reported in the 407-patient placebo arm.
Yet, even if Ocaliva's pruritus side effect does not negatively impact approval, it will be a notable uptake obstacle, several experts said. The 50% pruritus incidence rate in the 25mg arm could impact adherence, which would be an issue for payers if Ocaliva comes with a high price, the pharmacology researcher added. However, discontinuation rates remain low despite reported pruritus in Ocaliva's NASH trials, the sixth investigator noted. Pruritus is expected with Ocaliva's PBC use and is not a new side effect, the first investigator added.
However, while pruritus is manageable in PBC, that experience may not apply to NASH as they are different diseases, the third investigator noted, since PBC is a cholestatic disease and NASH is triggered by fatty liver.
Ocaliva's potential to increase cholesterol would be pertinent in NASH, since patients are likely to have high cholesterol levels and increased cardiovascular risk, the third investigator added. However, it is not known if such a cholesterol increase actually leads to clinically significant cardiovascular issues, the sixth investigator noted.
By Reynald Castaneda in London.
Reynald Castaneda is a Senior Reporter for Clinical Trials Arena parent company GlobalData's investigative journalism team. A version of this article originally appeared on the Insights module of GlobalData's Pharmaceutical Intelligence Center. To access more articles like this, visit GlobalData.