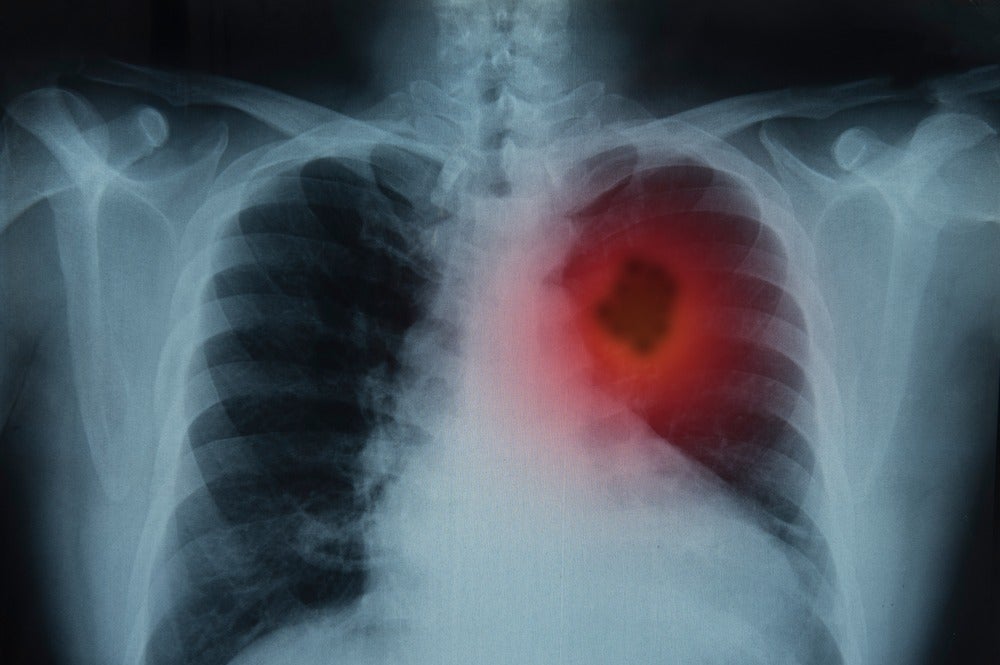 Roche's Tecentriq (atezolizumab) and Avastin (bevacizumab) will be evaluated in an investigator-led Phase II non-small-cell lung cancer (NSCLC) trial as an upfront therapy in PD-L1-positive patients, a source familiar with the situation said.
Non-small-cell lung cancer treatment
Expression of the programmed death-1 (PD-1) ligand 1 (PD-L1) is used to select patients in clinical trials and analyse responses to anti–PD-1/L1 antibodies.
The randomised Phase II study has Roche's support and will start enrolling patients in a few weeks, the source said. The trial will notably include only Tecentriq and Avastin, without any chemotherapy, he added.
A Tecentriq/Avastin/carboplatin/paclitaxel combination was approved on 7 December 2018 as an initial treatment for nonsquamous NSCLC patients with no epidermal growth factor receptor (EGFR) or anaplastic lymphoma kinase (ALK) alterations.
EGFR is transmembrane protein and ALK is an enzyme. EGFR mutations and ALK rearrangements are now routine biomarkers or surrogate measures for efficacy that are used to manage NSCLC treatment.
On 28 March 2018, it was reported that Tecentriq/Avastin/carboplatin/paclitaxel use will likely suffer due to the choice of chemotherapy/Avastin backbone, or core treatment. In late 2018, analysts estimated 2019 sales for Tecentriq could reach $1.29 billion, which was lower than their previous forecasts.
NSCLC revenues
While there are no combination-specific estimates, NSCLC revenues in 2024 are set to be the biggest contributor to the drug's sales, at $3.2 billion. Roche's market capitalisation is $238.7 billion.
The approval was based on results from the Phase III IMpower 150 trial (NCT02366143) showing the quadruple combination had a 4.5-month improvement in overall survival (hazard ratio [HR]=0.78) in the intent-to-treat population compared to Avastin/chemotherapy.
The pivotal trial enrolled patients across PD-L1 expression levels.
Tecentriq's main competitor, Merck's Keytruda, was approved on 20 August 2018 as an upfront therapy in combination with Eli Lilly's Alimta (pemetrexed).
Analysts estimate first-line NSCLC Keytruda revenues of $6.4 billion in 2026, while its overall sales across indications in 2018 were $2.1 billion.
Roche did not respond to a request for comment.
by Manasi Vaidya in New York
Manasi Vaidya is a Senior Reporter for Pharmaceutical Technology parent company GlobalData's investigative journalism team. A version of this article originally appeared on the Insights module of GlobalData's Pharmaceutical Intelligence Center. To access more articles like this, visit GlobalData.