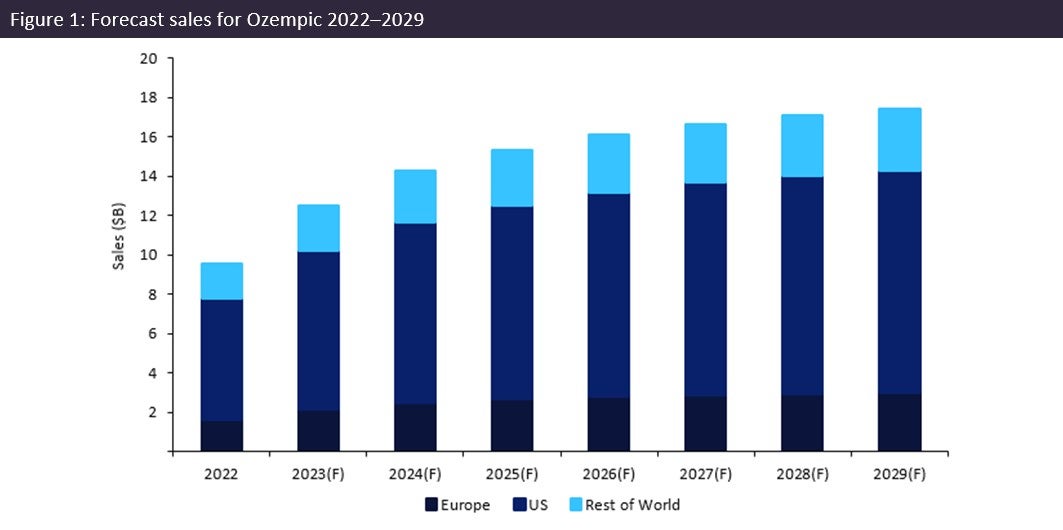 Novo Nordisk's leading drug Ozempic (semaglutide) is forecast to demonstrate a sales growth of 23% in 2023. Ozempic's forecast 2023 sales of $12.5bn consolidate its position as the dominant market leader, with projected sales in 2023 54% greater than closest competitor Trulicity (dulaglutide) by Eli Lilly, which anticipates sales of $8bn.
Originally granted approval in its largest market, the US, in 2017, Ozempic has subsequently obtained approval for three distinct dosages, 0.5mg, 1.0mg, and 2.0mg, for the treatment of type 2 diabetes. FDA approval follows the successful outcomes of the Sustain Forte trial (NCT03989232), the results of which displayed a superior reduction in HbA1c levels with once-weekly semaglutide 2.0mg, in comparison to once-weekly semaglutide 1.0mg, among individuals suffering from type 2 diabetes. Ozempic is a recombinant peptide indicated to reduce the risk of major cardiovascular events such as strokes, heart attacks, or mortality among adults with type 2 diabetes and established heart disease. The drug is based on protein acylation technology and works to reduce blood sugar by enhancing glucose-dependent insulin secretion from the pancreas, as well as reducing glucagonemia and body weight.
In 2022, US sales of Ozempic contributed to 65% of global sales; this is expected to continue, with the US market forecast to continue capturing the majority of sales, generating $71bn between 2023–2029. It is forecast that Ozempic will sustain its sales growth over the next five years, with an expected annual sales figure of $17bn in 2029. This represents a significant 83% increase in sales between 2022–2029, demonstrating a compound annual growth rate (CAGR) of 9%.
Novo Nordisk and Sanofi's announcement in March 2023 to join Eli Lilly in major price reductions for pre-filled insulin pens and vials may suggest a potential shift in the dynamic insulin market. Ozempic's significance in the evolving pharmaceutical landscape is evident through its increasing popularity as a next-generation medication for diabetes, with notable attention towards its off-label application as a weight-loss agent. The substantial weight loss that patients achieve with Ozempic and other GLP1-targeting drugs makes insulin requirements lower for patients with type 2 diabetes, incentivising both patients and healthcare practitioners to consider this medication. This change in insulin access within the US market will therefore play a crucial role in Ozempic's commercial success and may contribute to the observed revenue growth.
The significant sales growth of Ozempic reinforces its continued dominance in the type 2 diabetes market. As attitudes towards insulin access evolve, Ozempic is well-positioned to provide support to a greater number of patients suffering from type 2 diabetes, facilitating improvements in their quality of life.