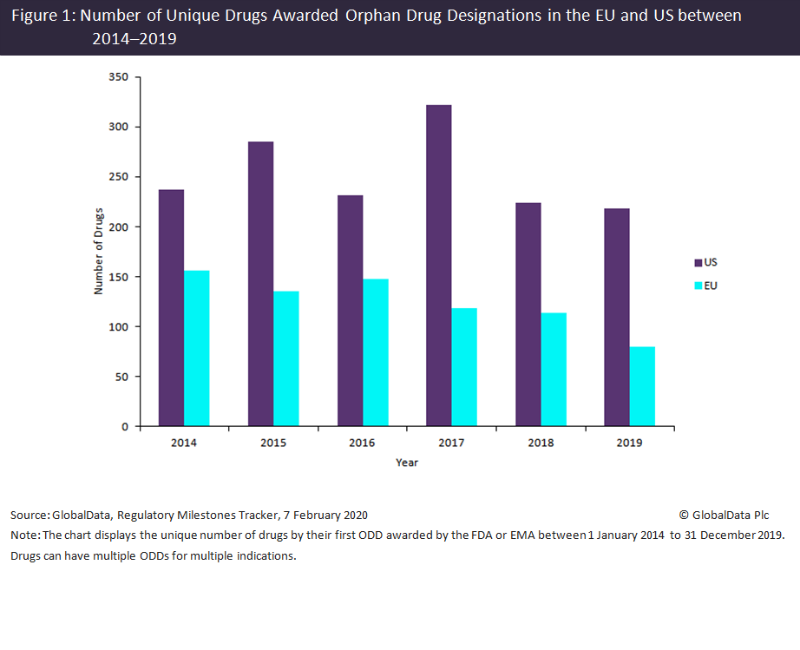 The number of unique drugs awarded orphan drug designations (ODDs) by both the FDA and the European Medicines Agency (EMA) has declined over the last six years, despite the benefits of these designations to pharma companies.
Orphan drug designations (ODD) have been a focus of interest from the pharma industry for many years, with many companies enticed by the benefits of the enhanced regulatory processes, tax benefits, and extended market exclusivity.
The EMA had a much greater decline in unique drugs awarded ODDs than the FDA, with a 49% decrease between 2014 and 2019, while the FDA only had an 8% decrease across the same time period. The FDA decline is however more surprising considering that 2017 was a bumper year for drugs awarded ODDs in the US, significantly beating previous records, as shown in Figure 1. This large spike in 2017 for the US could be attributed to the FDA's Orphan Drug Modernization Plan, which began in 2017 with the aim to clear out the backlog and streamline the ODD application process.
This year is set to be a year of changes; strained healthcare budgets are a hot topic in US election campaigning with Trump and other politicians attacking the price of rare and ultra-rare drugs (2020 Set to Be a Turbulent Year for the Pharma Industry, GDHC2898EI, January 2020). Some politicians are advocating radical changes, such as Senators Warren and Sanders, who are aiming to go even further than Senator Pelosi's proposed 'HR3 Lower Drug Costs Now Act' to rein in the pharma industry and its aggressive pricing strategies. The impact of these political changes on orphan drugs is unclear. Despite the recent decline in the awarding of ODDs, the number of approved drugs with ODDs has increased as a proportion of FDA approvals over the last 20 years; orphan drugs are no longer under the radar and may be on a potential collision course with policymakers.
This may be especially likely as the benefits of orphan drugs have recently been questioned by many, including Arthur Caplan, founding head of the Division of Medical Ethics at NYU School of Medicine in New York City, who in a 2019 JAMA article suggested that orphan drugs direct resources and focus away from more common and widespread diseases to treat illnesses with a very small patient pool. Yet the pharmaceutical industry has invested significantly in these drugs, drawn in by tempting ODD incentives that can extend market exclusivity and expedite approval processes of their products.
The GlobalData Pharmaceutical Intelligence Center not only captures orphan designation but also lists indications that are considered rare. Currently, according to GlobalData's Drugs database, almost a third of all pipeline drugs (excluding inactive and discontinued drugs) are indicated for rare diseases. This huge pool of pipeline drugs shows that despite ODDs being on the decline, the pharmaceutical industry's enthusiasm for these niche drugs is still going strong.
GlobalData's Rare Disease filter offers clients the ability to search by those diseases that are considered rare by the FDA, allowing our clients greater insight and clarity into the rare disease market. Further information on the Rare Disease filter can be viewed and searched in more detail on the GlobalData Pharma Intelligence Center.