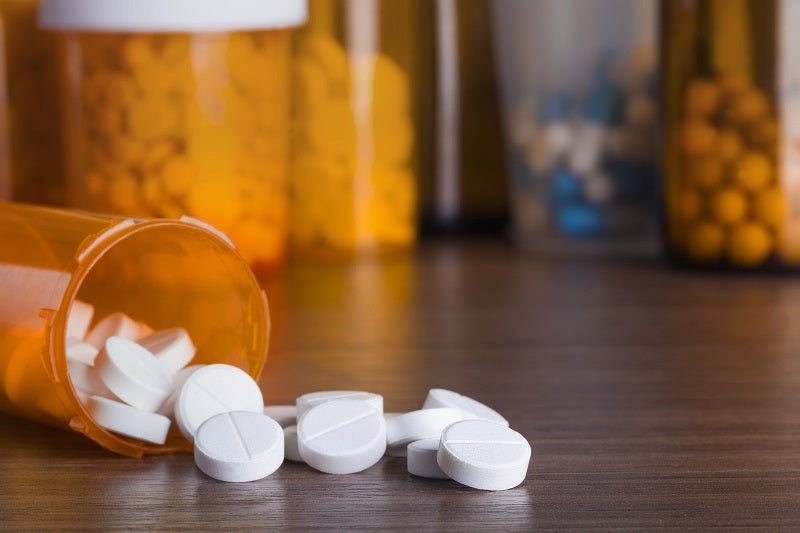 The UK government has banned the parallel export and "hoarding" of three drugs being used to treat coronavirus patients in China in anticipation of shortages in Britain following the Covid-19 pandemic.
The export of the US-based AbbVie's Kaletra / Aluvia, a combination lopinavir and ritonavir, the generic drug chloroquine phosphate and the generic drug hydroxychloroquine is being restricted to meet the needs of UK patients, the government said.
Hydroxychloroquine was placed on the restricted list from 14 March and Kaletra and chloroquine phosphate were added on 26 February.
The three drugs are marketed for other indications but are being administered to Covid-19 patients in clinical trials in China. For a list of Covid-19 clinical trials, search the GlobalData Pharma Intelligence Center Clinical Trials database.
Kaletra is a small-molecule, fixed-dose combination antiviral drug marketed in the EU, US and other regions in combination with other antiretroviral agents for human immunodeficiency virus (HIV). It is under investigation in 16 ongoing or planned clinical trials for Covid-19 in China, according to the GlobalData Clinical Trials database. Kaletra is formulated as capsules, tablets, coated tablets, film-coated tablets and solution for oral route of administration.
Chloroquine phosphate is a generic antimalarial drug derived from quinolone, marketed in the UK by Alinter Ltd in Essex, Crescent Pharma Ltd in Hampshire and The Boots Company in Nottingham and by other companies in multiple other regions. It is in 10 trials for Covid-19 in China, including one in combination with Kaletra, as chloroquine phosphate is believed to have broad-spectrum antiviral activities, although it is not approved as an antiviral agent. It is formulated as a syrup for oral administration. Recipharm, based in Stockholm, Sweden, manufactures the drug under the brand name Klorokinfosfat RPH Pharma for marketing in Sweden by Astimex Pharma. In March, the chief medical officer (CMO) noted increased demand and said it is securing a supply of the product in case of demand suddenly rose.
Hydroxychloroquine is an aminoquinoline derivative which acts as an anti-infective and antirheumatic agent. It is marketed for rheumatoid arthritis, discoid and systemic lupus erythematosus and juvenile idiopathic arthritis and is manufactured as film-coated tablets for oral administration.
What Is Parallel Export?
Parallel exporting is when wholesalers buy medicines already placed on the market in the UK to sell them in another country in the European Economic Area (EEA). Parallel exporting and hoarding of medicines by wholesale dealers can create or worsen medicine shortages.
UK wholesalers and drug companies will be allowed to export Kaletra and chloroquine phosphate and other medicines restricted for parallel export if they were originally manufactured with the intention to export to foreign markets.
Additionally, wholesalers can continue to stockpile drugs if it is part of arrangements agreed with marketing authorisation holders and this will not be considered hoarding by the government. This includes companies building up Brexit stockpiles at the request of the UK Department of Health and Social Care (DHSC).
If wholesalers break the restrictions, they risk regulatory action by the Medicines and Healthcare products Regulatory Authority (MHRA). Wholesalers' licences could be suspended and continued breaches could be prosecuted as a criminal offence.
Brexit Restrictions
The UK government also added azathioprine, in its tablet form only, to its list of medicines that cannot be parallel exported on 26 February. The generic drug is a purine derivative that acts as an immunosuppressant and is marketed for preventing the rejection of kidney transplants and for rheumatoid arthritis. It is not being studied in coronavirus trials. UK suppliers of azathioprine 25mg tablets went temporarily out of stock in January 2020.
The government placed restrictions on parallel export and hoarding of 30 other medicines in October and November 2019 in anticipation of Brexit-related shortages. These include multiple hormones, such as conjugated estrogens, estradiol, levonorgestrel and progesterone, as well as adrenaline and hepatitis and pneumococcal vaccines.