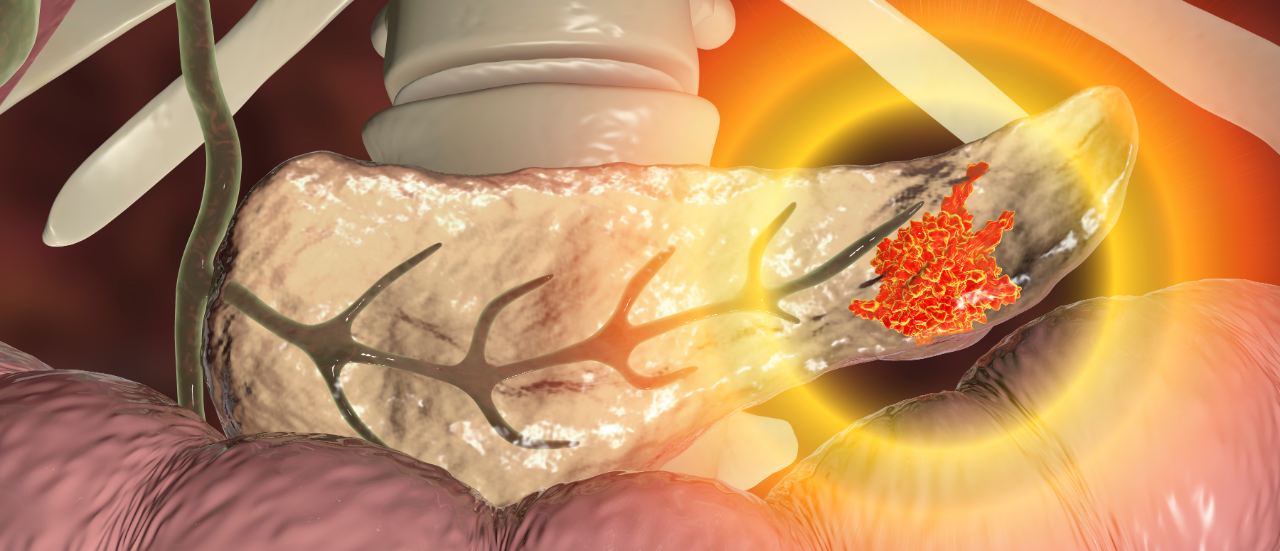 Pancreatic neuroendocrine tumours (pNETs) are tumours that arise from endocrine pancreatic cells, known as islet cells. They account for 7% of all NETs, but less than 2–4% of all pancreatic tumours. Functional pNETs lead to the development of endocrine-related symptoms due to the overproduction of hormones such as gastrin, insulin, and glucagon, and therefore include gastrinomas, insulinomas, glucagonomas, vipomas, and somatostatinomas. Non-functional tumours are asymptomatic. The overall five-year survival rate of patients with pNETs in the US is 54%, but this can vary from 93% for localised, resectable pNETs to 27% for metastatic pNETs.
Most early-stage, localised pNETs are managed by surgery, but systemic therapy is the standard of care for unresectable tumours and advanced, metastatic pNETs. In the eight major markets (8MM: US, France, Germany, Italy, Spain, UK, Japan, and China), somatostatin analogues (SSAs) have been the long-time standard of care for the treatment of pNETs, such as Novartis' Sandostatin (octreotide) and Ipsen's Somatuline (lanreotide). Recently, the approval of targeted therapies such as Novartis' Afinitor (everolimus) and Pfizer's Sutent (sunitinib) has provided alternative treatment options for pNETs and progressive disease in particular. Furthermore, Novartis' Lutathera (lutetium Lu 177-dotatate) is a peptide receptor radionuclide therapies (PRRT), which allows for the visualisation, diagnosis, and treatment of pNET patients who are refractory to SSAs. Various cytotoxic chemotherapy options are also available but are generally used if hormonal or targeted therapies are inefficient, or in the absence of other therapeutic options, due to their limited efficacy and high side-effect profiles.
Researchers at The Institute of Cancer Research, London and The Royal Marsden National Health Service (NHS) Foundation Trust, working with colleagues at the University and Hospital Trust of Verona, Italy, used artificial intelligence and genetic analysis to study 207 tumour samples from patients with pNETs for the levels of 600 immune-related genes (Young et al, 2020). When assessing the presence of known targets for existing immunotherapies in the most aggressive pNETs, researchers found the highest levels of the programmed death-ligand 1 (PD-L1) marker, suggesting new targeted treatment strategies for pNETs patients. The majority of the late-stage pipeline for NETs encompasses investigations into the use of targeted therapies for the treatment of NETs, indicating an impending paradigm shift in the treatment landscape. PD-L1 agents that are already marketed and approved for other neuroendocrine indications are being investigated as potential therapies for pNET patients, including Merck's Bavencio (avelumab) which is approved for merkel cell carcinoma and AstraZeneca's Imfinzi (durvalumab) which is approved for small-cell lung cancer. However, clinical trial data are still relatively limited regarding pNET patient response to immunotherapy treatment. Additionally, these clinical trials are institution- or investigator-led, raising questions about when immunotherapies will be realised in the market for the treatment of pNET patients.