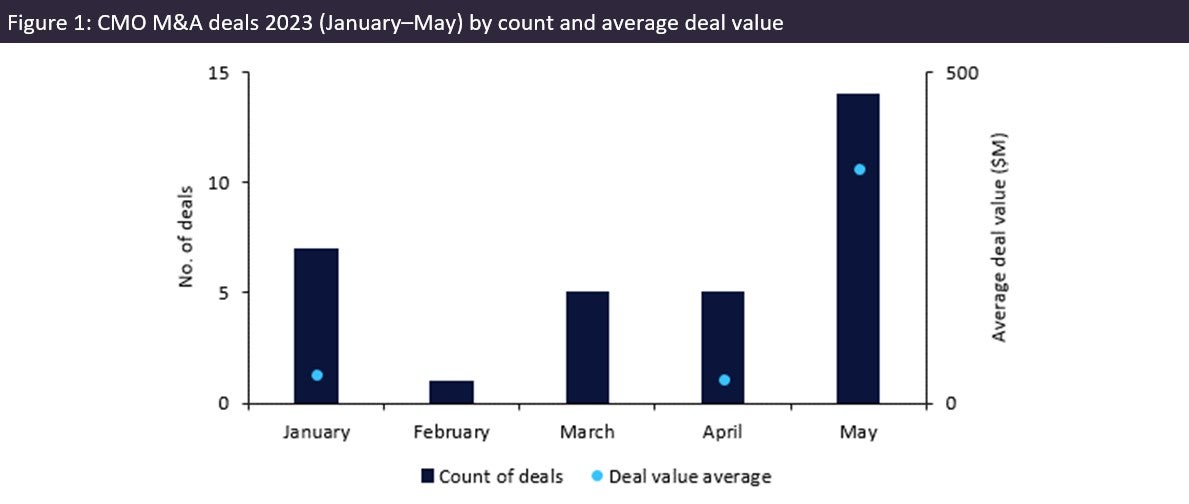 Between January and May 2023, pharma contract manufacturing organisation (CMO) deals were scarce, with only 32 deals, a consequence of stubbornly high inflation and interest rates, as businesses became reluctant to accrue debt and found increasing difficulty in accessing capital. This level of activity is similar to the last five months of 2022, which had 38 equivalent deals (asset [facility] acquisitions, company acquisitions, and private equity investment). Between January and May 2022, there were 65 CMO deals. However, some large CMOs are extremely well-capitalised and borrowing conditions are less likely to affect that group. The largest CMO deal in H1 2023 was PE investment in Baxter BioPharma Solutions (Deerfield, IL, US).
As shown in Figure 1 (above), January and May were the busiest months of 2023 so far for M&A. The largest four deals ranged from $125m to $4.3bn: two were private equity deals, one a company acquisition, and one a facility acquisition. The largest deal was announced on May 8, 2023, when Baxter International (Deerfield, IL, US) announced that it would sell its CMO division, Baxter BioPharma Solutions, to the private equity firms Advent International (Boston, MA, US) and Warburg Pincus (New York City, NY, US) for $4.25bn. GlobalData's Drugs by Manufacturer database shows Baxter BioPharma Solutions manufactures 71 innovator or biosimilar marketed drugs in the US and EU and the company reported revenues of $644m in 2022. It joins a long line of large CMOs owned by private equity, including Recipharm (Stockholm, Sweden) and Cambrex (East Rutherford, NJ, US).
Three other deals topped $100m. Lotte Biologics (Seoul, Korea) acquired a biopharma production facility based in Syracuse, New York, US, from Bristol Myers Squibb (New York, NY, US) for $160m on January 1, 2023. Lpca Laboratories (Maharashtra, India) acquired a 33.4% stake in Unichem Laboratories (Mumbai, India) for $126m on April 24, 2023. Unichem has API chemical and commercial dose capabilities in its sites in India. TA Associates (Boston, MA, US) acquired Synokem Pharma (Delhi, India) for $125m on January 18, 2023. Synokem has a commercial dose site based in Haridwar, India.
As Figure 2 shows, US CMOs had the largest number of company or facility acquisitions during 2023 (January–May), with India a close second. For US acquisitions, there is an emphasis on biologic capabilities, with a strong proportion of these related to cell and gene therapy capabilities. By contrast, most of India's company and facility acquisitions had standard capabilities related to API small molecule manufacture and/or commercial dose production.