Multiple sclerosis (MS) is an autoimmune disease causing chronic inflammation and demyelination of the nerves, affecting around 2.5 million people worldwide. While patients diagnosed with relapsing MS (RMS) have a wide range of marketed treatment options, patients diagnosed with progressive MS, especially primary progressive MS (PPMS), have very limited treatment options. However, the current MS pipeline offers new hope for PPMS patients, with three late-stage agents currently in development.
The sparse availability of treatment options for PPMS means that any agents with novel mechanisms of action (MOA) and improved efficacy will be a welcome addition to the market, as around 10–15% of all MS patients are diagnosed with PPMS. Currently, only Roche's Ocrevus (ocrelizumab) is available for this patient population and its efficacy is limited. Based on data from a pivotal Phase III (NCT01194570) clinical trial, Ocrevus improved disability progression after 24 weeks by around 25%; this is quite low considering that, for example, Novartis' Mayzent (siponimod) in a Phase III trial (NCT01665144) showed efficacy of around 37% in slowing the disease progression in patients with secondary progressive MS after 24 weeks. Ocrevus is also not approved for use in some countries, including Japan, leaving patients in this country without any effective treatment options.
Of the 19 products currently in clinical development for PPMS (Figure 1), there are three novel agents deemed to be in late-stage development (late-stage Phase IIb and Phase III): AB Sciences' masitinib, Sanofi's tolebrutinib, and Roche's fenebrutinib. While masitinib works as a multi tyrosine kinase inhibitor, tolebrutinib and fenebrutinib are both Bruton's tyrosine kinase (BTK) inhibitors, a novel MOA that is being investigated by multiple pharmaceutical companies for both PPMS and RMS. Compared to existing oral disease-modifying therapies, BTK inhibition selectively targets B-cell activity.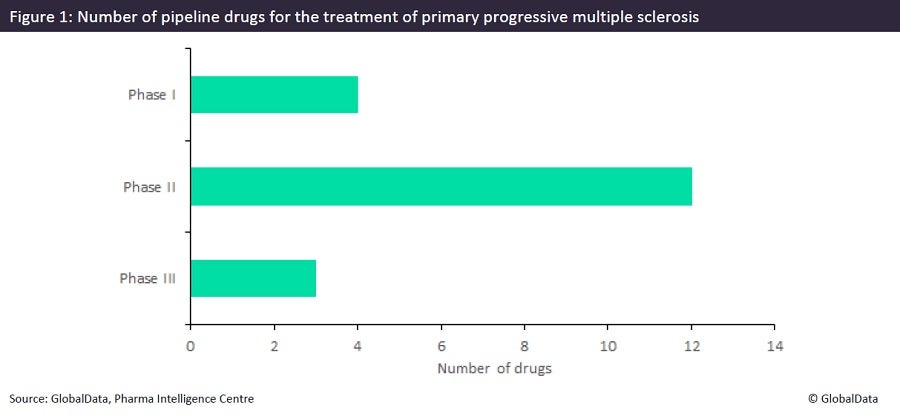 Masitinib has shown positive results in its Phase II/III clinical trial in PPMS (NCT01433497), with a low dose of the agent decreasing disability progression by 42% over the course of 96 week —nearly double the results seen in a separate study for Ocrevus. Regarding safety, masitinib showed no risk of infection, which is in contrast to Ocrevus, and in general caused only mild and moderate side effects, such as diarrhoea, rash, or swelling. The situation is less clear for tolebrutinib and fenebrutinib, as both agents are currently awaiting Phase III trial results in PPMS (tolebrutinib: NCT04458051; fenebrutinib: NCT04544449) following highly successful Phase II trials in RMS. As progressive MS has a different pathogenesis in comparison to RMS, it remains to be seen how effective BTK inhibitors will be for treating PPMS. Nonetheless, the increased focus on the development of PPMS treatment is a welcome game-changer for patients.