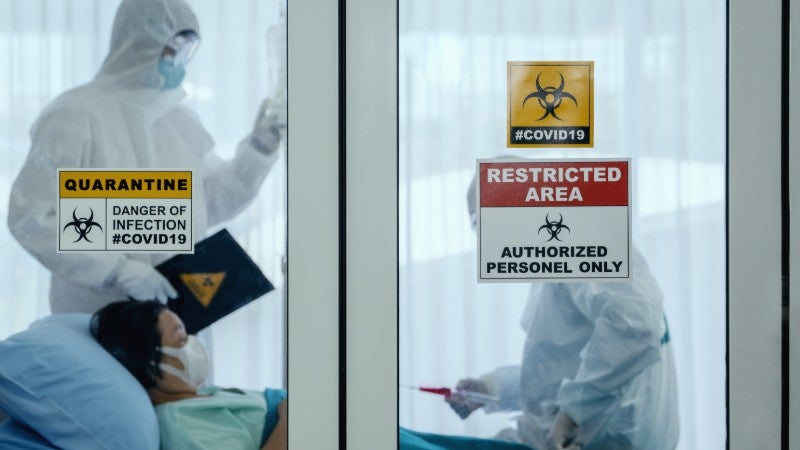 In early January, when the coronavirus outbreak was being watched as a developing global threat, AbbVie was one of the first companies to donate its HIV protease inhibitors combination therapy Aluvia (lopinavir / ritonavir), also known as Kaletra, to help China treat patients infected with severe acute respiratory syndrome coronavirus 2 (SARS-CoV-2), the virus that causes Covid-19. This recommendation was made by the Chinese National Health Commission following reports of its efficacy in a patient with Covid-19 in South Korea. However, after more recent investigations in patients who were hospitalised with severe Covid-19, treatment with lopinavir / ritonavir did not provide a substantial benefit beyond standard care, according to the results of the LOTUS Chinese clinical trial, published in the New England Journal of Medicine (Chinese Clinical Trial Register number: ChiCTR2000029308).
Successful entry of a virus into a cell depends on the activation of envelope glycoproteins by host cell proteases. Protease enzymes are therefore excellent targets for antiviral intervention and this is why inhibitors such as lopinavir, ritonavir, and darunavir have been used for many years in the treatment of HIV infections. Therefore, it's no surprise that these drugs have gained attention in the fight against Covid-19. Lopinavir and ritonavir were trialled in patients with severe acute respiratory syndrome (SARS) back in 2003; however, their clinical efficacy was ruled inconclusive, with more evidence and more investigations needed.
In the LOTUS clinical trial, a total of 199 patients with laboratory-confirmed SARS-CoV-2 infection were randomised to receive either lopinavir / ritonavir (n=99) or standard care alone (n=100). The study found that treatment with lopinavir and ritonavir showed no clinical improvement in seriously ill patients with Covid-19 when compared to supportive care alone. Furthermore, the protease inhibitors did not reduce viral RNA loads compared with standard supportive care alone. The LOTUS trial was initiated in rapid response to the Covid-19 emergency and was not compared with placebo nor was it blinded, meaning it could have been influenced by clinical-decision making during this process. Furthermore, it was noted that patients recruited for this trial were likely experiencing severe illness, more ill than the typical Covid-19 patient.
According to the World Health Organization (WHO), the disease typically attacks the lungs in three stages: viral replication, immune hyper-reactivity, and pulmonary destruction. With patients in this trial leaning towards the latter stage of disease severity, it is possible that the body's inflammatory response was the main driver of the disease, implying that the disease was simply too advanced to have benefited from any protease inhibition. A study that targets a milder severity of Covid-19 patients could provide useful information; with 80% of global cases being diagnosed as mild, recruitment should not be scarce. Lastly, there was no data on lopinavir exposure levels in the seriously ill patients, and RNA load sampling methods were suboptimal due to infrequent testing. Every day sampling would have provided a better characterisation of viral load kinetics in the two groups.
Scientists conducting an in vitro study at Johnson & Johnson (J&J) found that Prezista (darunavir) failed to show activity against SARS-CoV-2. Furthermore, similar results were seen from the randomised controlled trial of darunavir and cobicistat (DRV/c) in treating 30 laboratory-confirmed Covid-19 patients. J&J has since publicly spoken about the lack of evidence for the drug as a Covid-19 treatment in an official statement.
Targeting the correct patient population / severity group is vital in order to draw more conclusive evidence. It may be a case that protease inhibitors just do not work against the coronavirus when used alone, which is why additional clinical trials are being conducted with adjuvant treatments such as interferon-alpha, chloroquine, and remdesivir, to name a few. Although current evidence on the efficacy and safety of any protease inhibitor for treating Covid-19 infection is limited, future investigations could provide some hope; however, a robust investigational approach is really needed for a treatment to be deemed successful in Covid-19.