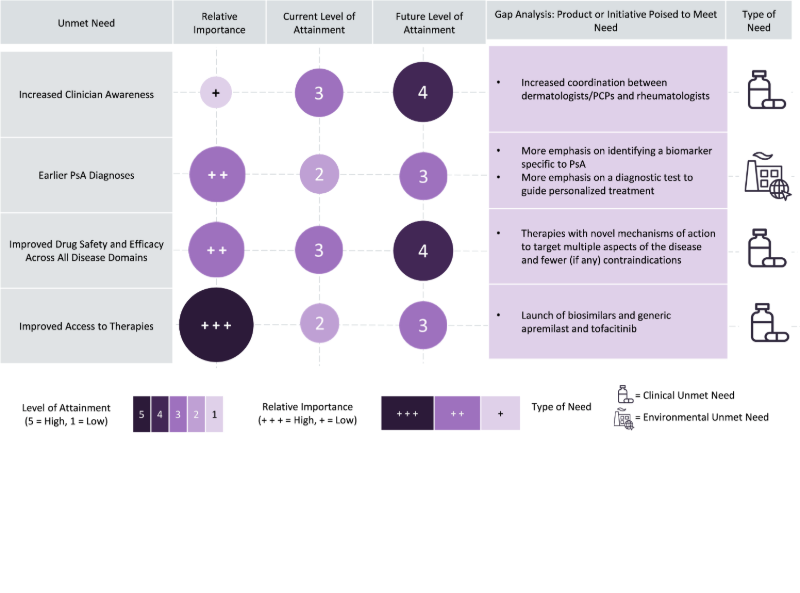 Despite the plethora of drugs currently available for patients with psoriatic arthritis, several key unmet needs remain. GlobalData has identified four key unmet needs in this disease space, which are summarised in Figure 1. These include increased clinician awareness, earlier diagnoses, improved drug safety and efficacy across all disease domains, and improved access to therapies.
In the last several years, the number of available psoriatic arthritis therapies has more than doubled. These therapies span several different mechanisms of action, including conventional synthetic disease-modifying anti-rheumatic drugs (csDMARDs), tumour necrosis factor (TNF) inhibitors, various anti-interleukin (IL) inhibitors, and a variety of small molecule therapeutics. However, key opinion leaders interviewed by GlobalData have noted that delayed referral to rheumatologists still remains one of the biggest hurdles to early diagnosis and intervention in psoriatic arthritis. Another burden in the referral from a dermatologist to a rheumatologist is the logistical limitation to seeing a rheumatologist, which is to blame for the lag time between the onset of symptoms and formal diagnosis. Additionally, psoriatic arthritis is often misdiagnosed due to a lack of a definitive serum test and a heterogeneous clinical presentation that can often mimic other autoimmune conditions. There is currently no cure for psoriatic arthritis, and a portion of patients fail their first-line biologic therapies. The high cost of therapies in this space is a major burden for both patients and insurance providers. If insurance coverage is inadequate, many patients cannot afford the high cost of a biologic, leaving them vulnerable to disease progression that otherwise could have been prevented.
GlobalData expects that the situation will continue to improve over the next decade and that psoriatic arthritis will be diagnosed and treated at higher rates over the next 10 years. However, interdisciplinary communication between rheumatologists and dermatologists is a key part of early diagnosis. The need for diagnostics—specifically, biomarkers and serum tests—to guide treatment plans is expected to remain unmet during the next 10 years. Due to the variability of clinical presentation and patient access to expensive biologics, the accurate diagnosis and treatment of all psoriatic arthritis patients are expected to remain elusive.