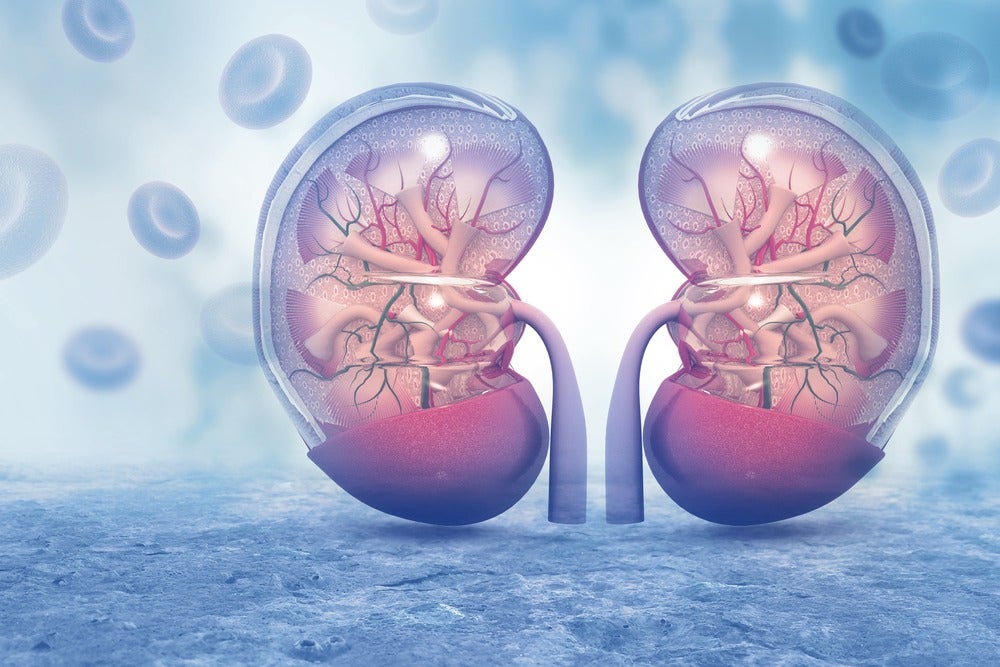 Patient recruitment for ongoing first-line renal cell carcinoma (RCC) studies run by Merck/Eisai and Bristol-Myers Squibb/Exelixis have been affected by the approval of BMS' Opdivo (nivolumab)/Yervoy (ipilimumab) in the first-line setting.
Challenges are only expected to stiffen as more checkpoint inhibitor/ tyrosine kinase inhibitors (TKI) combinations with positive data are adopted.
Renal cancer treatment
Checkpoint inhibitors are a type of immunotherapy that block proteins that stop the immune system from attacking the cancer cells. TKIs are effective in the specific treatment of various malignancies.
The main reason for patient wariness on entering new studies is the use of Pfizer's Sutent (sunitinib) as a comparator, as it is quickly becoming outdated following Opdivo/Yervoy's April 2018 approval in poor/intermediate-risk subsets.
Patients are also aware of other combinations – with positive Phase III data across all risk groups – that are nearing approval. Experts said the majority of patient accrual for these studies is now expected in ex-US territories.
However, since Opdivo/Yervoy is currently not covered by all insurance agencies, and some community oncologists remain cautious of the combination because of toxicity concerns, there are still patients who would benefit from enrolling on these studies.
Prior to its approval, analysts projected $1.5 billion revenues for Opdivo/Yervoy by 2022, which equates to 35% of the estimated first-line market. In 2016, this news service reported that the second-line RCC trial space was crowded with therapies, experts said the recent developments in first-line and impending approvals opens up a greater appeal for enrollment on second-line studies following newer standard-of-care (SOC) comparators.
New approval posing accrual challenges
Opdivo/Yervoy was approved by the US Food and Drug Administration for intermediate- and poor-risk RCC patients based on overall survival (OS) benefit in the Checkmate-214 study, which changed the treatment paradigm, said experts. Currently, the standard for poor- and intermediate-risk patients is Opdivo/Yervoy and Sutent can no longer be considered SOC, said an RCC expert.
Additional combinations anticipated to enter the first-line space – based on positive data presentations and announcements with multiple combinations in first-line RCC in the last year – include Roche'sTecentriq (atezolizumab)/Avastin (bevacizumab), Pfizer/Merck KgaA's Bavencio (avelumab)/Inlyta (axitinib) and Merck's Keytruda/Inlyta combination.
This may put additional accrual pressure on studies using a TKI monotherapy (Sutent) as a comparator, said a European oncologist. He pointed to the Phase III (NCT02811861) Keytruda/Lenvima study versus Sutent alone as one possible study that may be affected. The trial started in October 2016, and the study completion was pushed from April 2020 to February 2021, according to a ClinicalTrials.gov update made on 19 December 2018. Merck and Eisai did not respond to a request for comment.
A US-based RCC investigator agreed that patients do not want to enrol in studies if there is a possibility of getting randomised to single-agent Sutent.
He pointed to two patients under his care who were eligible for BMS/Exelixis' Phase III Checkmate 9ER (NCT03141177) study of Opdivo/Cabometyx (cabozantinib) but eventually declined to participate since they could receive Opdivo/Yervoy without having to wait through pre-trial screening delays.
Checkmate 9ER is being delayed, and will likely have to recruit more patients outside the US, he said but did not detail the delay extent.
The 630-patient Phase III Checkmate 9ER started in July 2017, originally with only three active sites in the US, and a primary completion date of September 2019.
According to ClinicalTrials.gov, out of the total 159 sites listed, 38 are US-based, seven of which have withdrawn. The trial includes 121 sites (in 19 countries) outside the US, of which Japan was most recently added with 25 sites, as per a September 2018 entry, but not all have opened for accrual yet. Of the 159 listed sites, 83 are currently recruiting while the rest are either not recruiting, or withdrawn/terminated. None of the 10 sites listed in France is recruiting.
A BMS spokesperson said topline data on Checkmate 9ER is expected in late 2019, but declined to comment beyond that.
Once the other combinations are approved and gain a preferred status in guidelines, the data safety monitoring board (DSMB) committees may have to decide whether trials that use Sutent as an active comparator can continue, the RCC expert said.
Trial terminations could also be explored by the DSMB if they take too long to recruit. A DSMB can recommend that a trial is stopped early because of concerns about participant safety or because the main research question has been answered.
While enrolment is challenging in these studies, the best chance for completion is accruing in countries where checkpoint inhibitors are not available, said Dr Daniel Cho, Director of Phase I Drug Development Program at NYU Langone, New York.
However, these studies will still face issues proving clinical meaning if the landscape has evolved to new SOC options, said Dr Cho. This is especially the case since the checkpoint inhibitor/TKI combinations will likely be considered for all risk groups, and not just limited to poor/intermediate risk based on available data, he said.
A glimmer of hope for trials to complete
However, this accrual challenge could be cushioned by peripheral drug access factors, experts said. Some insurance policies do not always follow National Comprehensive Cancer Network (NCCN) guidelines immediately and may not cover Opdivo/Yervoy yet, so there could be a subset of US patients still seeing some attraction in joining a first-line combination trial, said the investigator.
Some insurance companies do not always cover Opdivo/Yervoy because of the expense, so Sutent will still be used, said a second RCC expert.
Furthermore, in the community setting, some oncologists still remain wary of the toxicities with the Opdivo/Yervoy combination, which includes immune-mediated pneumonitis, the expert added.
The first RCC expert agreed that academic centres may be faster adopters of an immunotherapy combination, but community oncologists are not completely shying away from using it, based on discussions with other oncologists.
Meanwhile, an unexpected effect of this increased competition in the first-line space has been the higher demand for options in the second-line space with relatively few trials being currently run in that setting, said the second RCC expert. The first-line trial space is crowded, which is helping the second-line studies find patients since most patients on these first-line trials do progress and have an interest in taking part in trials for the next line, the expert added.
The first RCC expert is an investigator on Calithera Biosciences' Phase II pivotal Cantata study evaluating a CB-839/Cabometyx combination for patients who have progressed on a maximum of two prior therapies and noted an increase in the number of patients who were on first-line studies interested in second-line studies after progression.
The trial started in March 2018 and the company is expecting to complete accrual in a relatively short period of time, possibly a year, he said. The primary completion date is listed as June 2020. Analysts find this trial material and estimate USD 267m revenues for CB-839 in RCC.
Other Phase II studies in the recurrent later-line space include those by Dallas, Texas-based Peloton Therapeutics, which has an RCC-focused study (NCT03634540) in combination with Cabometyx, while Corvus Pharmaceuticals has two basket studies that include RCC patients treated with CPI-444 in combination with either Keytruda or Tecentriq.
by Manasi Vaidya in New York
Manasi Vaidya is a Senior Reporter for Pharmaceutical Technology parent company GlobalData's investigative journalism team. A version of this article originally appeared on the Insights module of GlobalData's Pharmaceutical Intelligence Center. To access more articles like this, visit GlobalData.