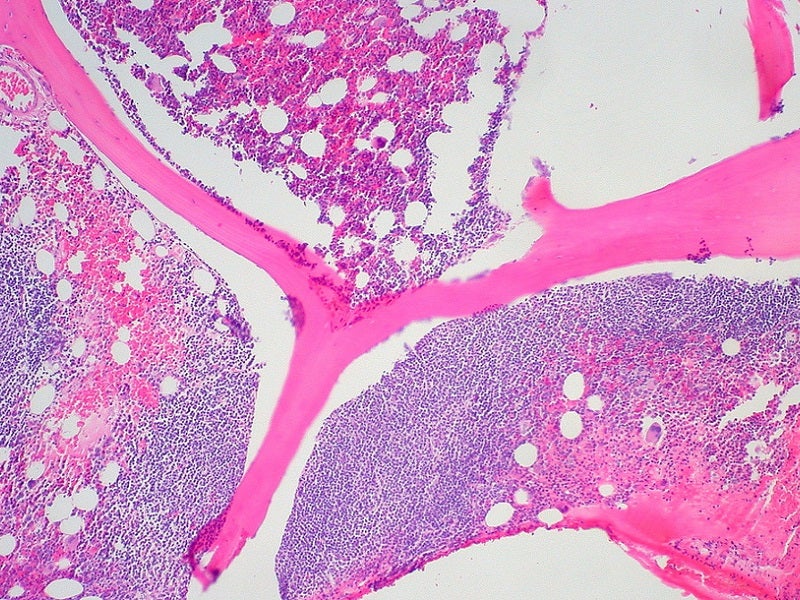 Celgene has announced positive new data for its leading blockbuster drug, Revlimid (lenalidomide), which earned revenues of $8.2bn in 2017. Data from the Phase III AUGMENT trial assessing Revlimid plus rituximab in relapsed/refractory (R/R) indolent lymphoma was presented during the second day of the 2018 American Society of Hematology (ASH) conference. Within non-Hodgkin's lymphoma (NHL), Revlimid is currently only FDA-approved to treat one particular subtype, mantle cell lymphoma (MCL), in the third-line setting.
Celgene is conducting various trials to expand this limited approval, and the National Comprehensive Cancer Network (NCCN) guidelines already recommend off-label usage of Revlimid in three other common subtypes of NHL: follicular lymphoma (FL), marginal zone lymphoma (MZL), and diffuse large b-cell lymphoma (DLBCL). FL and MZL are collectively referred to as indolent NHL (iNHL). The Revlimid plus rituximab combination, known as R2, met its primary endpoint of progression-free survival (PFS), doubling the median PFS over the comparator combination of rituximab and placebo.
Revlimid augment trial results come as 'relief'
The AUGMENT trial included 358 patients, of which 295 were FL patients and 63 were MZL patients. At a median follow-up of 28.3 months, the median PFS per independent review was 39.4 months with R2 compared to 14.1 months with rituximab alone.
The secondary endpoint of overall survival (OS) also showed a positive trend for improvement in the R2 arm versus control (16 death events versus 26 death events), and the two-year OS rate was 93% versus 87%, respectively.  Adverse events led to treatment discontinuation in 8% of the R2 arm versus 4% in the control arm.
The above results will come as a relief to Celgene, given that the Phase III RELEVANCE trial assessing the R2 regimen in first-line FL failed to meet its primary endpoint earlier this year, striking a blow to Revlimid's chances of approval in that setting. However, R2 had a more favourable safety profile than rituximab plus chemotherapy, and as such still represents a potential first-line treatment option. In addition, Revlimid is also undergoing two other Phase III label-expansion trials. The ROBUST trial is assessing the agent in a subtype of DLBCL, while MAGNIFY is assessing the R2 regimen followed by Revlimid, versus rituximab maintenance, in R/R FL, MZL, and MCL.
The encouraging AUGMENT results highlight R2 as a chemotherapy-free option for R/R iNHL patients, and have the potential to expand Revlimid's approved NHL patient pool far beyond its current third-line MCL approval. The R/R FL setting is a crowded market, with various other treatment options available. In terms of where R2 can position itself within this space, the lead study investigator noted that a meaningful percentage of patients are currently treated with rituximab monotherapy, and the positive results from AUGMENT suggest that those patients could instead benefit from the R2 combination.