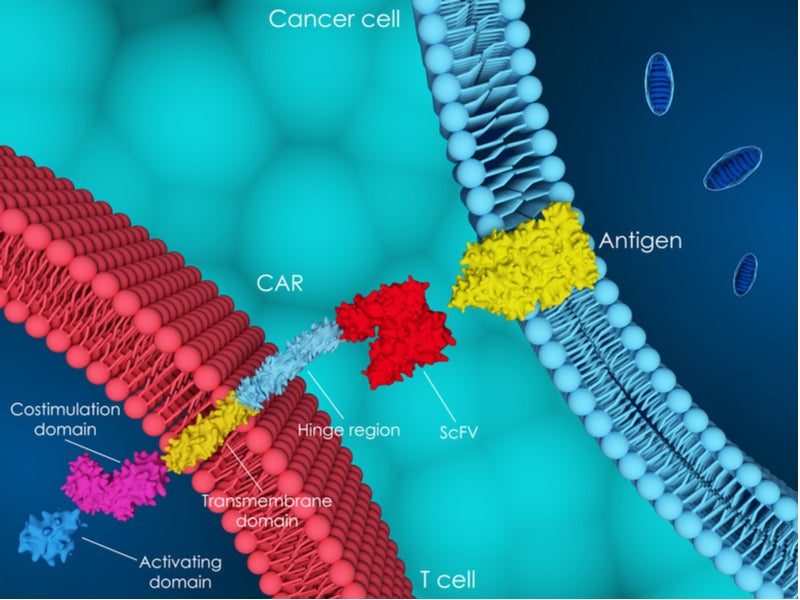 CAR-T therapy is generally viewed as a promising approach for the treatment of particular cancers. However, several factors adversely affect the use of these drugs, including the high cost and manufacturing challenges associated with these therapies, as well as the occurrence of serious adverse events, including cytokine release syndrome and neurological effects.
Safer CAR-T therapy
Several approaches are currently underway to develop safer CAR-T therapies, including the development of various switches and fine-tuning mechanisms.
Researchers from the University of Southern California in collaboration with colleagues at Peking University Cancer Hospital in Beijing have chosen another method, specifically of employing modifications in the constructs, as published in Nature Medicine in April.
The introduction of molecular switches and other methods that allow responses to the modified cells to be fine-tuned theoretically provide mechanisms by which the effect can be either completely turned off or limited, respectively.
A kill switch platform designed by Bellicum Pharmaceuticals was initially tested in a blood disorders trial using hematopoietic stem cell transplants to treat patients. The early results were confounded by transplant-related adverse effects, so the trial was put on hold. However, when it was shown that the use of the safety switch may have prevented death, the US Food and Drug Administration lifted the hold on the study.
In May 2018, Bellicum announced promising preclinical data for its dual-switch CAR-T platform and said that it was planning on initiating clinical trials in 2019. A Phase I trial testing the safety of the CAR-T switch, an inducible caspase 9 switch, opened for enrollment in March 2019 and is planning to accrue 12 patients.
Interest in the CAR-T switch mechanism is garnering attention from large pharma. In June 2018, AbbVie partnered with the California Institute for Biomedical Research (Calibr) to further develop an antibody-based switch. While several groups are investigating "shut-off" or "dimmer" switch mechanisms, academic collaborators in the US and China are attempting to design safer CAR-T constructs by modifying the original prototype. On 22 April, the researchers reported results from a small Phase I study with 25 patients in Nature Medicine, revealing no neurological toxicities or cytokine release syndrome greater than Grade 1 reported in the patients receiving the modified CAR-T construct.
In addition, of the 11 patients treated with a particular dose range of the modified T-cells, six patients (54.5%) achieved complete remission. The researchers used a tertiary structure prediction programme to generate variants in both the intracellular and extracellular domains of the prototype and screened for the modified construct with the most reduced ability to release cytokines among other favourable characteristics.
Scientifically, this approach appears to be very sound and practical. However, in order to further validate the increased safety and comparable efficacy of the modified constructs, the results must be repeated in randomized trials enrolling larger numbers of patients in more locations globally. The researchers concluded that additional multicenter studies were warranted, but no further information regarding specific plans for trials was made available. Given the high cost and safety issues associated with CAR-T therapies, there is ample opportunity and need for developers to bring safer versions of these therapies to market. These and other developments will hopefully soon address a major concern expressed by experts interviewed by GlobalData, specifically that their use of CAR-T therapies is currently limited by safety issues.
Related Report
Novartis' $305,800 approval price for Kymriah in Japan on par with high US price