The full impact of Western economic sanctions on Russia as a result of the invasion of Ukraine remains to be seen, but funding from Russian investors in foreign innovator drugs is limited. Overall venture capital financing from US investors for innovator drugs is almost 500 times the value of that from Russian investors, with US investments totalling $100bn and Russian investment at $200m over the last five years, according to GlobalData's Pharma Intelligence Centre Deals Database. On 26 February, biopharmaceutical executives and leading venture investment firms signed a letter to halt any investment and business with Russian companies. So as companies scale back their business in or with Russia, how much will this affect innovator drug development?
As Russian venture capital firms have limited investment, sanctions imposed on Russian investors may only affect very few early-stage drugs' progression. The majority of foreign innovator drugs funded by Russian venture capital firms are in discovery to Phase I, as shown in Figure 1. The largest Russian investment in foreign innovator drugs within the last five years occurred in 2017 and involved Moscow-based Inbio Ventures. Inbio Ventures contributed to the $70m Series B funding raised for the development of drugs BioNTech acquired from Neon Therapeutics through its acquisition of the company in January 2020. Oncology was the therapy area with the highest number of foreign innovator drugs funded by Russian investors, including BioNTech's Phase I BNT-221 (NEOPTC-01) and preclinical-stage candidate NEOPV-01, in addition to Amphivena Therapeutics' Phase II AMV-564. Other US-based biotechs with innovator drugs funded by Russian venture capital firms include Samsara Therapeutics, Pipeline Therapeutics, Tear Solutions, Immusoft and Celtaxsys, which altogether have the majority of their drugs in very early-stage discovery or preclinical development stages.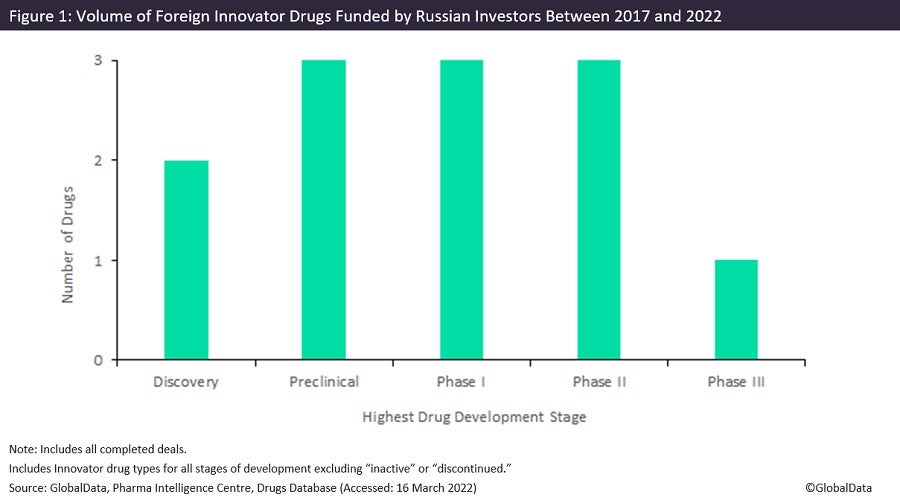 Some biopharmaceutical companies, including Eli Lilly, Novartis, Abbvie, Johnson and Johnson, Pfizer and Bayer, are ceasing business and halting clinical trials in Russia. Even though essential medicines are exempt from the sanctions, companies will still refrain from accepting capital from investors located in or linked to Russia. This could further impact the already struggling biotech stock scene, which saw a fall in the valuations of over-priced initial public offerings (IPOs) last year, leaving many investors thinking even more selectively this year. With sanctions against the two Russian banks that trade significantly with the US, namely Public Joint Stock Company Sberbank of Russia (Sberbank) and VTB Bank Public Joint Stock Company (VTB Bank), this could see Russia shift its collaborations towards other countries, such as China, possibly raising concerns for US venture capitals.