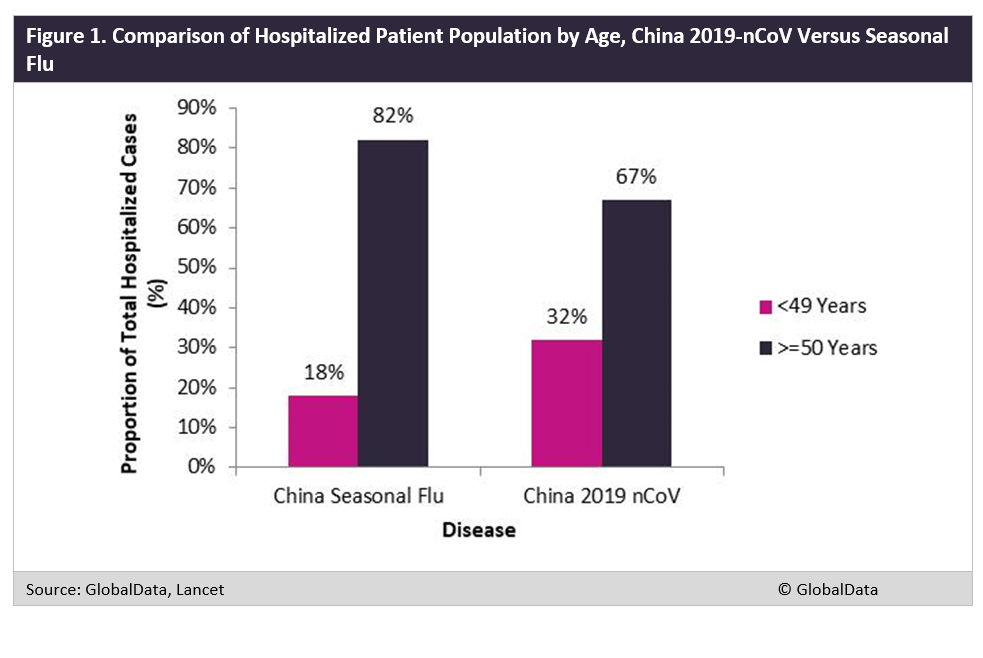 This week, Chen and colleagues published a follow-up report of the clinical characteristics of 99 patients with PCR-confirmed novel coronavirus acute respiratory disease (2019-nCoV) infections in The Lancet. This is the single largest patient cohort analysis currently available for the 2019-nCoV outbreak. Similar to other respiratory viral illnesses, older populations with comorbidities are at higher risk for severe disease. Compared with influenza and Severe Acute Respiratory Syndrome (SARS), there are interesting similarities and differences in patient characteristics.
GlobalData compared patient population by age between hospitalised seasonal influenza cases in China with hospitalised 2019-nCoV patients, as shown in Figure 1. The data showed that 2019-nCoV affects a higher proportion of the younger population than the seasonal flu, as 32% of hospitalised 2019-nCoV patients reported by Chen and colleagues were under 49 years of age. In comparison, GlobalData estimated that only 18% of hospitalised seasonal influenza patients in China were under 49 years of age. Influenza patient characteristics estimates are derived from GlobalData's Seasonal Influenza: Epidemiology Forecast in Asia-Pacific Markets to 2028 report. The skew towards the younger age group seen with 2019-nCoV is reminiscent of SARS, where data from Hong Kong showed around 62% of patients were under 45 years of age. There are limitations in the interpretation of the new age-specific 2019-nCoV data, including the possible occupational exposure bias, as the earliest cases occurred in people working or shopping at the Huanan seafood market, who may be more likely to be younger. Indeed, nearly 50% of this cohort had exposure to the Huanan seafood market.
Patients who were hospitalised for 2019-nCoV also presented with a high comorbidity prevalence, where 51% had an underlying chronic medical illness. The most common comorbidity was cardiovascular and cerebrovascular diseases, affecting 40% of patients. Huang and colleagues published an article in The Lancet on 41 patients hospitalised with 2019-nCoV in Wuhan, China, which showed a higher proportion of those hospitalised and then admitted to an intensive care unit (ICU) were men and people with cardiovascular disease. The outcome for those admitted to ICU is poor, with the vast majority experiencing acute respiratory distress syndrome, and larger proportions experiencing acute cardiac injury, acute kidney injury, secondary infection, and shock, compared with those not admitted to the ICU.
The preliminary patient characteristics report of 2019-nCoV showed that the disease may disproportionally affect younger people and those with cardiovascular conditions. Those with cardiovascular diseases are at a higher risk of severe disease requiring ICU admissions. This information could be used by clinicians to triage patients presenting with 2019-nCoV.