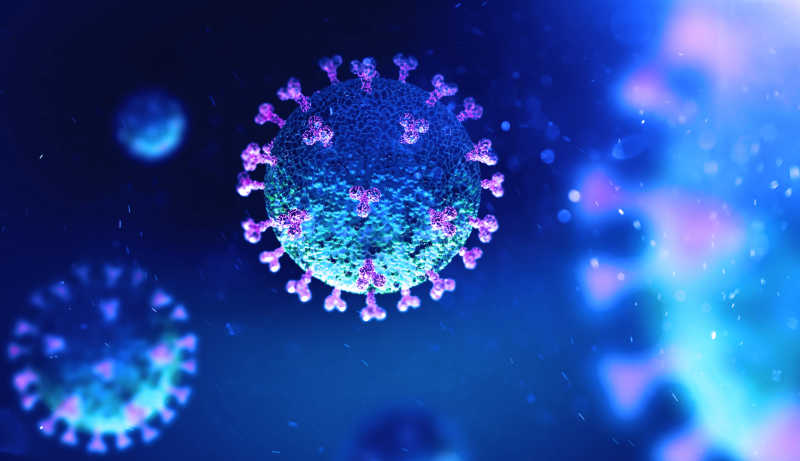 Novel peptides are being developed and repurposed as therapeutics for the treatment of Covid-19. Globally, researchers continue to search for compounds that either block the mechanisms important for SARS-CoV-2 infection and replication or treat conditions caused by the infection. On 21 February 2020, the FDA updated its definition of a biologic to include chemically synthesised polypeptides greater than 40 amino acids but less than 100 amino acids in size (synthetic proteins) and synthetic peptides 40 amino acids or less. According to GlobalData's Pharma Intelligence Center Pipeline Drugs Database, there are currently 21 peptide drugs in development for the treatment of Covid-19, including 15 synthetic peptides in development for the treatment of Acute Respiratory Distress Syndrome (ARDS), a life-threatening condition where the lungs cannot provide the body's vital organs with enough oxygen, and other respiratory illnesses caused by SARS-Cov-2 infection (Table 1).
The SARS-CoV-2 spike (S) protein uses the host cell's receptor angiotensin-converting enzyme 2 (ACE2) to enter cells via a process that is also facilitated by the host proteases. Compounds that target the interactions of these proteins required for cell entry offer a potential strategy to block SARS-CoV-2 infection and could constitute a novel treatment option. Furthermore, agents that inhibit viral replication by targeting viral enzymes or functions can be exploited as antiviral therapeutics.
Peptides were previously considered to be inappropriate for drug development as they readily degrade within the human body. However, the emergence of novel synthetic strategies now allow the modification of peptides to achieve desired properties, sparking major interest in their application. Synthetic peptides are faster and easier to synthesise, relatively inexpensive, and generally higher in purity compared to recombinant peptides, making them favourable candidates. The vast majority of peptides approved by the FDA to date are synthetic peptides that have been approved for a wide range of conditions, including cancer, infectious diseases, metabolic diseases, haematology, and cardiovascular diseases, according to GlobalData's Pharma Intelligence Center Drugs database. As peptides offer greater efficacy, safety, and tolerability in humans compared to small molecules, and with their capability to penetrate the cell membranes due to their smaller size compared to proteins, peptides have emerged as promising drug candidates.
Over 400 drugs are in development worldwide for the treatment of Covid-19 (Table 1). Five synthetic peptides candidates are already being tested in patients with Covid-19: four candidates in Phase II and one in Phase I. The pipeline also includes one investigational new drug (IND)/clinical trial application (CTA) filed stage candidate, two preclinical stage candidates, and six discovery stage candidates.
One of the promising candidates is respiratory disease specialist Apeptico Forschung und Entwicklung GmbH's Phase II candidate solnatide, which has received compassionate use approval from the Austrian Federal Office for Safety in Health for use in critically ill Covid-19 patients. Solnatide, a synthetic peptide of less than 20 amino acids applied directly in the lower airways in the form of a liquid aerosol, aims to accelerate the dissolution of alveolar oedema and reduce barrier damage caused by Covid-19 in the lungs. Bernhard Fischer, Managing Director of Vienna-based Apeptico, said, "…this is the first compassionate use approval of an innovative drug from Austria for the treatment of SARS-CoV-2-induced acute pulmonary dysfunction in mechanically ventilated Covid-19 patients".
Swiss-based Relief Therapeutics is conducting an FDA-approved Phase II clinical trial, which is part of the FDA's Coronavirus Treatment Acceleration Program (CTAP), at New York University Langone (NYU Langone Health) to assess the effect of aviptadil for Covid-19-related ARDS. The trial is being led by the company's US partner, NeuroRx. The multi-centre study will involve patients on mechanical ventilation. Aviptadil is a patented synthetic form of a human vasoactive intestinal polypeptide (VIP), originally developed and is currently marketed in Europe for the treatment of erectile dysfunction. Relief Therapeutics holds FDA and EU orphan drug designations for the use of VIP to treat ARDS, pulmonary hypertension, and sarcoidosis.
Additionally, Spain-based PharmaMar has begun Phase II clinical trials for its anti-tumour drug plitidepsin for the treatment of Covid-19 patients requiring hospital admission. Plitidepsin is currently approved in Australia for the treatment of multiple myeloma.
If synthetic peptides in the pipeline that aim to treat critically ill mechanically ventilated Covid-19 patients with less than a 50% chance of survival succeed, these candidates could have a major impact on the survival of Covid-19 patients and reduce the burden on healthcare systems.