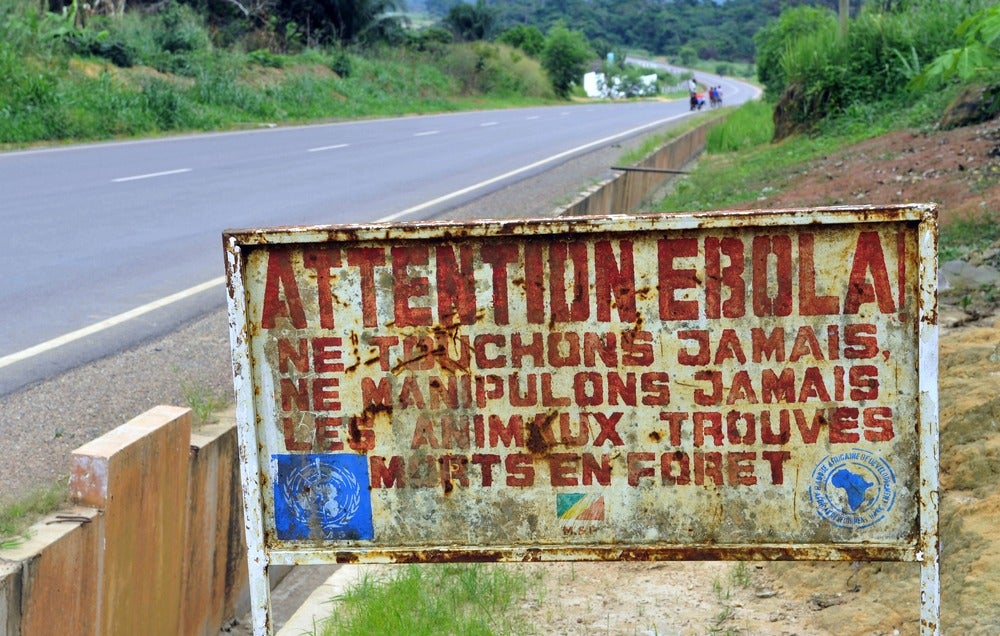 In a world where good news is in short supply, the global vaccine space offers a healthy dose of optimism for a change, with significant R&D developments and better-than-expected commercial launches reported over the last year. In this retrospective, GlobalData highlights the top global advancements.
Ebola vaccine: approval imminent for Merck's V920
Amidst the devastation caused by the ongoing Ebola outbreak in the Democratic Republic of Congo (DRC), a silver lining is the likely imminent approval of the first Ebola vaccine, the investigational product V920 (rVSV-ZEBOV) produced by the US-based company Merck & Co.
In 2015, V920 was first tested in a Phase III trial in Guinea in a "ring vaccination" strategy for high-risk individual clusters. Of the 4,539 trial participants who received immediate vaccination, no active Ebola infections were detected. As the 2014-2016 West Africa Ebola epidemic waned, Merck formed a $5 million advanced purchase commitment with Gavi, the Vaccine Alliance, to stockpile 300,000 doses of the vaccine in preparation for future outbreaks.
V920 has now been administered to over 63,000 individuals in the DRC. In early 2019, Merck announced that it is preparing an additional shipment of 120,000 doses for field deployment, and the World Health Organization (WHO) has estimated that supplies will be sufficient to curb the current Ebola outbreak.
On 15 November, Merck began its submission process of a biologics license application (BLA) to the US Food and Drug Administration (FDA) for V920. GlobalData believes that V920 is likely to be approved by the FDA this year and will establish a market-leading position in Ebola prevention.
Dengue vaccine: where to now for Takeda's TAK-003?
On the dengue vaccine front, the Japan-based Takeda Pharmaceutical Company obtained primary efficacy readouts from the pivotal Phase III Tides (DEN-301) study for its live-attenuated vaccine candidate, TAK-003, in mid-2018 – putting increased pressure on French pharmaceutical company Sanofi and its first-to-market Dengvaxia.
In January, Takeda made these results public, announcing TAK-003 successfully protected recipients against dengue fever caused by all four clinically relevant dengue virus (DENV) serotypes (DENV-1, DENV-2, DENV-3, and DENV-4).
While these results represent a monumental achievement for Takeda and the dengue vaccine's R&D community as a whole, GlobalData believes the upcoming secondary endpoints – evaluating vaccine efficacy by DENV serotype, participant baseline serostatus, and disease severity – as being the most critical pieces to TAK-003's future clinical and commercial profile.
Picking up where Sanofi's Dengvaxia left off
TAK-003's design should theoretically enable it to succeed where Sanofi's Dengvaxia floundered. In contrast to the yellow fever virus (YFV)-DENV chimera approach used by Dengvaxia, TAK-003 features a DENV-DENV chimera, whereby the attenuated dengue strain DENV-2 PDK-53 protects against DENV-2, with three chimeric viruses expressing the prM and E proteins of DENV-1, DENV-3, and DENV-4.
Recipients of TAK-003 have their immune systems exposed to both structural and non-structural DENV proteins – a phenomenon that should induce a stronger, more robust cell-based immunity compared with Dengvaxia's YFV-DENV chimera. So far, the data obtained from the TAK-003 clinical programme support this hypothesis.
If the aforementioned secondary endpoints from the Tides study, the results of which should be made public in 2019, substantiate past data, then TAK-003 could bring a swift end to the already struggling Dengvaxia's commercial viability.
Shingles vaccine: GSK's Shingrix takes pole position
On 6 February 2019, GlaxoSmithKline (GSK) announced its best-in-class shingles vaccine, Shingrix, achieved sales of over $1 billion (£784 million) in 2018, representing a 98% share of the total market.
Despite its clear advantages over the previous standard of care provided by Merck's Zostavax, Shingrix surpassed even the most optimistic of expectations for its first full year on the market, driven by GSK's focus on securing its availability in over 22,000 retail pharmacies across the US.
In fact, the company's launch strategy has been so successful that Shingrix was added to the Centers for Disease Control and Prevention's (CDC's) list of current vaccine shortages and delays this past summer to ensure those who receive the first dose of Shingrix can complete the two-dose series.
Despite Shingrix's successful launch, barriers to its uptake exist. For example, experts have expressed concerns about the potential for unanticipated adverse events associated with the vaccine's AS01 adjuvant system, which could become apparent once used in a larger population.
Historically low adult immunisation rates will also threaten Shingrix's long-term commercial success – through the retail pharmacy model, which offers a more convenient setting for many adults to be vaccinated, seems to be yielding results. These hurdles notwithstanding, GlobalData believes Shingrix is a blockbuster that is likely to remain a key fixture of GSK's core business strategy this year and beyond.
Six-in-one vaccine: Merck and Sanofi's Vaxelis makes inroads
Towards the end of 2018, Merck and Sanofi's Vaxelis (diphtheria, tetanus, and acellular pertussis [DTaP]-inactivated poliovirus [IPV]-haemophilus b [Hib]-hepatitis B [HepB] vaccine) became the first six-in-one childhood vaccine to secure FDA approval.
Compared with its counterparts in Europe and Canada, which approved GSK's six-in-one vaccine, Infanrix Hexa, back in 2000 and 2004, respectively, the FDA has been far more reluctant to approve high-valence routine childhood vaccines. Merck and Sanofi initially submitted their biologics license application (BLA) in 2014, but Vaxelis was met with a complete response letter (CRL) the following year.
The US childhood immunisation recommendations consist of a crowded schedule, with infants, in particular, receiving a high volume of vaccinations. The shift towards combination vaccines, which can provide comparable efficacy while reducing the shot burden for children, could result in a decrease in vaccine hesitancy amongst parents.
Therefore, GlobalData expects Vaxelis to become the dominant vaccine for the first three doses of the childhood DTaP series. Although the future commercial success of Vaxelis looks bright it will be the better part of a decade before realising this potential, with Merck and Sanofi announcing that Vaxelis will not reach the market until at least 2020.