In the race to identify and develop new oncology therapies, the UK stands head and shoulders above other European countries. The country's thriving oncology-focused startup and venture capital (VC) scene make it a hub for oncology-focused startups.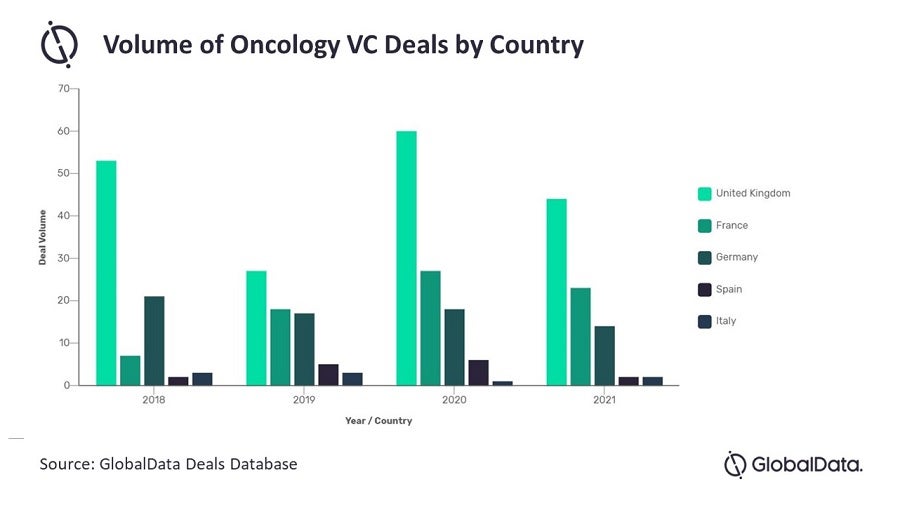 VC plays a critical role in the identification and commercialisation of promising intellectual property, facilitating new therapy development. According to GlobalData, the volume of oncology VC deals in the UK has towered over those of other members of the five major European markets (5EU: France, Germany, Italy, Spain and the UK) over the last five years, indicating a far larger number of startup companies and a thriving oncology-focused VC scene in the UK.
Most oncology VC deals take place in the preclinical and discovery stages, but there are also frequent financing rounds in the clinical stages of development. From an investor's perspective, there needs to be the right balance of risk versus reward when investing in an oncology-focused startup. In the drug lifecycle, attrition rates are at the highest in the preclinical phase; therefore, risk is at its peak and so investors are typically compensated with higher equity, allowing higher returns upon successful exit. In Phase II, the risks are significantly lower as there are data available regarding the drug's safety and efficacy, but at this stage, there is less equity available to be compensated.
In addition, last year saw renewed interest in investing in biologics, which, by deal volume, surpassed small molecules in oncology VC. Biologics are becoming increasingly attractive to invest in for several reasons, both clinical and commercial. Clinically, biologics are typically believed to have higher specificity than small molecules, which tend to be quite promiscuous, so the potential for side effects is lower than that for biologics. Commercially, biologics typically experience less fierce competition upon patent expiry, as they are significantly more complex than small molecules and harder to copy to produce biosimilars. Because of this, it takes more time and resources for the competition to capture market share from the original biologic, so sales erode less quickly.