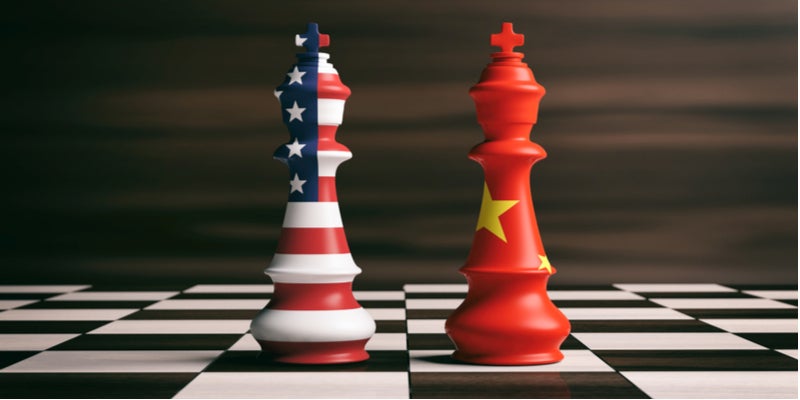 The US government committee tasked with vetoing biotechnology investments that could harm national security is already stalling biopharma deals involving Chinese investors. However, elsewhere in the US-China trade war, the Office of the US Trade Representative (USTR) has announced that Chinese pharmaceutical exports will not be subject to tariffs.
US-China pharma trade
The Committee on Foreign Investment in the United States' (CFIUS's) biotechnology pilot programme has ordered iCarbonX (Shenzhen, China), a digital healthcare unicorn, to sell its majority stake in PatientsLikeMe (Cambridge, MA, US), a digital platform for patient-shared health data that emerged in April 2019. iCarbonX is the majority stakeholder and invested $100 million in 2017. PatientsLikeMe's Chair Jamie Heywood is reported as saying this has led to job losses as the company searches for alternative US-based investment.
Similarly, Momenta Pharmaceuticals (Boston, MA) saw the planned spinout of part of its business to Chinese investors collapse in 2018 over concerns about CFIUS, Forbes recently reported. This resulted in the partial shutdown of Momenta in September 2018 and 110 employees losing their jobs, Momenta's CEO said.
CFIUS is concerned with companies dealing with critical technologies and sensitive data, especially personally identifiable information (PII), both of which are areas common to biopharma companies. The US also fears foreign companies buying control in a US direct competitor to steal intellectual property or to neglect the company to the benefit of its rival, Michael Kennedy, Principal Attorney, Kennedy Law and Policy, told us.
In the PatientsLikeMe case, preventing Chinese access to sensitive personal data would have been the reason for the committee's decision, said Kennedy. "The issue is how liberally they are going to interpret 'sensitive data,'" said Kennedy, adding that the reasons for CFIUS decisions are often not made public. Protected health information under the Health Insurance Portability and Accountability Act of 1996 (HIPAA) might fall into this category, he said.
While it remains to be seen precisely which data CFIUS will interpret as "sensitive," patient data are involved in the manufacturing process of personalized medicines, especially the burgeoning world of autologous cell and gene therapies, where production starts with patient apheresis. Indeed, "the patient is the main manufacturing process for these therapies," Doug Danison, VP, Access, Value & Evidence Strategy, bluebird bio, told the World Advanced Therapies & Regenerative Medicine Congress in London on 16 May.
CFIUS may have given an idea of its take on health data privacy when it forced the sale of Beijing-based tech company Kunlun Group's share in the dating app Grindr, prompted by the Chinese owner's access to US users' healthcare data in the form of HIV status, according to Reuters reports in March 2019.
The pharma industry, including the Biotechnology Innovation Organisation (BIO), has objected to CFIUS, saying it risks a chilling effect on life science investment. It is unclear whether the committee will concern itself with foreign private equity funding, which is the primary type of investment in contract manufacturing, PharmSource previously reported ("National Security vs. Foreign Investment: EU, Canada, and US Strike Different Balances as Chinese Funding of US Bio/Pharma Up 30%," March 2019).
European companies affected by CFIUS
CFIUS' effect is not confined to Chinese investors. Novartis (Basel, Switzerland) revealed in a December 2018 8-K Securities and Exchange Commission (SEC) filing that during its acquisition of US biopharma Endocyte (West Lafayette, IA), CFIUS "notified the parties that, based on its assessment of the declaration, it cannot conclude action…with respect to the proposed merger." This meant the companies proceeded with the sale at their own risk, with the potential for the US government to later overturn the deal.
Similarly, Biotest AG (Dreieich, Hessen), a provider of plasma products and biologics, sold its US therapy business to an unnamed buyer in January 2018 so it could sell the remaining company to Tiancheng (Germany) Pharmaceutical Holdings AG, a subsidiary of Chinese investor Creat Group Corporation (Beijing, China). CFIUS had initially blocked the estimated EUR 1.2 billion ($1.3 billion) acquisition of Biotest based on "national security concerns" not made public by the parties.
In the current climate, even non-US companies should think carefully about partnering with China, Kennedy said. "If [a pharma company] is on the cusp of running out of cash and can only survive by being bailed out by…taking Chinese or Russian money, or [another country] not on the white or black list, then [it] should be…cautious about it."
Companies should understand how much control a direct foreign investment would have over these technologies, and how much direction the investors would have, he advised. "Then take a look at how critical is the infrastructure and how much would it challenge the US national security if used in the wrong hands," he added.
US excludes Chinese drugs from tariffs
In May, USTR published its latest list of proposed tariffs on Chinese imports, which excludes finished dose pharmaceuticals and APIs.
Pharmaceuticals were first considered for inclusion because USTR was concerned about China's "Made in China 2025" strategy, which includes a focus on pharmaceuticals and medical devices, Jared Wessel, Counsel, Global Regulatory Group at law firm Hogan Lovells, told us.
Pharmaceuticals were eventually excluded in part because of US public outrage at the prospect of raised drug prices. "The optics of putting tariffs on cancer drugs and people not able to get their medicine was too much to bear [for USTR]," said Wessel.
According to the current timeline, USTR will make a final decision by late June and could be ready to impose duties in mid-July. USTR is very unlikely to add pharmaceuticals back on to the list against public opinion and pharma pressure, the lawyers we spoke to indicated. A small number of pharma-related items remain on the latest draft of the tariffs, including radioactive isotopes.
Experts agreed that CFIUS, US tariffs, and China's threats of retaliatory tariffs are making the general environment of doing business with China difficult.
China has a similar system to that of CFIUS, Wessel noted, adding that China may make it harder for US companies to do business, either directly through tariffs or indirectly through investigations.
At the BIO International Convention in Philadelphia, Pennsylvania on 3 June, Christian Davis, International Trade Partner at law firm Akin Group, told a panel discussion on China entitled "Key Regulatory and Policy Trends in Biopharmaceutical Innovation" that although actual restrictions on US-China pharma transactions are currently limited, "fear of the unknown" is causing a "chilling effect" on deals.
Related report
"Bio/Pharma Industry Warns of Chilling Effect on Investment as Trump Expands NatSec Oversight of Foreign Deals" (March 2019)