Venture financing for early-stage innovator drugs for biotech companies based in the Asia-Pacific (APAC) region between 2018 to 2022 received three times less funding, at $23bn, than their US counterparts, at $72bn, according to GlobalData's Pharma Intelligence Centre Deals Database. Although both regions experienced a surge in deal value and volume for early-stage venture financing for innovator drugs from 2020 to 2021, inflation and geopolitical factors such as the Russia-Ukraine war impacted market volatility. This caused investors to be more discerning, which resulted in a decrease in investments last year. The Biotech Showcase: Asia Pacific Showcase, held on 10 January this year, included APAC and US investors discussing the biotech investing landscape at a panel titled 'BioPharma Investment Trends in the Asia Pacific Region: What you Need to Know'.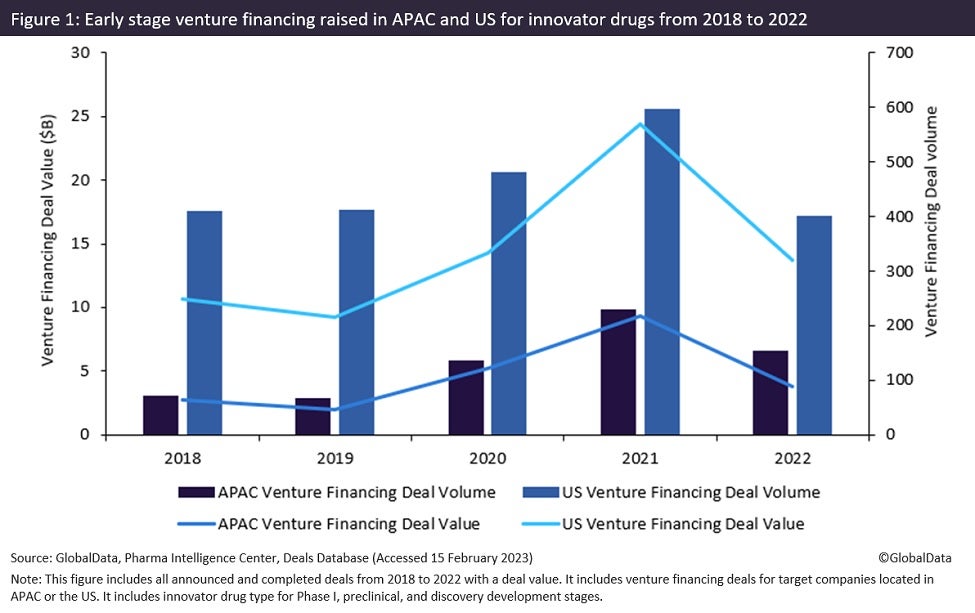 According to GlobalData's Pharma Intelligence Centre Deals Database, the total deal value of early-stage innovator drug venture financing for US biotechs grew 70% to $24.4bn from 2020 to 2021, at a 24% increase in deal volume. Early-stage innovator drug venture funding for APAC biotech had a 78% growth in total deal value to $9.4bn, with a 68% increase in deal volume for the same period (Figure 1). Biotechs based in APAC and the US reported a decrease in deal volume of 32% and 33%, respectively, and total deal value of 59% and 44%, respectively, in 2022. Notably, APAC's venture financing rounds achieved lower valuations.
According to Vivian Lee, Managing Director at Aqua Partners, biotechs based in APAC have historically focused on generics and manufacturing, but are shifting towards innovative developments. Panelist Elizabeth Kelly, principal at Pappas Capital, predicted 'a big wave of disruption in new technology that is going to come out of these regions in the markets'. Kelly noted that the challenges posed by the Covid-19 pandemic in China 'have led to an influx of capital and innovation in Singapore from domestic and other markets', making it an attractive option for driving innovation in other APAC countries.
Meanwhile, China continues to catch up to Western venture financing, as shown in recent funding rounds. Neumora Therapeutics, based in the US, secured $400m in Series A financing for their neurodegenerative disorder drugs in 2021. Hangzhou DAC Biotech, based in China, raised $155.4m in Series C financing in the same year to support the development of their oncology drugs, highlighting smaller investment funding in China compared to the US.
Eisai's director of corporate venture investment, Ryutaro Adachi, highlights successful transactions between Japanese start-ups and foreign pharmaceutical investors. This includes new biotech company Aculys Pharma securing $22.9m in Series B financing in 2022 to support the development and commercialisation of its central nervous system drugs. As a corporate venture, Eisai invests in 'seed, early and pre-clinical platform technologies' and seeks out potential start-ups to create 'future synergy' with the company.
Although the US continues to lead the biotech venture financing raised for innovator drugs, biotechs based in APAC are making strides in innovative developments to secure funding. Despite market volatility affecting both regions, growing interest in APAC's innovative technologies from Western pharmaceutical companies could provide future opportunities in this space.