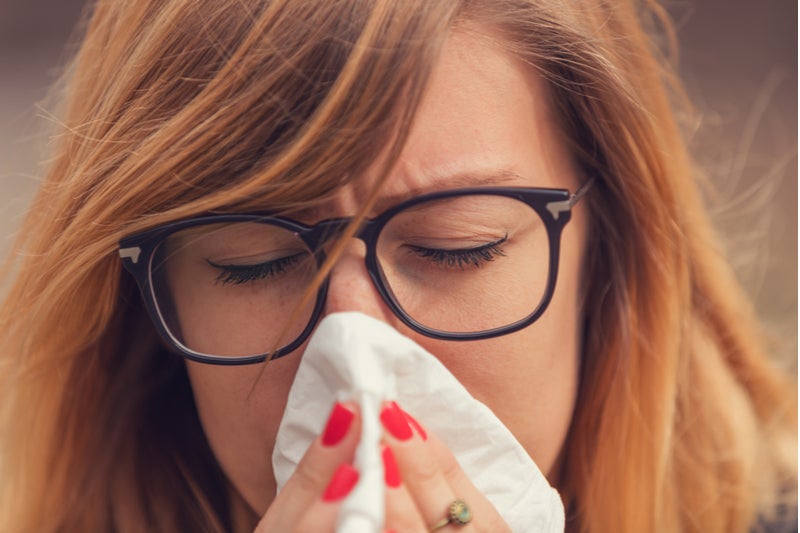 The 2018–2019 influenza season ended in May, and the current 2019­–2020 US influenza season has already begun, starting earlier than normal. 
The US Centers for Disease Control and Prevention (CDC) is reporting high influenza-like illness (ILI) activity for many southern US states, and influenza activity is quickly ramping up throughout the rest of the country. Up to 169 million doses of influenza vaccine are available for the current US influenza season, according to the manufacturers. 
However, AstraZeneca's FluMist, a live-attenuated vaccine with an intranasal route of administration that makes it especially popular for the pediatric population, has very limited availability due to production problems. Less than 800,000 doses will be available in the US, representing about one-third of the number of doses available last year.
The elderly are the most vulnerable population affected by influenza-related complications and deaths, and conventional trivalent and quadrivalent egg-based vaccines have lower efficacy in this population as advanced age is often associated with a weakened immune system. 
There are two currently marketed vaccines specifically indicated for the patient segment ages 65 years and older: Seqirus' adjuvanted vaccine Fluad trivalent and Sanofi's Fluzone High-Dose trivalent. A recent study from Insight Therapeutics in collaboration with Case Western Reserve University, Brown University, and Seqirus in US nursing homes found that Fluad was more effective in reducing the risk of hospitalisation due to influenza-related complications (such as pneumonia) than standard trivalent influenza vaccines. 
A total of 50,012 residents from 823 nursing homes were randomized to receive Fluad trivalent or a conventional inactivated trivalent influenza vaccine. Preliminary results showed that participants receiving the adjuvanted vaccine were hospitalised in 6% fewer cases than participants receiving the conventional vaccine, showing that Seqirus' adjuvanted vaccine had measurable benefits.
In October 2019, a quadrivalent formulation of Fluad was approved in Australia, where Seqirus' parent company CSL Limited is headquartered. It is projected to launch in 2020 in the US and in 2021 in the EU. 
Additionally, a quadrivalent formulation of Sanofi's Fluzone High-Dose is projected to be available in the US for the 2020–2021 influenza season. Fluzone High-Dose is much more widely used in the US than in the EU, while the adjuvanted Fluad is more popular in European countries, and Fluzone High-Dose is only approved in the UK for the 2019–2020 influenza season.
Issues with seasonal influenza vaccine effectiveness are not limited to the elderly, as mismatches between viral strains included in the vaccine and the circulating strains commonly occur, affecting all potential influenza vaccine recipients. More than 80% of US influenza vaccines are currently produced in eggs, according to the CDC and GlobalData's recent Seasonal Influenza Vaccines: Global Drug Forecast and Market Analysis to 2028 report. 
Egg-based vaccine production is a time-consuming process, so strains included in the vaccine must be chosen up to six months before the start of the influenza season. Furthermore, growing the virus in eggs leads to viral adaptations, further decreasing the match between the viral antigens and circulating viruses. This issue drove the development of egg-free, cell culture-based and recombinant vaccines, such as Seqirus' Flucelvax and Sanofi's Flublok, decreasing vaccine production time and minimizing viral adaptation. 
Novel influenza vaccines are expected to launch soon, including two quadrivalent vaccines: Medicago's plant-based virus-like-particle MDG-2271 in 2021 and Novavax's insect cell-based NanoFlu in 2023. NanoFlu will be particularly interesting for the elderly population, since it combines an egg-free manufacturing method with the use of a plant-based adjuvant. 
Universal influenza vaccines have the potential to protect against multiple influenza stains for multiple seasons, but are still approximately 5–10 years away from launch. Biondvax, FluGen, and Imutex have promising candidates in late-stage clinical development. In the meantime, even though this influenza season started early, the CDC emphasizes that it is not too late to get vaccinated as immunization remains the most effective means of influenza prevention.
Related Reports
GlobalData (2019) Seasonal Influenza Vaccines: Global Drug Forecast and Market Analysis to 2028, October 2019, GDHC180PIDR
GlobalData (2018) NIH Joins the Race for a Universal Influenza Vaccine, April 2019, GDHC2367EI
GlobalData (2019) Expert Insight: Universal Influenza Vaccine Development Takes Front Seat in WHO's Influenza Strategy Report, March 2019, GDHC2322EI