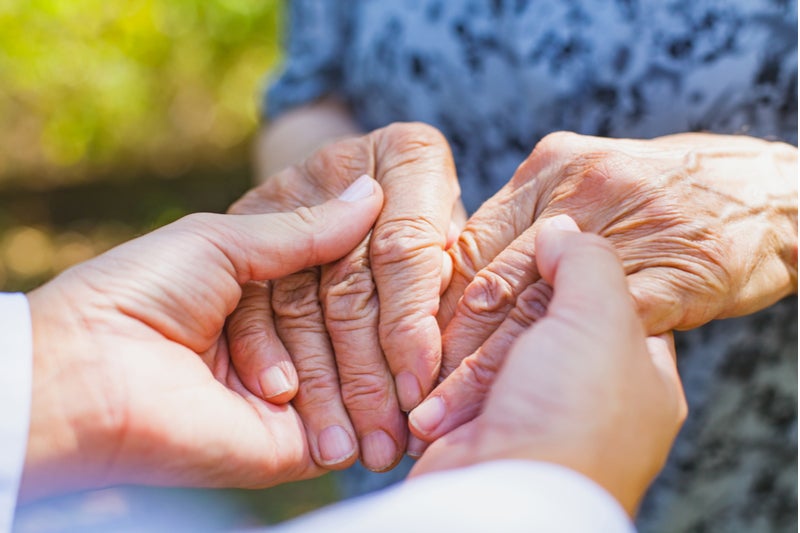 In the first of a series of three articles ahead of World Alzheimer's Day on 21 September, we consider the social pressures and stigma around dementia. 
World Alzheimer's Day represents the apex of a month-long campaign by Alzheimer's Disease International (ADI) to raise awareness around dementia and this year's theme is to encourage people to talk openly about dementia and to help remove its stigma locally, nationally and globally.
Prevalence of dementia
Dementia is a highly prevalent disease and Alzheimer's is the most common type of dementia, making up about 70% of the dementia cases. 
GlobalData's epidemiology analysis determined the total prevalence of dementia in 16 major markets (16MM: the US, France, Germany, Italy, Spain, the UK, Japan, Australia, Brazil, Canada, China, India, Mexico, Russia, South Africa and South Korea) to be almost 6% in those ages 60 years and older. 
Figure 1 presents the total prevalence of dementia and Alzheimer's in the 16MM by region. These statistics show that dementia and Alzheimer's are by no means rare diseases, but the stigma and fear surrounding the disease remains high. The ADI reports globally, two out of three people believe there is little to no understanding of dementia in their country.   
This feeling of lack of understanding can be overwhelming for dementia patients and their caregivers and directly impacts the effectiveness of implementing disease prevention programs and treatment. The World Health Organization has been working to implement policy changes around the world to improve dementia treatment and prevention programmes, but the ADI has found that the initiatives are being implemented too slowly in some countries, and not at all in many countries.
To address this issue, the ADI has conducted the world's largest survey on people's attitudes around dementia. This is a "return-to-basics" approach aimed at understanding which factors could be blocking important policy changes. The results of the survey are expected to be released around World Alzheimer's Day 2019, as part of the 2019 World Alzheimer's Report. 
Stakeholders in the dementia and Alzheimer's disease space should pay close attention to the results of the survey. Knowing how people feel about dementia would help inform many aspects of interactions with patients and the public, such as public health programmes, doctor-patient interactions and drug marketing.  
Related Reports
Part II: Can sleep disruptions lead to Alzheimer's disease?
GlobalData (2019). Expert Insight: Social Contact Is Important to Reduce the Risk of Dementia, August 2019, GDHC2582EI
GlobalData (2019). Expert Insight: NIH Proposes First Guidance for Alzheimer's-Like Brain Disorder, May 2019, GDHC2424EI
GlobalData (2018). Expert Insight: Stroke Increases the Risk of Dementia, September 2018, GDHC2006EI
GlobalData (2017). Expert Insight: Women Make Up More than 70% of Alzheimer's Disease Prevalent Cases, November 2017, GDHC1400EI
GlobalData (2017). PharmaPoint: Alzheimer's Disease – Global Drug Forecast and Market Analysis to 2026, September 2017, GDHC149PIDR