Magnesia
Magnesium Compounds and Calcium Compounds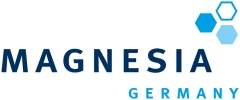 Address
Max-Jenne-Straße 2-4,
Industrial Area Ost,
D-21337 Lüneburg,
Other,
Germany
Phone
Magnesia GmbH, Lüneburg, has been successfully supplying customers around the world with high-quality raw materials for more than 20 years. Excellent service, customer satisfaction and high quality products make sure that we stand at the forefront of magnesium supply.
Products include magnesium and calcium compounds such as:
Magnesium oxide
Magnesium carbonate
Magnesium hydroxide
Calcium carbonate
Magnesium chloride
MagGran®
MAGNESIUM AND CALCIUM COMPOUNDS
Since the beginning of the 1980s Magnesia GmbH has been geared towards worldwide expansion. The quality of our raw materials as well as our reliable service has made Magnesia one of the leading worldwide suppliers of magnesium compounds corresponding to Ph., Eur and USP.
We supply our raw chemical products in nearly all parts of the world. We are supported by a number of competent and reliable agents.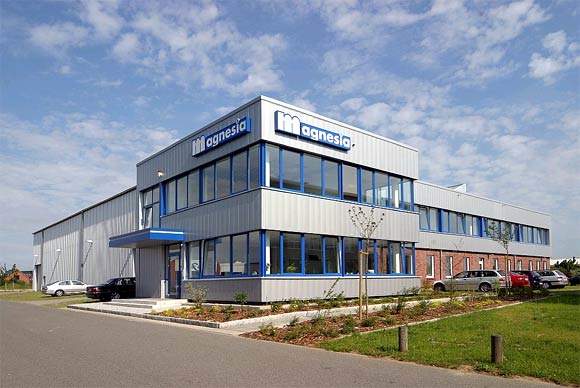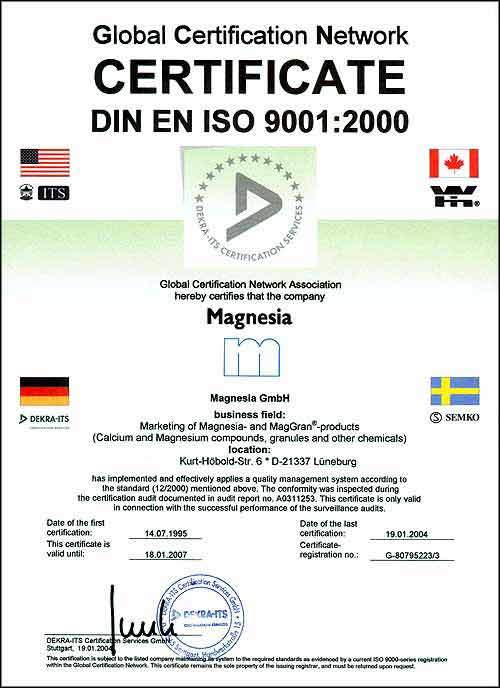 MAGNESIUM OXIDE
Magnesia supplies magnesium oxide in a variety of batch sizes for a range of pharmaceutical applications.
MAGNESIUM CARBONATE
We offer magnesium carbonate compounds in bulk densities from 60g/l to 80g/l (super lightweight), right up to Magnesia 19, which has a bulk density of 900g/l.
MAGNESIUM HYDROXIDE
Magnesia offers magnesium hydroxide compounds with the following specifications and bulk densities:
Magnesia 725: 500g/l, Ph. Eur., USP, E 528
Magnesia 726: 700g/l, Ph. Eur., USP
Magnesia 7261: 1,000g/l, Ph. Eur., USP
Magnesia 727: 480g/l, E 528
Magnesia 728: 480g/l, chem. pure
CALCIUM CARBONATE
Magnesia's calcium carbonate compounds are designed for a range of pharmaceutical applications, with a minimum bulk density of 320g/l and a maximum bulk density of 760g/l.
MAGNESIUM AND CALCIUM CHLORIDE
Magnesia offers a range of magnesium chloride products, with the following bulk densities and characteristics:
Magnesia 4151: six-hydrate, flakes
Magnesia 4153: anhydrous, chem. pure
Magnesia 4154: anhydrous, chem. pure
Magnesia 4150: six-hydrate, E 511
Magnesia 4152: six-hydrate, Ph. Eur, USP, E 511
Magnesia 4155: calcium chloride, two-hydrate, cryst. Ph. Eur, USP, E 509
MagGran® MAGNESIUM AND CALCIUM COMPOUND GRANULES
MagGran® granules are specially formulated pharmaceutical granule batches of calcium carbonate, magnesium carbonate, magnesium oxide, magnesium hydroxide, di-calcium phosphate, calcium propionate, magnesium lactate, and sodium acetate.
Our MagGran®CCplus range includes calcium carbonate mixed with 5% or 10% maize starch ,and magnesium carbonate mixed with 5% maize starch. MagGran®CCplus Magnesia 84479 is a calcium carbonate compound made with 3% PVP.
BEYOND MAGNESIUM AND CALCIUM COMPOUNDS – RAW MATERIALS FOR EXPORT
We supply a range of chemicals that are also used in the pharma, food and technical industries. These chemicals are not part of our main delivery program, of magnesium compounds, and are intended especially for export markets. Offers for additional raw materials, listed on our website, are made on request. Please send us your enquiries.
Magnesia is certified by ISO 9001:2000 for the marketing of calcium and magnesium products.
See also Food Processing Technology – Magnesia – Magnesium and Calcium Ingredients and Additives
Magnesium Compounds and Calcium Compounds Product List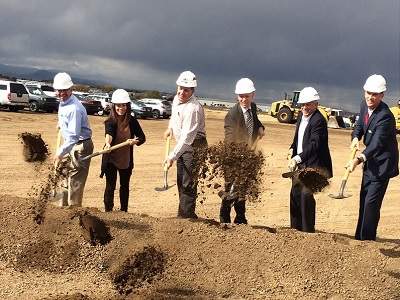 US-based analytical technology company Agilent Technologies has opened a multi-structure pharmaceutical manufacturing plant in Frederick, Weld County, Colorado. The facility's construction began in October 2016 and it was opened in June 2019.
The Magnesia group is presenting its new logo on the market. We wanted to set a sign to the foundation of Magnesia AG in Switzerland, and the expansion of the distribution center in Lüneburg, Germany, with a common and modern logo.

22 October 2012
Magnesia has been supplying customers worldwide with high-quality raw materials for more than 20 years. Magnesia's new white paper, 'Magnesium Compounds and Calcium Compounds Product List', lists the wide range of products that the company can supply.

19 September 2010
Magnesia GmbH
Max-Jenne-Straße 2-4
Industrial Area Ost
D-21337 Lüneburg
Other
Germany



Telephone Number




Fax Number




Email Address