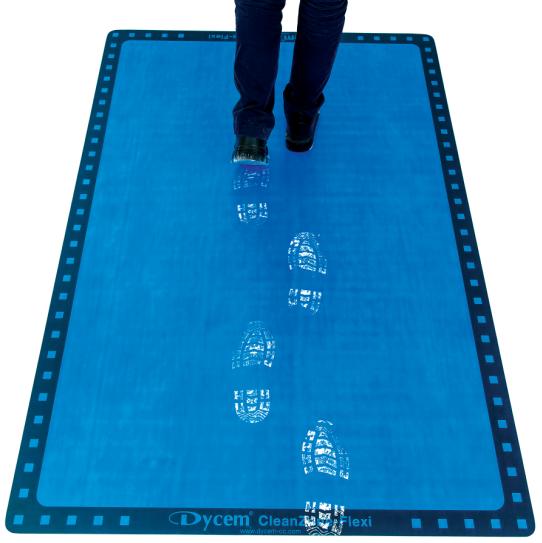 CleanZone-Flexi is a one to six month replacement system with a proven 99.9% contamination control efficiency. Designed to give you added flexibility with your flooring choices, CleanZone-Flexi provides an ideal solution for short-term contracts or temporary referb areas.
Environmental impact
Does not impact on your daily waste volumes
Can be disposed of normally in regular waste
Can be readily recycled into less critical applications
Flexible cleaning
Easily adapted into your regular SOPs
Simply clean once per shift for maximum efficiency
Flexible cycle
Easily adapted into any short-term solution
Available in a range of flexible contract lengths to suit individual needs
Ideal introduction to DycemCleanZone
Audit friendly system
Flexible self-installation:
Easy to self-install, saving time and eliminating additional fitting costs
Ideal for smooth floors (i.e. vinyl and epoxy)
Perfectly suited to pedestrian traffic areas and light wheeled carts
Flexible payment:
Flexible contracts allowing a variety of solutions
Easily adapted into budgetary constraints with no capital investment
Price point matches your usual spend if you're using peel-off mats
Flexible options:
Use for trial purposes to limit purchase risk until you're satisfied
Easy to amend contract for change of size
Easy upgrade to our installed CleanZone after a period of time
Dycem is pleased to announce that it is hosting its 'Floor Level Contamination in Cleanrooms...