Takeda
Global Contract Manufacturing of Pharmaceuticals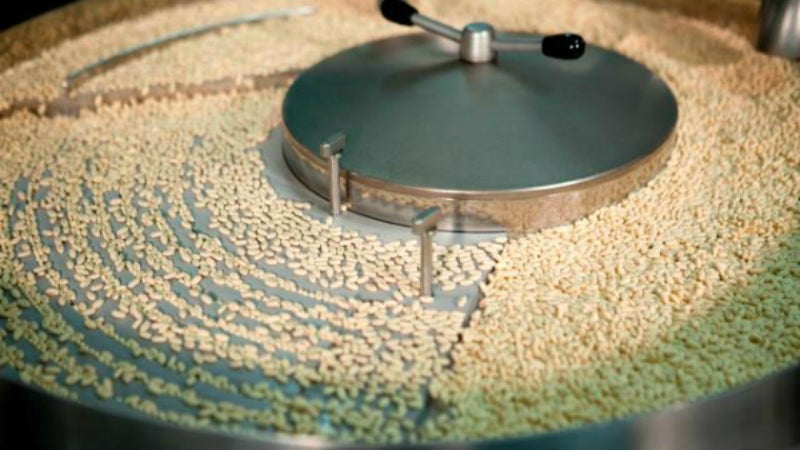 Takeda is a research-based global company with its main focus on pharmaceuticals. As the largest pharmaceutical company in Japan and one of the global leaders of the industry, Takeda is committed to strive towards better health for patients worldwide through leading innovation in medicine.
Takeda's ethical drugs are marketed in around 100 countries worldwide.
The network of the Takeda group spans across 70 countries and regions worldwide, in Japan, the US, Europe, Russia and CIS, Latin America, Africa, the Middle East, and the Asia-Pacific region.
Pharmaceutical contract manufacturing
Takeda manufactures products for a substantial number of external clients ranging from global to regional to local companies. Takeda delivers services to its customers with the right balance of quality, reliability, responsiveness and costs.
As a testimony to Takeda's high customer focus, Takeda was in 2013 awarded with the CMO awards within reliability and quality.
Kim Wochner, from the contract manufacturing business, said: "Takeda is very proud of receiving this award within the areas of quality and reliability. We believe that this is key to success within contract manufacturing.
"Our consistent focus over the years in building quality in everything we do has with this award been recognised by our clients and industry. Many years within pharmaceutical production and long-lasting partnerships have demonstrated the reliability in our services. Thank you all for this award."
Our success is based on a customer-tailored approach and quality standards aligned with regulatory authorities in the US, Europe, Japan, South and Central America, and other regions.
Optimised pharma manufacturing services
Partnership plays a vital role for all of our operational activities. Close cross-functional collaboration and seamless processes between internal teams and external partners help us to respond quickly and accurately to market demand.
Our manufacturing operations provide a competitive advantage through an innovative, global supply chain network. This network is constantly reviewed and optimized in the interests of increasing the use of its capacity, enhancing supply chain performance, maintaining a high level of customer service and decreasing the cost of goods sold.
Our 19 manufacturing facilities located in twelve countries meet the highest international quality standards and are inspected by all the major health authorities. Our combination of central and regional manufacturing acts to ensure rapid response when opening up new and expanding existing markets.
Solids, semi-solids, liquids and sterile production
We offer a wide range of technologies: production and packaging of solid, semi-solid and liquid pharmaceuticals, as well as sterile and non-sterile manufacturing.
Our technologies produce all classic pharmaceutical dosage forms such as:
Solids (tablets, capsules, powders and pellets)
Liquids (suspensions, syrups and solutions)
Sterile liquids (ear, eye and nasal drops)
Wallet packaging, sachets, bottles, ampoules, blisters and vials
Takeda provides the whole range of packaging technologies for solids, semi-solids and liquids, sterile and non-sterile products:
Blisters in various formats (PVC, PVC/PVDC, PVC/Alu, Alu/Alu, Aclar, Triplex, COC)
Bottles (glass, PE)
Sachets (Alu/Alu)
Stick packs
Wallet packaging
Thermo-shaped units
Tubes (Alu)
Ampoules (glass, plastic)
Flaconettes (glass, plastic)
Pre-filled syringes (glass, plastic)
Vials (glass, plastic)
Blow-fill-seal (gels, liquids)
Pump sprays
Press Release
Takeda Pharmaceutical Company and Axcelead Drug Discovery Partners has announced the start of operations for AXCELEAD.
Read more
Takeda Pharmaceutical Company today announced that a marketing authorisation application (MAA) has been submitted to the European Medicines Agency (EMA) for vedolizumab, an investigational, gut-selective humanized monoclonal antibody for the treatment of adults with moderately to severely active Ulcerative Colitis (UC) and Crohn's disease (CD), the two most common types of inflammatory bowel disease (IBD).
Read more
Nycomed Austria GmbH
St. Peter-Straße 25
4020 Linz
Other
Austria
+43 70 6919 46 93
+43 732 65 53 09
Global Contract Manufacturing
Poland
Nycomed Pharma Sp. z.o.o.
Ul. Ksiestwa Lowickiego 12
99-420 Lyszkowice
Other
Poland
+48 46 83 09 210
+48 46 83 09 400
contract-services@nycomed.com
Mexico
Nycomed México S.A. de C.V.
Av. 1° de Mayo No 130 Col. Industrial Atoto
Naucalpan Edo. Mex
Naucalpan de Juarez
Other
Mexico
+52 55 53 87 9357
+52 55 53 58 1084
contract-services@nycomed.com