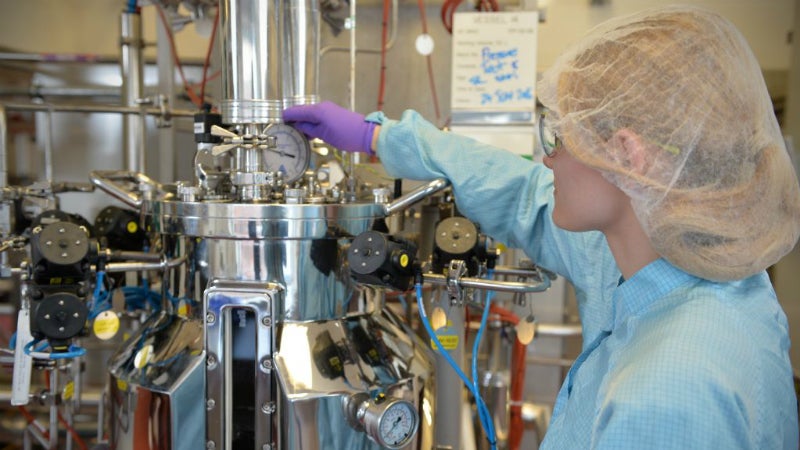 Porton Biopharma (PBL) is a UK-based company experienced in developing, manufacturing, and bringing life-saving biopharmaceutical therapeutics and vaccines to market.
The company is an expert at taking concepts from the research laboratory to production, progressing through various stages of scale-up and process development. The result is clinical-grade material, which is suitable for clinical trial. This includes both native and recombinant therapeutic proteins.
Manufacturing and product development
Porton Biopharma's development group offers a range of product-focused services, including development and scale-up, product characterisation, analytical development and qualification, and process troubleshooting, as well as pre and good manufacturing practice (GMP) manufacturing capacity.
Its state-of-the-art current good manufacturing process (cGMP) manufacturing facilities are licensed by the Medicines and Healthcare Products Regulatory Agency (MHRA), Food and Drug Administration (FDA), and Pharmaceuticals and Medical Devices Agency (PMDA).
The facilities are used for its biopharmaceutical products, which include the UK's licensed anthrax vaccine, and therapeutic enzyme Erwinase®, which is used to treat acute lymphoblastic leukaemia (ALL) and is licensed in 20 territories worldwide.
Specialist expertise focused on delivery
By building on the knowledge and experience gained from successfully manufacturing its own products, the company is able to offer access to its facilities and expertise to clients for the production of a wide range of clinical materials.
These including unique containment level 3 capabilities geared to the bespoke manufacture of low-volume, high potency and toxicity bacterial products.
PBL also offers access to its specialist laboratories and bespoke services for translational development to help new biopharmaceutical products progress from gene to GMP.
Capabilities range from <1l bench-top fermenters to the recently completed fermentation suite, which features four 15l vessels and a 50l vessel to enable parallel development and scale-up experiments with cell harvesting by batch or continuous centrifugation, or tangential flow filtration.
Product purification expertise includes in-house capabilities in preparative chromatography, protein crystallisation and tangenital flow filtration (TFF) from laboratory-scale to 1,000l.
Process redevelopment and qualification
Experience gained from the continuous improvement of its processes enables PBL to offer a complete range of services, including complete process redesign, introduction of disposable technology, process modification and improved analytical methods. These activities are underpinned by the expert knowledge of its regulatory and validation teams.
Analytical development and qualification
The company's development group designs and adapts a wide range of analytical techniques to demonstrate process reproducibility and product quality. Method qualification ensures that such techniques are fit for their intended purpose.
Process troubleshooting
PBL works with both start-up biotech and large pharmaceutical organisations on a worldwide basis. It has active collaborations with academic departments engaged in bioprocessing developments.
Even long-established manufacturing processes may suffer from unexpected problems. PBL's staff are adept at determining the root cause of process failures outside of the manufacturing environment. This vigilance reduces costs and manufacturing down-time, and also allows them to provide advice on appropriate remedial action.
About Porton Biopharma
Porton Biopharma's strategy as a new company with a distinguished heritage is to grow its existing business and product pipeline, whilst also building relationships across the industry.
It was commercialised out of Public Health England on 1 April 2015, which enabled it to be better placed to grow the business of developing and manufacturing life-saving products. The company is built upon decades of biopharmaceutical experience, including the successful licensure of many therapies that save thousands of lives every year and generate revenues from world-wide sales.
PBL offers expertise in developmental production of biologicals, including product characterisation, process and analytical validation, and scalability for market. Allied with its experience of regulatory compliance gained from the licensure of its own products, this puts it in an ideal position to offer expertise and enable others to successfully bring their products to market.
In order to find out how Porton Biopharma can help you move your research from the bench to the clinic, please contact them via the enquiry box.
Porton Biopharma (PBL) manufactures the UK's licensed anthrax vaccine for and on behalf of the UK Government.
In May 2017, Chinese animal vaccine company Jinyu Bio-technology unveiled plans to establish its first US-based vaccine research lab and office facility, located in Kansas.
Multinational healthcare service provider GE Healthcare has announced plans to invest $170m to develop a biopharmaceutical campus in Cork County, Ireland.
Porton Biopharma Limited ("PBL"), the UK biopharmaceutical research, development and manufacturing company, announces that it has signed an exclusive, worldwide licensing agreement with Clinigen Group plc ("Clinigen") for the distribution of Erwinase®/ Erwinaze® ("Erwinase"), the Company's life-saving treatment for acute lymphoblastic leukaemia, a cancer of the blood predominantly affecting children.
Porton Biopharma
Manor Farm Road
Porton Down
Salisbury
SP4 0JG
Wiltshire
United Kingdom