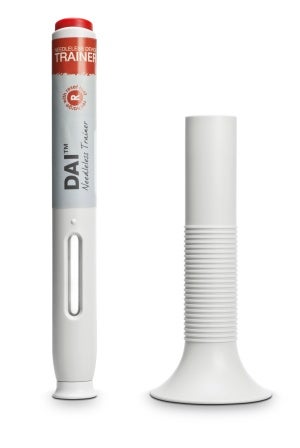 As the demand for biologics continues to increase, corresponding growth for advanced drug delivery devices such as auto injectors can also be seen in projections from various established pharmaceutical research agencies. However, even though auto injectors have been used for many years to help with the treatment of chronic diseases requiring frequent injections, such as multiple sclerosis and rheumatoid arthritis, the concept and usage of an auto injector is still quite new to many patients and even healthcare professionals. With several new biologics recently approved and soon to be introduced to the market inside an auto injector or similar devices, it is extremely important that biopharmaceutical companies provide training tools that can help ensure proper self-administration for patients using these devices for the first time.
The auto injector
An auto injector typically consists of a pre-filled syringe (or cartridge) inside a device that provides the necessary mechanical system to automate the delivery of the desired biologic within required specifications. The auto injector has, in recent years, become a popular choice for biopharmaceutical companies as a drug delivery device due to its robustness in accommodating injection needs as well as the integrated safety and convenience features that allow patients to more comfortably administer injections by themselves.
An auto injector is designed with many factors in mind, including the nature of the biologic formulation (e.g. viscosity), ideal type of primary container (e.g. 1ml long pre-filled syringe PFS), depth of injection (e.g. needle type and length for subcutaneous versus intra-muscular injections), needle safety (e.g. passive locking needle shield), needs of the targeted patient group (e.g. ergonomic design for dexterity issues) and more. The device manufacturer will perform vigorous testing in simulated scenarios and use various quality assurance measures to verify the device aspects of the auto injector works accordingly. Unfortunately, such verification steps are still only preventive actions limited to verifications within the device's intended and anticipated usage and cannot anticipate all potential issues that patients may run into when actually performing the injections themselves. To address this, biopharmaceutical companies should consider working with the device manufacturer at an early stage to develop training materials such as videos, instructions for use (IFUs) and needleless training devices to help familiarise and educate end-users with regards to the correct handling of the new device.
Understanding patient needs
For many patients who may have been receiving treatments administered by trained healthcare professions at clinics or hospitals for years, the idea of unsupervised self-injection can be intimidating. While instructions for use in the form of text, symbols and images are usually provided with the final auto injector packaging material, during the actual injection feelings of nervousness and being intimidated can potentially become psychological factors that lead to failed or incomplete injections. Even just one unsuccessful attempt is all it takes for a patient to develop concerns about how to take future injections. Not being comfortable with a medical device and being unsure as to how to effectively use it can have a significant impact on patient compliance. It's safe to assume that more than one patient may encounter such challenges and if unaddressed can lead to unnecessary patient complaints and over time affect the overall acceptance of the auto injector alternative for some patient groups new to these devices. Now that the auto injector is clearly a growing trend, aside from working on innovating breakthrough devices with device manufacturers, biopharmaceutical companies need to continue to spend more time on understanding unique patient needs and challenges involving the use of auto injectors and then carefully address them accordingly.
Auto injector training devices
Tools such as handling videos and universal image-oriented instructions for use have already been proven to be useful tools for those less familiar with auto injectors. However, a training device that simulates the steps to taking an injection with an auto injector takes this to a whole new level. Generally, such training devices replicate the look and feel of the actual device, but without any drug or needle inside. This provides users with an opportunity to practice handling the training device without the fear of making an improper injection. In addition to overcoming the psychological barrier of self-administering an injection, the device is an effective training tool for not just patients and the healthcare professionals that will teach them, but also for biopharmaceutical companies who need to educate internal staff such as project managers and professional sales representatives.
As important as developing and manufacturing an auto injector for a high value biologic is, ensuring that patients will properly self-administer the drug itself is crucial. As it remains quite challenging to anticipate all potential user scenarios or patient handling preferences when using these devices, the ideal solution is to provide a range of training tools that can educate and guide patients to correctly self-administer their injections. Therefore, an auto injector training device is clearly a compliance tool that should be considered at an early stage by both biopharmaceutical and device companies when bringing a combination product to market.