tricumed Medizintechnik
Implantable Infusion Pumps to Treat Spasticity and Chronic Pain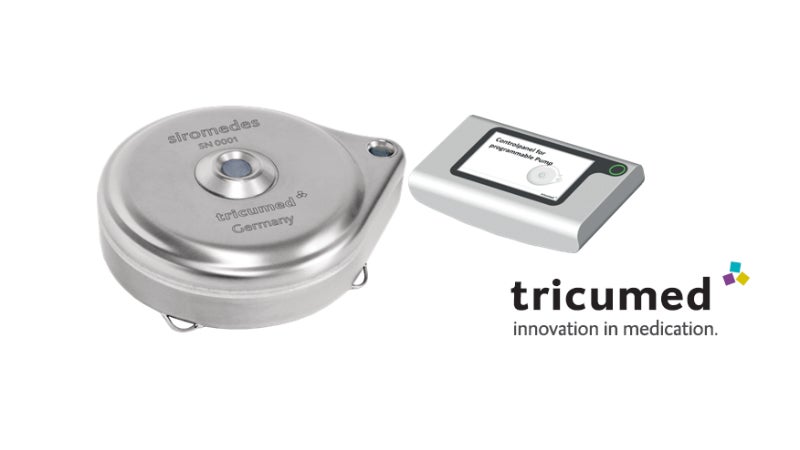 tricumed Medizintechnik manufactures implantable infusion pumps for patients with spasticity and chronic pain.
Since 1994, the company has been continuously developing the products through research and development (R&D).
tricumed Medizintechnik released its programmable infusion pump siromedes in 2014.
Therapy for chronic pain relief and spasticity
tricumed Medizintechnik produces implantable infusion pump siromedes, which is used to treat chronic pain and spasticity patients. The pump is inserted below the ribs and it designed to continually transport medication to the site of action. Doses are accurate, user-friendly, and the device does not restrict movement.
Designed in consultation with medical professionals, siromedes is a reliable and safe method of receiving a dynamic dose consistently throughout the day. Security and comfort were key design protocols and the device was successfully tested up to 3 Tesla for magnetic resonance imaging (MRI) compatibility.
In addition, tricumed Medizintechnil designed the programming device for the siromedes to be user-friendly. The data transmitting time is quick and the user interface is accessed using a large touchscreen. The device is easy to configure and refill, and dosage data is easily accessed.
Gas-driven infusion pumps for intrathecal drug applications
tricumed Medizintechnik's gas-driven infusion pumps IP1000V and IP2000V were designed for patients who did not need a changing daily dose. These pumps are filled with non-toxious n-butane, which is used as a power source. With every pump refill, energy is renewed.
The IP1000V is one of the smallest implantable infusion pumps for intrathecal drug applications and both the IP1000V and IP2000V are very reliable, with a true continuous drug flow.
tricumed Medizintechnik's pumps are lightweight, ergonomically designed, and MRI compatible. The device has a 20-year lifetime based on 25 punctures a year.
Port Porthales with integrated bacterial filter
The Port Porthales is a titanium port with a bacterial filter and spinal catheter set that is compatible with the company's implantable infusion pumps. This port is implanted for testing, after which it can easily be exchanged with an implantable infusion pump.
tricumed Medizintechnik's Port Porthales is suitable for applications in palliative care because of the integrated bacterial filter, which helps reduce the risk of infection.
Fast service and support
tricumed focuses on providing a high-quality customer service, supporting doctors before and during the implantation, as well as throughout the whole product lifecycle.
The infusion pumps are available in a variety of combinations, volumes, and flow rates.
tricumed Medizintechnik Images
Tricumed Medizintechnik GmbH
Röntgenstraße
24143 Kiel
Germany
+49 (0) 431 70 990
+49 (0) 431 70 99099
www.tricumed.de